At some point, your wax will get too cool to coat them properly. Just reheat the wax and repeat. Being the crazy thrifty person I am, I actually scraped up all the cooled puddles of wax from the wax paper and reheated them in order to get as much as I could out of each box of wax.
Repeat this process for each color. Be sure to clean all your utensils carefully between each color change so as not to contaminate your new color.
Remember that wax down the drain is not a good thing. In order to clean the utensils, I scraped as much as I could into the trash and then used hot water for any tiny bits left over.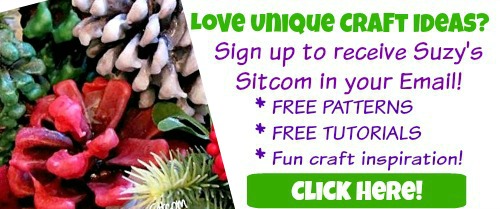 The baskets, kitchen towels and artificial greenery were all purchased from the Dollar Store. I lined the baskets with the towels and then placed the pinecones in along with the greenery for decoration. I finished the basket by tying a wired ribbon bow to the handle along with a few sprigs of artificial greenery.
For gift giving, you can purchase clear bags to put your baskets in (also at the Dollar store) and tie with a bow. This makes an awesome gift. Suggestions for variations would include adding a scent to the wax or placing cinnamon sticks in the basket along with the pinecones.
Since money is tight this year, this will most likely be my "go to" gift for friends and relatives.  Even if they don't own a fireplace, it makes a beautiful tabletop decoration.
[activecampaign form=1055]
Are you new to the Sitcom?  Be sure to check out my Frequently Asked Questions Page!
For over 100 more tutorials and recipes for all ages, be sure to visit my Tutorial Page!