White Pinecone Wreath from So White I Know (Swedish Site)
The Canadian Hemlock produces the smallest pinecone. It's cones measure around one inch long.  Cute!  I could see lots of crafty uses for this one if I could get my hands on a few!  Maybe napkin rings?
 Pinecone Christmas Tree Centerpiece from Suzys Sitcom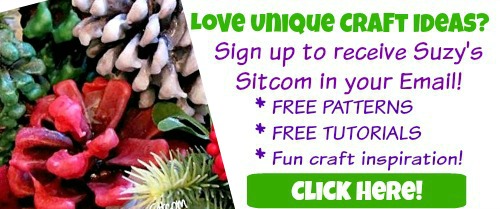 Pinecone Bird Feeder from Surviving a Teacher's Salary
Painted Pinecones from Torie Jayne
As you can see, there are lots of things you can do with this natural craft supply!  Hope I inspired you to make something special!
Are you new to the Sitcom?  Be sure to check out my Frequently Asked Questions Page!
You can keep up with the Sitcom on Facebook for daily updates!
For over 200 crafty tutorials for all ages, be sure to visit my Tutorial Page!