This post was sponsored by Markerly.
Ever thought about earning money by blogging?  As long as you are writing about things you love, sponsored content from folks like Markerly is a great way to earn money from your writing skills. Here are a few tips from this crazy-eyed craft blogger that might help you out!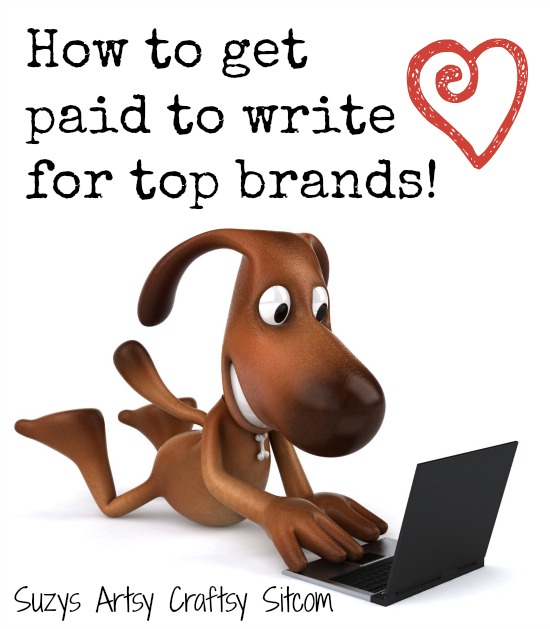 1. I am not an expert…
And I am certainly not the best at trying to earn a living with my arts, crafts and blog.  I have a tendency to learn things the hard way.  Dealing with a computer and software does not utilize the arts and crafts side of my brain, and often results in me drinking gallons of Diet Coke after midnight while stumbling through my website with crazy eyes, just hoping that I didn't totally shut down my entire website while I was trying to insert that silly dog photo.
2. It is possible to make real money…
I've had a bit of success, made a whole ton of friends and believe it or not, am finally earning some money from this whole venture!  Certainly not enough to buy that mountain home in the wilds of Montana so that I can call my old boss and brag about the beautiful weather while I tend to my alpaca farm and make homemade butter; but enough to justify all the hours spent on putting this blog together.  The day job, unfortunately is still a necessity.
3. Blog about what you love…
I hope that shows in my posts and tutorials.  I blog because I love to teach and I love to make new friends who have the same interests.  Believe it or not, I'm not the social butterfly in person that I am on the internet.  Blogging has a way of bringing out a personality in me that few folks in my real world ever see.
4. Consider writing sponsored content…
I thought it might be helpful to my readers who are also bloggers to tell you about one of my favorite blogging networks, Markerly.  A good blogging network can introduce you to major brands and give you the potential to earn extra money while writing about products and services that you love.  Markerly is the best blogging network to find sponsored content opportunities and get paid to work with awesome brands.
5. Interested?  Let me tell you a bit about Markerly…
Markerly is a full-service managed network with 24/7 blogger support
Markerly gives you heat maps of your entire post so you can see what people were clicking on
Markerly pays bloggers within 48 hours of the post going live.
Work with brands like Levi's, Super Bowl, TruMoo, eMeals etc.
Get free products to review like wine from companies like Last Bottle Wines and Invino or cool earbuds from Jaybird.
Markerly's network is open to anybody to join that has over 10,000 page views a month or an average of three comments per post.
Markerly is very focused on quality blog posts and bloggers that have engaged audiences.
Most importantly, Markerly as an influencer marketing platform, focuses on quality and authenticity.  Write about what you love and get paid for it!  It is totally a win-win situation! Sign up to participate in Markerly's Blogging Network today!

I wrote this post as part of a sponsored campaign with Markerly.  The opinions in this post are my own.

Are you new to the Sitcom?  Be sure to check out my Frequently Asked Questions Page!
For over 150 crafty tutorials for all ages, visit my Tutorial Page!