Welcome to the Sitcom Photography Challenge!   For the past few years, I have not only challenged myself, but you too!  I've shared so many beautiful photos on the Sitcom from my talented readers.  It has been so much fun sharing photos and stories with so many wonderful people and I have loved every minute of it.
Unfortunately, with lots of new opportunities in the near future, along with a major decrease in reader interest for the photography challenge, I had to come to a difficult decision.  I will be discontinuing the Photography Challenge.   This will be the last photography challenge post for a while.
I love photography, so be assured that this series will be back one day- probably after the first of the year.  In the meantime, lets take a look at the great photos submitted last week ! Our challenge was "Doorways".  Click here to see the fun photos submitted for the Doorways Photo Challenge!
This week our theme is: "Circles"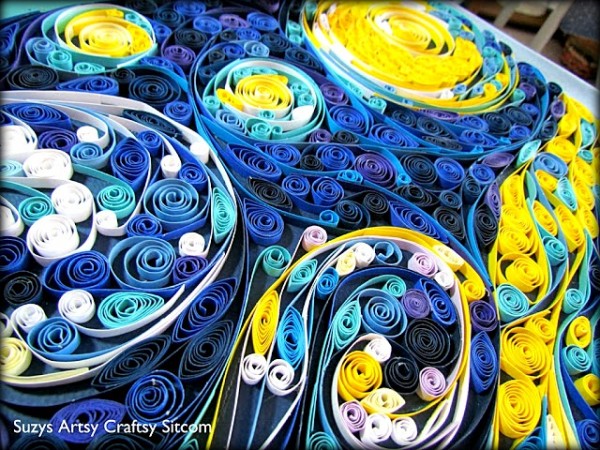 One of the many crafts that I love to do is called paper quilling.  It involves cutting sheets of colored paper into strips and coiling them into little circles.  I then create with my circles of paper.  This is a close up of my finished work, Starry Night.  You can find the original tutorial for this artwork here.
My Quilled Starry Night incorporated over 10,000 strips of paper and took several months to complete.  Emulating the original artwork, Starry Night by Vincent Van Gogh, I was able to "paint with paper" and create my version of his amazing work.
If you are interested in this type of craft, you can find more projects here on the Sitcom.  It is an inexpensive, but hugely rewarding craft.  And tons of fun too!
The circle challenge is not a new one.  I did this challenge originally in 2011.  Be sure to check out some of the great submissions from that challenge too!
This photo was taken with my Canon SX30IS and edited using the free software at picmonkey.com.  (I am not an affiliate of Picmonkey- I just love their software).
It's not too late!  Email your "Circles" photos to me! Check out the Submission Guidelines. I will post your photos here along with any information that you would like to include. If you have a website, feel free to add a link to your site! I will be taking "Circles " photo submissions until October 1.
Circles…
These are my favorite snack because I can just pop them in. My parents have bushes that we pick and freeze. One of my favorite foods! ~Shannon- Salem, OR – Shannon Baird Photography
Well, I have to admit, I'm a girly girl.  Love getting my nails done on a regular basis.  The technician is a family member and just out does herself every time I go see her.  Love the many ways she found to put circles on for this week.  Good Job, Ingrid. ~Louise Miller
My Granddaughters Love blowing bubbles and excitement ensues often. ~Thellis Houck- Casselberry, FL
Several years ago, someone compiled a list of the "Seven Wonders of Casper, WY" (my hometown). This bejeweled manhole cover is one of the items on that list so I took a picture of it. I also took a picture of a spiral staircase and a clock, but this fits the circle challenge the best. ~Pammie
Thank you to all my wonderful readers for supporting this three year series!  It has been so much fun!
And don't forget that Craftsy is now offering online Photography Classes!   I've been a fan and an affiliate of Craftsy for several years now, and their video classes are fabulous.  I have personally taken quite a few of them.  What is great about them is they are inexpensive, and once you purchase the class, you can watch it anytime at your leisure, and as many times as you want.  I've started my own personal Craftsy Video class library!
Anyway, they have branched into some great photography courses taught by professional photographers! Craftsy courses are highly interactive, allowing students to ask questions, make digital video notes, and learn using the latest tools.  Just click on the affiliate link below for more details!

Are you new to the Sitcom?  Be sure to check out my Frequently Asked Questions Page!
For over 200 crafty tutorials for all ages, visit my Tutorial Page! 
Disclosure: This post contains affiliate links which means that if you click on the link above, and make a purchase, I would receive a small percentage.  But I have to tell you, I only recommend items that I have personally tried and enjoyed.