A few weeks ago, I told you that Mona from Craft Klatch had challenged me to a "craft-off".  Our supplies would consist of recycled paper towel tubes, buttons, glitter and gemstones.  What to do?  Well, we both worked some late hours on this one.
But we both came up with something unique that you won't see anywhere else.  So, are you ready for the reveal?  Here are my Holiday Tree Napkin Rings made from recycled paper towel tubes!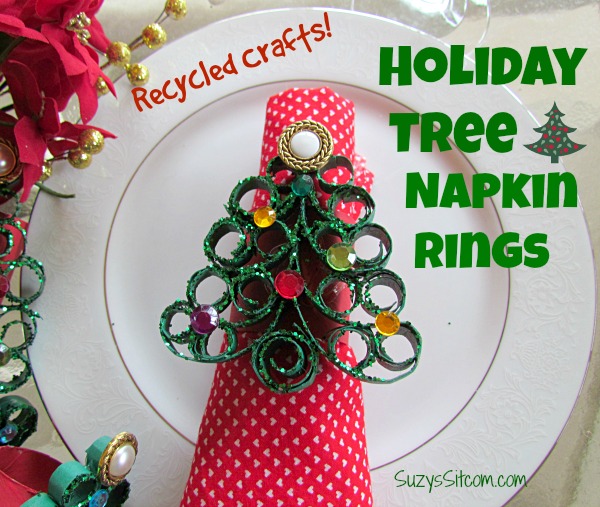 Made using a quilling technique that I used on my Faux Metal Wall Art, Faux Iron Gate and Faux Brass Wall Clock, these sweet little Christmas trees can be used as napkin rings as shown in the photo above, or made into tree ornaments!  Want to know what Mona came up with?  Page down to the bottom of this post and check it out!
In the meantime, let me show you how I made them!
My supplies?
Well as you already know, paper towel tubes and buttons.  Yep, I have an unusually large amount of paper tubes hanging around.  Don't judge.
In addition, I used glitter, Mod Podge, acrylic paint, gem stones, hot glue, and white glue.
Begin by cutting open lengthwise about 10 paper towel tubes.  Use green acrylic paint to paint the inside.
Once the paint dries, paint the outside of all the tubes.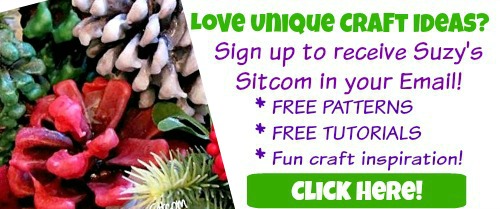 Cut the tubes horizontally into 1/4 inch strips.  These strips will already have a curve to them which will help you in the next step.
In order to create the main frame of the tree, wrap the  end of a strip around the end of a paintbrush handle and coil the strip.  Create coils  as above.  The top three coils were made with half of a strip.  The bottom coil is a full strip that is not uncoiled.