Yep, I know it's still summer for a lot of us, but I've had this project sitting around for over a year waiting on it's debut and have decided to finally bring it out in the open.  My Halloween Witchy-poo Votives were featured last October in Kids Crafts 1-2-3 Magazine, and now the full tutorial is available here on the Sitcom!  Say hello to my little friends!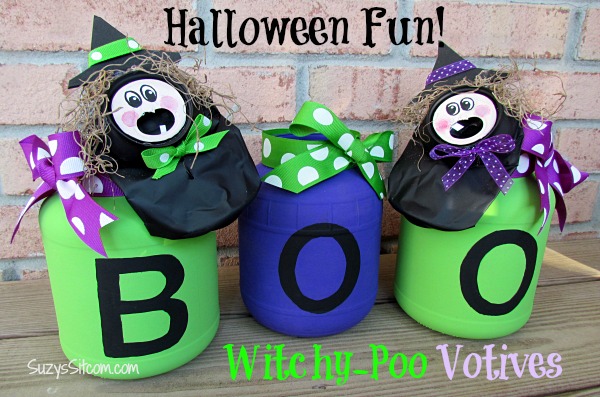 These cute little Witchy-Poos are made from recycled soda cans.  Their votives are recycled pickle jars.  We are talking a lot of cute here for very little money.  This project is totally up my alley!
You may have seen Witchy-Poo before.  She was one of my original projects back in 2010 when the Sitcom was young.  At that time, I made her into a fun door decoration!
Wow.  You sure can tell I bought a nice camera since then.  Ignore my photography and enjoy the cute.  So….want to know how to make those votives?
For this project I used:
3 clean mason jars or pickle jars
4 clean soda cans
black matte primer spray paint
Clear spray primer
acrylic paints- lime green, purple, peach, red, white and black
letter stencil
decorative ribbon in purple and green
Spagnum Moss
black foam sheet
low temp hot glue gun
magnets
Begin by smashing the cans so that the top is facing up, and the bottom of the can faces the back.  Believe it or not, this might take a little practice to get it just right.  Think of it as a way to take out your aggressions.  After about six cans, you will feel pretty awesome.
Spray paint all the cans with the black primer.  Be sure to get all sides and all the nooks and crannies.
Using acrylic paints in peach, red, white and black, paint in the faces on the can tops.
Add in their eyes, painting in dots of white to highlight them.
Prime the jars with clear spray primer and then paint them with acrylic paint in green and purple.  It will most likely take several coats.
Either free-hand it, or use a stencil to outline and then paint in the letters "BOO" with black acrylic paint on the jars.
Already looking pretty awesome!
Now for the finishing touches.  Cut a black witch hat from the black foam sheet.  Decorate it with ribbon and glue to the top of the witch's head. Glue on moss for hair and a bow at the neck.  The final touch?  How about a tiny tooth?  Cut it from a scrap piece of white cardstock and glue it just inside the pop top opening.
Use hot glue to add ribbons to the tops of the jars and then hot glue a couple of the witches in place.
Glue magnets to the backs of your extra witches.  They make awesome refrigerator magnets!
(Optional)- you can put battery operated votive candles inside the jars for pretty night-time votives.  Do not use real candles.
Want to make your own?  Then start collecting those jars and cans now!  Smashed can art is a fun way to recycle those cans.

Are you new to the Sitcom?  Be sure to check out my Frequently Asked Questions Page!
For over 200 crafty tutorials for all ages, visit my Tutorial Page!