This post brought to you by Sam's Club . The content and opinions expressed below are that of Suzys Artsy Craftsy Sitcom.
The Sitcom became the Traveling Sitcom in April of this year.  We have sold our house and everything in it and hit the road in our RV.  Crafting from the road is fun and very interesting and I hope to bring lots of new ideas to you as I travel this great country and experience new things!
One of the questions we get asked the most is "What does your RV look like inside?" Well, I certainly could share some pristine photos of what it looked like before we moved in.  But what fun is that?  Here is an unedited, slightly messy tour of our inside!
We own a 2013 Itasca Meridian made by Winnebago.  It is 37 feet long and has three slides; one in the bedroom, one on the driver's side living room, and a full slide on the passenger side.
For those guys out there that have the need to know, it has Cummins Diesel 6.7 ISB, 360 HP Engine on a Freightliner Custom Chassis.
For the girls: You are the dishwasher!  LOL!
So welcome aboard!  Be sure to wipe your feet. I've spent the last few days trying to get all that red Georgia mud out of my motorhome.  Now I'm in Maine and I'm tracking tons of little stones in.  I guess that is what I get for having a white interior!
This is a look from the driver's seat back.   I haven't done a ton of decorating yet, as we haven't been in it too long, but I have included some pops of color.  Not that I really have any wall space for pictures.  The cool thing about a motorhome is that nearly every square inch is storage.
Faith is busy guarding her couch.  There is an envelope dog bed that I made them behind the driver's seat, which Ralph tends to take over.  You can find the free pattern and instructions here.
Faith and I share the little footstool that you see.  I'm too short to get in half my cabinets, and she is too old to get on the couch without help.  Both of us were getting tired of asking for assistance, so the stool came to be.
This is the passenger side.  Both couches fold out into beds.  You will find that most everything in a motorhome has dual purposes.  The drivers seat and passenger seat actually will turn around and become recliners as part of the living room.  (When we aren't driving, of course)!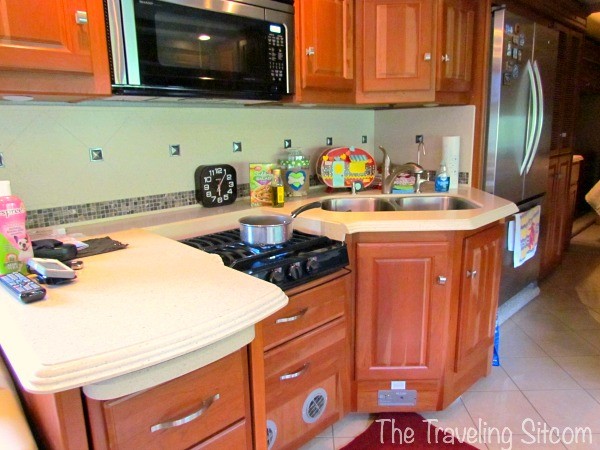 This is my little kitchen.  I have a gas stove, microwave/convection oven and a full size refrigerator.  Oh, and I have a husband who loves to cook outside on his charcoal grill.  It is the best of both worlds!
One thing I learned quickly was to pull my hair back when cooking.  I leaned over the stove to reach something in the microwave and singed my hair.  Dave wanted to know if I burnt dinner again.
Ha. Ha.
The kitchen includes everything I need with the exception of a dishwasher.  Well, since I am apparently the dishwasher, I take that back…
Across from the kitchen is our eating area.  This photo shows the table with the leaf in.  Not huge, but adequate.  We were told the table would be large enough to seat four.  They neglected to mention that they would be four incredibly small people.
If I need to do any crafting, I can do it here or work outside on the picnic table on a nice day.  As you can see, I also use this area as my office.
Behind the table are tons of cabinets.  I use them as a pantry and also as storage for my craft supplies.
One thing that we insisted on when we were purchasing the RV was that we have a washer and dryer.  While they are small, they do a great job.  Dave is in charge of laundry, since I may or may not have colored an entire load of his white underwear and t-shirts pink.
Mistakes sometime come in the form of red undies.
Just saying.
Anyway, it worked out well for me.  I haven't had to wash clothes since!
This is our little bathroom.  There is a shower to the left.  I have to tell you that the toilet takes a little getting used to.  The trap in the toilet opens directly to the tank below.
The trick is to not have the vent fan going when you open the trap.   Believe me, you don't want to have the fan on when you open the trap.
Take my word for it.
One of my biggest worries was that my bathroom would smell like a port-a-potty.  It actually does not.  I was pleasantly surprised.  Well, unless you accidentally do the vent/trap thing above…
The bedroom has a queen sized bed.  The mirrors to the left are actually a nice sized closet.  And tons of tons of storage space!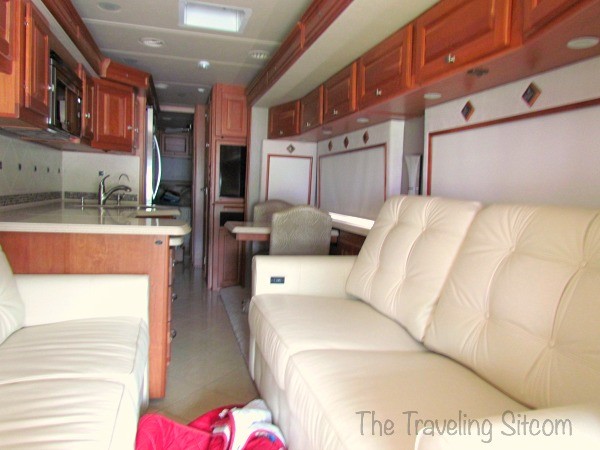 When we are on the road, this is what the inside looks like when the sliders are in.  Big difference!
To travel, I have to put everything away that might slide around.  And be extremely careful when I open the fridge once we are at a campground.  Things shift around and I may or may not have had to clean up a dozen eggs off that white tile.
Live and learn.
So where do I craft?
Well anywhere I can find a free spot!  That is the fun of this whole adventure!
One thing we have to be particularly careful of while traveling is taking good care of our VW Beetle (our tow car).  For that, we rely on Sam's Club.  Did you know that a Sam's Club membership gives you unbeatable summer deals on everything, including auto & tire services?
We recently discovered the Sam's Club #DareToCompare all-in tire offer.  Sam's Club offers the best tire brands at the best all-in price, matching offer. These tire brands include: Michelin, Goodyear, BF Goodrich and Pirelli.
Not only do they offer a fabulous price on tires, but they also include the Tire Installation Package with each tire purchase. The Sam's Club Tire Installation Package* provides Sam's Club members:
Tire Mounting
Tire Lifetime Balancing
Tire Lifetime Rotation
A Value Stem
No Charge Tire Lifetime Flat Repair
24-hour Emergency Roadside Service
* Complete terms and conditions of all Sam's Club warranties and services can be obtained at any Sam's Club Tire and Battery Center location.
Whether you are on the road every day like we are, or just need a reliable vehicle for you and your family, taking care of your tires is incredibly important.  Be sure to check out your local Sam's Club for all they have to offer!
And to follow our travels, check out The Traveling Sitcom!