I completed three jars using the same pattern.
Place some multi-surface paint into the bottom of the jar, adding a few drops of water to it to dilute it just a bit.  Swish the paint around in the jar and turn it on it's side to coat the sides of the jar, adding drops of other colors if you would like to create a variance of color.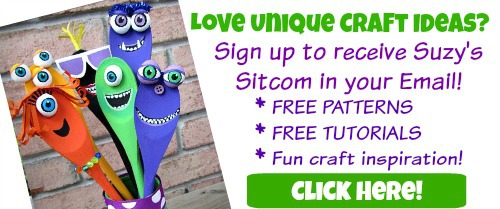 Turn the painted jar upside down onto a disposable pan or paper plate.  Allow the paint to dry.
The finished luminaries are beautiful just sitting on the window sill!
Add some candles and enjoy!  I love the beautiful stained glass look!
Candle crafts are a common theme on the Sitcom.  Here are some of my favorite candle themed tutorials:
DIY Miniature Ice Candles
Floating Candle Votives
Halloween Witchy Poo Votives
Scented Jack O Lantern Tea Lights with Oranges
DIY Mosaic Candle Lantern
Ice Candles
Are you new to the Sitcom?  Be sure to check out my Frequently Asked Questions Page!
For over 100 more tutorials and recipes for all ages, be sure to visit my Tutorial Page!