Polymer clay is very easy to work with.  Simply soften it with your hands by kneading it.  Then roll it out to about 1/4″ thickness, using a large dowel or rolling pin.
Print out your free flamingo pattern and cut out the flamingo.  Place it over top of the clay.
Using a craft knife, cut out around the flamingo outline.
Place your clay flamingo on aluminum foil on a cookie sheet.  Set your oven for 200 degrees and place them inside for about 30 minutes.  Allow them to thoroughly cool before going to the next step.
Cut your dowels about 5″ long.  Hot glue them to the back of the flamingo as shown.
Now for the fun part!  Add some bling!  Simply add clear to sections of the flamingo and place colored gemstones in place.
Allow the glue to dry before going to the next step.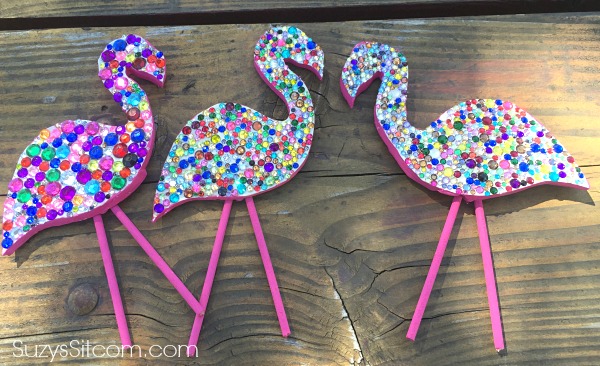 The final touch is to paint the backs, edges and legs with a bright hot pink!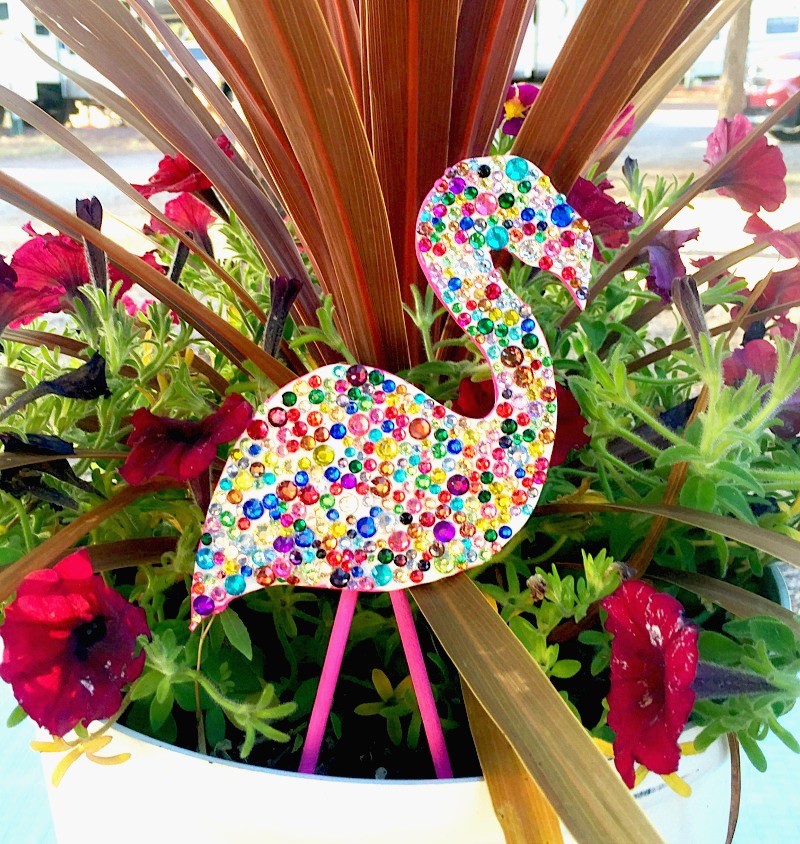 Poke your little flamingos into your favorite plants and bring a bit of the tropics to your home!
NOTE: Polymer clay is weatherproof. However, if you want to place the project outside, I would be sure to use a strong glue such as E6000, and then seal the whole project with a clear sealant to keep the acrylic paint sealed.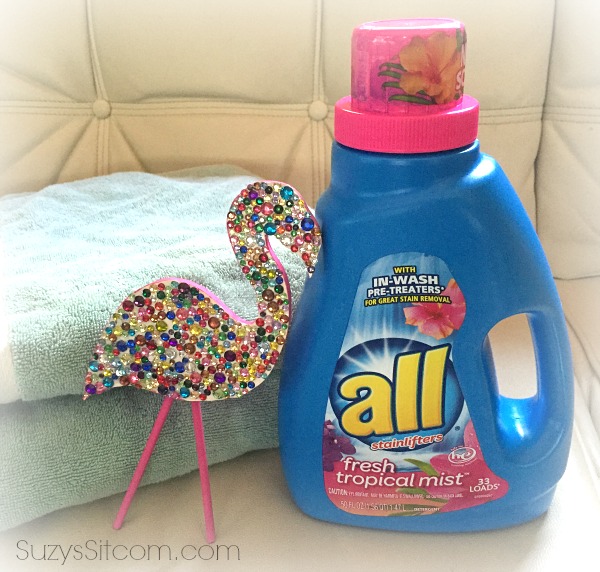 And for even more of the tropical experience, be sure to try new all® Fresh Tropical Mist™.  The fresh smell of tropical blooms will make your home and laundry smell fabulous!
Like I said- inspiration can be found anywhere!
Save some money on all® Fresh Tropical Mist™ with this downloadable coupon!
You can find all® Fresh Tropical Mist™ at your local grocery store or Walmart! To find NEW fresh tropical mist in store near you, visit all®'s website and click Where to Buy!
all® on Facebook  *  all® on Twitter  *  all® on Instagram  *  all® on YouTube
For over 200 craft projects and instructions, don't miss Suzy's Sitcom tutorial page!