Trim your construction paper to match the size of your picture.  Then trim an addition inch off of the bottom so that the finished art will show all the colored strips along the bottom.  Draw your pattern onto the paper, and then use a craft knife to cut out your picture.
Would you like the free patterns?
If you would like the patterns, you can download the full size pdf versions of the potted plant and the butterflies here.  Use tracing paper to trace the pattern onto your construction paper.
Click either of the links below for your free pattern:
Place the construction paper cut out over top of the colorful magazine strips and glue down.  Depending on how you are cutting it out, you might have to glue your construction paper down in sections.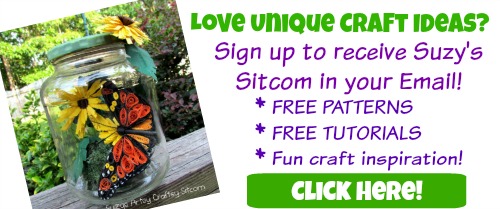 The final step is to put your frame back together!
This project was a ton of fun and only took us a few hours!
Do you like recycled craft projects?  Then be sure to check out the following!
Faux Metal Wall Art from toilet paper tubes
Faux Tin Tiles from a disposable cookie sheet
Paper Reed Frames from recycled magazines
Are you new to the Sitcom?  Be sure to check out my Frequently Asked Questions Page!
For over 200 more tutorials and recipes for all ages, be sure to visit my Tutorial Page!
Also, don't miss my other blog,  Daily Holiday Blog, where every day is a holiday!