Use the Yarn Wrapped Angel Votives Wing Pattern (1) to cut out colorful wings from felt the coordinate with your yarn color.  Each wing is three pieces, glued to each other with hot glue.  Glue the wings in place between the shoulders of the angel, making sure that they are high enough not to drag on the ground.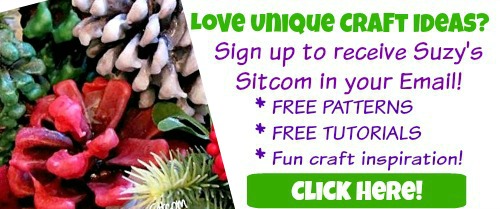 I chose white novelty eyelash yarn for these angels, but any color will work.  Wrap it around your hand about 6 times and clip.  Clip another piece about 4 " long and tie the wrapped yarn in the middle.  Glue onto the head with the tied part on top of the head.
Use acrylic paints to paint the face.  I painted a circle of pink for the face and added darker pink for the cheeks.
The whites of the eyes are painted in and then various ribbons and gemstones are used to make each angel unique.
Here you see the finished face, once the eyes are painted in.  I used a pencil to create the fine lines of the eyelashes.
One of the final touches was adding white glue in the shape of a heart on the tealight and then adding glitter.
And a bevy of angels are now done and ready for presenting to this year's ornament club!  Another fun year of creativity!
If you are interested in my other ornament club ornaments from previous years click on the photos below:
Ornaments from Suzy's Sitcom
Are you new to the Sitcom?  Be sure to check out my Frequently Asked Questions Page!
For over 2000 more tutorials and recipes for all ages, be sure to visit my Tutorial Page!