Do this to all of your short strips.
Take your curls of paper, dab a dot of hot glue on the tip, and start gluing them at a centralized point on the ribbon.
Do a bottom row, and then layer them for a second row.  The final step is to cut a few shorter strips (about 2″ long) and create smaller curls for the center of the bow.
Add a good coat of Mod Podge to your paper bows to protect them.  I used Matte Mod Podge on the Purple and White bows, and then experimented with the Gloss Mod Podge for the pink, sprinkling on clear glitter before it dried.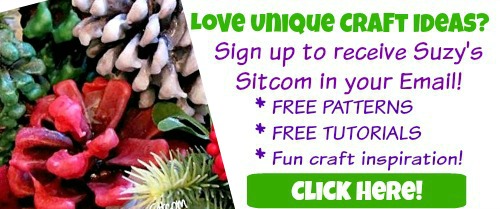 And there you have it, pretty wrapped ornaments for the tree!
Love making Christmas ornaments?
Be sure to check out this free e-book from All Free Holiday Crafts!
Included in the book are my Skiing Penguin Ornaments and my Paintbrush Santa Ornaments, along with seven other great projects!
Click here for more information!
Are you new to the Sitcom?  Be sure to check out my Frequently Asked Questions Page!
For over 200 crafty tutorials for all ages, visit my Tutorial Page!