Summer is nearly over, and it is time for that one last gathering before heading back to the old grind.  How about transforming your backyard into a festival celebrating the finer things in Hawaiian culture, luau-style?  What a great way to send off the summer!  Here are 35 party planning tips, fun DIY's, food ideas and much more for your next luau!
Let's get this party started!  Summer is the time for get togethers and if you love to create, a themed party is the perfect excuse to make something amazing!
Yep, that's me and my sister, Lynda.  Every year, my sister throws an elaborate luau, transforming her backyard into a tropical paradise.  She gets many of her ideas from Pinterest and Etsy.  Putting together a fancy luau is a great idea for informal weddings, birthday parties, or just plain for fun.  Want some great ideas?
Invitations
Message in a Bottle Invitation from Mospens Studio
To invite your guests, how about sending a tropical invitation in a bottle?  Using a small clear bottle, insert sand, a cocktail umbrella, shells, flowers and a paper scroll announcing the festivities. Or how about this fabulously fancy one from Etsy?  Now that your friends and families can look forward to your luau, start the party planning.
This post contains affiliate links
How to turn your backyard into an oasis!
Wow friends and family and take them across the Pacific to the islands by transforming your backyard into an island oasis.
Hang mosquito netting and bamboo curtains from trees, on the fence and around seating areas.
Buy a thatch cover or two
Pick up big leafy greenery (ferns and palms) to adorn tables and chairs
Gluing grass skirting to tables will also give your party that Hawaiian essence.
Aloha Party Banner by Purple Zebra Paper Company
Make color pop — think ocean blues and seafoam greens to deep fuchsias and bold oranges.
Totem Pole Decorations from All You
Here are some money saving table toppers that you can make yourself with cardboard!
Handmade Flip Flop Pillow Tutorial from Suzys Sitcom
These cute pillows make a great decoration and are so simple to make!
Let's talk about Tropical Party Favors!
Pick up inexpensive flip flops. For an island touch, attach a faux tropical flower with a hot glue gun and have them waiting for your guests to slip on when they arrive.
Create a custom lei for each guest by cutting a flower shape from card stock (or get a flower punch). Write each guest's Hawaiian name on the floral name tag and attach it to a lei. Guests will love to getting a lei at your party!
Find name translations at alohafriends.com. For example, Suzy = Kuki; Lynda = Lineka.
Yep, I know.  Hilarious!  Costumes can make a fun addition to your tropical party!
Hawaiian Memories
Make an outdoor photo booth by hanging burlap on a piece of twine from a tree to serve as the backdrop for silly photo shoots.
Supply guests with all sorts of props — cardboard surfboards, sunglasses, hibiscus flowers, oversized banana leaves, Hawaiian shirts, coconuts, and straw hats.
Use a photo-ready camera on a tripod and print out photos for your guests to take home!
My sister found this cute Inflatable Palm Tree Cooler to add ice and bottled drinks to.  Another cute way to decorate in a tropical style!
DIY Tiki Bar made from pallets by David Rundle
Make your own Tiki Bar with this easy tutorial!   Made with pallets!
Luau Entertainment
Hosting a hula dancing contest or hiring fire dances will turn your luau into an unforgettable island soiree.
Ask your musician friends to play steel drums or DJ authentic island tunes like Israel Kamakawiwo'ole's "Somewhere over the rainbow." The soundtrack to "The Descendants" and album "Jack Johnson & Friends: Best of Kokua Festive" make a catchy Hawaiian laid-back playlist.
For little ones, play games! Set up a limbo stick, bowl with coconuts or play musical beach towels.
Have kids snorkel around and dive for fish toys in your swimming pool — talk about bringing ocean fun right to your backyard!
Now we need food!  Here are some uniques ideas!
Tropical Fare & Cocktails
Impress your guest's taste buds with exotic Hawaiian foods and colorful, fruity drinks.
Serve finger foods like Hawaiian-style garlic shrimp and ham and pineapple kabobs.
Pour fresh lemonade into mason jars or treat your guests to watermelon coolers, Piña Coladas and blue Hawaiians.
And to satisfy that sweet tooth? Sweeten your luau with a coconut pineapple cake.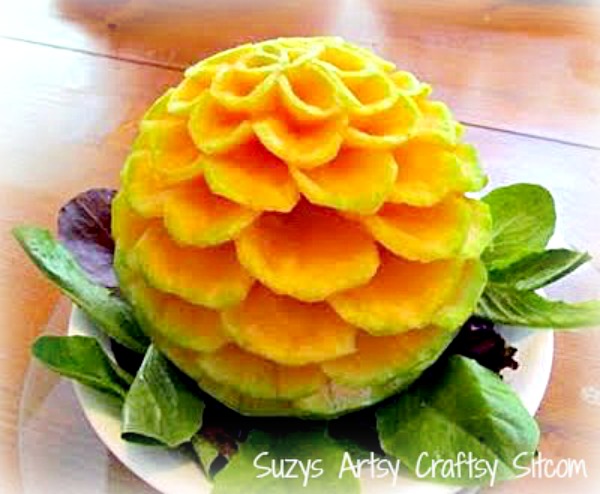 Learn how to carve fruit– right here at the Sitcom!
Love this Fish Bowl Punch!  Based on the Blue Hawaiian, this sweet and sour punch is made up of a mix of Vodka, Malibu Rum and Blue Curaco along with Swedish Fish!  CUTE!  Probably pretty darn potent, but worth the effort!
Apple Cutting- Crab from Marmite Pon Pon
How to create a Pineapple Tree Centerpiece from eHow.com
Sodas in Hula Skirts by Blog ni Ako
So are you ready to party?  Enjoy your summer days with a sweet luau for your friends and family. Start the summer off with a bang!
Are you new to the Sitcom?  Be sure to check out my Frequently Asked Questions Page!