Quilt Block #6 of the Retro Flash Sew Along was available until May 1, 2019! Retro Flash was influenced by our time spent on Route 66 while traveling through the west.  I love the old signage and the simpler times represented in mid century culture.  Retro Flash brings together some of my favorite 50's themes into one fun quilt.
Block number 6 of my new quilt pattern, Retro Flash, is called Living Room!   Each month, I will be walking you through this quilt top step-by-step with tips, and thorough instructions and free templates.
Living Room features some of those great vintage household items that bring back memories of the good old days.  Many of us grew up with living rooms that looked similar to this.  Remember when televisions had rabbit ears, and the only remote control was you getting up to change the channel?
Retro Flash was created with traditional applique, with touches of embroidery for embellishments.  Of course, it can easily be done in fused applique or even with blended wool felt! Click Here for this month's free pattern!
So how does this work?
Starting November 1, 2018, blocks are offered on the first of the month, with the last being offered on July 1, 2019.  Each block will be available free to all Sitcom Readers until the end of that month.
There are 2 Ways to Join the Fun!
1. Free Patterns each month
Download your free pattern from this website each month!  If you are following along with this project, I recommend you mark your calendars and come in early to download the monthly installments. Or join us on the Suzy's Quilters and Crafters Facebook group for monthly reminders. If you miss an installment, or come to the party late, past blocks will be available for a small charge.
Fabric Requirements
For more info on amounts of fabric needed and some beginning tips on how each block is created, be sure to click on the link below! Retro Flash Pattern Fabric Requirements
Living Room
These block instructions and templates were only available for free until May 1, 2019.  After that, they will be available for $4.99 each. Click Here for this month's free pattern!
Love Sew Alongs?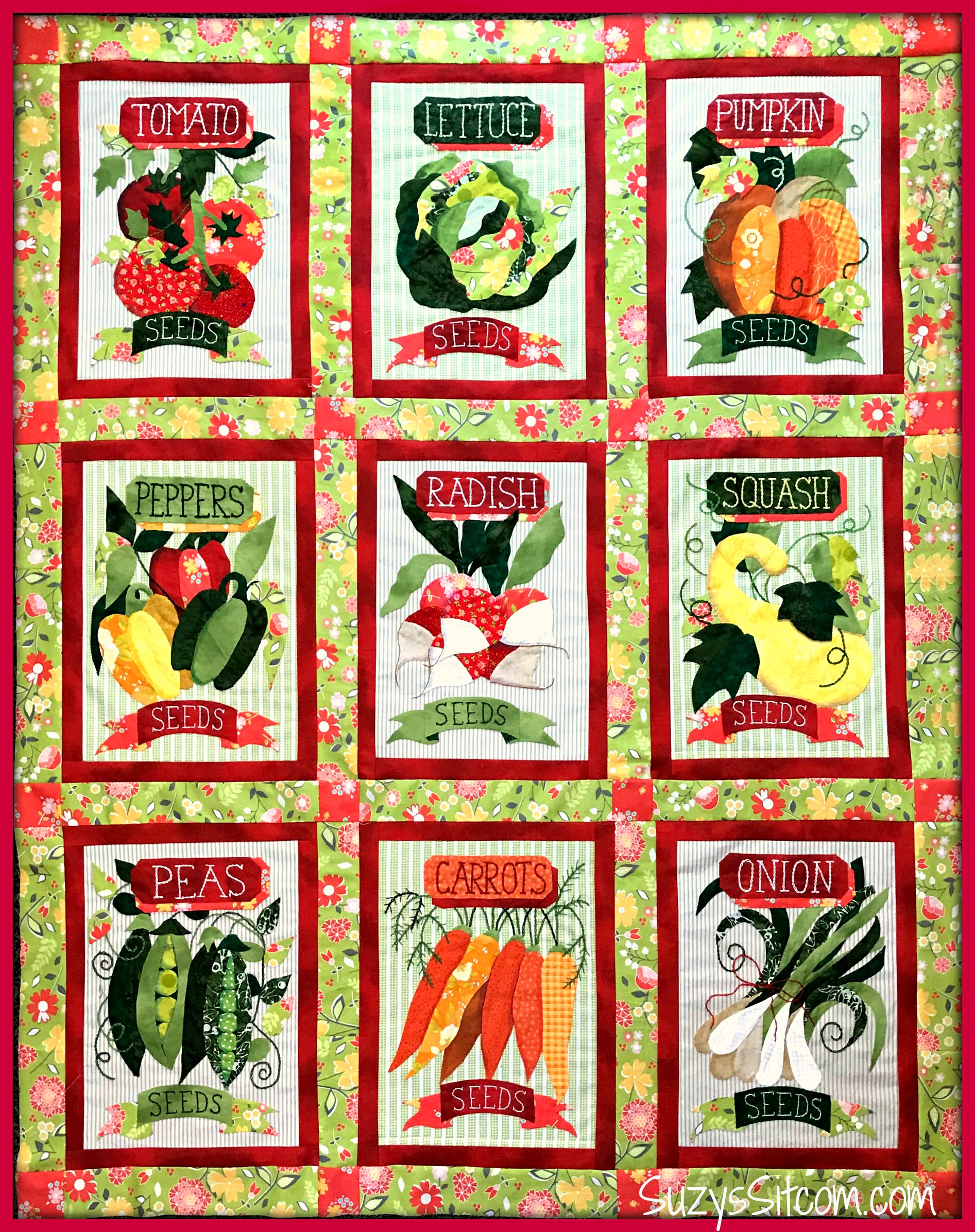 Don't miss my other Sew Along beginning April 1, 2019 called Grandma's Garden!  This beautiful quilt pattern was inspired by vintage seed packets.  You can find all the information for this free sew along HERE!
Past Blocks are Available in my Shop!
Ready to start a beautiful heirloom quilt?  Stay tuned!
Create something amazing and be sure to share it with us!  I'd love to see what you come up with!