Gossiping Chickens!
These sweet gossiping Paisley Chickens are available in limited supplies in my Etsy shop! If you do not see a current colorful batch there, send me a note at suzy@suzyssitcom.com, and I will give you an estimate of when the next batch will be available.  My Paisley Chickens sell out pretty quickly!
Quilt Patterns!
Party Time Quilt Pattern- $3.99 (Finished Size: 40″ x 52″)
Sleepy Puppies Baby Quilt Pattern- $4.99 (Finished size- 34″ x 52″)
Sleepy Puppies Twin Size Quilt Pattern- $4.99 (Finished size- 52″ x 82″)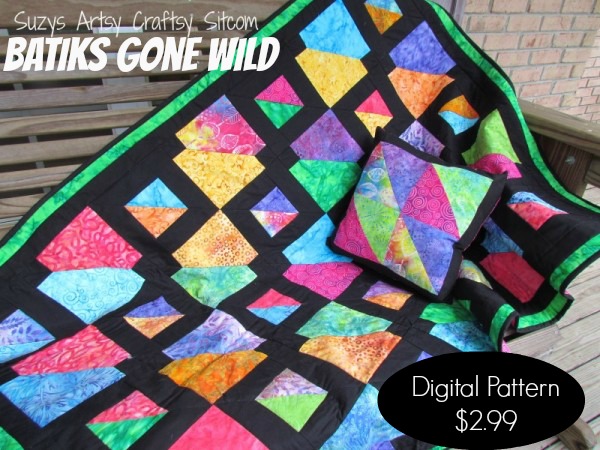 Batiks Gone Wild Quilt Pattern – $2.99 (Finished size- 43″ x 58″)
Sweet Hearts Quilt Pattern- $3.99 (Finished size- 46″ x 58″)
E-Pattern Books!
Majestic Peacock Pattern
The Faux Stained Glass Peacock tutorial is one of my most popular posts.   The peacock is also my most requested pattern.  This pattern book not only contains the pattern for the Majestic Peacock, but instructions for two complete projects using that pattern and ideas for seven other projects!  Click here for full description and reviews! $10.00 Click here to order! 
Partridge & Pear Pattern!
Create two very unique projects with this one pattern.  Color suggestions and links to tutorials for both faux stained glass and aluminum embossing are included.  A beautiful Christmas decoration or wall art!
Partridge & Pear Pattern Only $7.00!
Sleeping Mermaid Pattern
One very sleepy mermaid just waiting for you to bring her to life!  This pdf pattern can be made into a painted piece of art, embossed metal, embroidery, or much more!
Sleeping Mermaid Pattern- $7.00
Chicken Run Pattern
Cute pattern with color suggestions and links to instructions on how to create faux stained glass, or any other project you might have in mind for this pattern.
Chicken Run Pattern- $7.00
Faux Stained Glass Kits
Create your own faux stained glass with these simple kits.  A fun project for the whole family!  (For a full tutorial on this simple process, see my Faux Stained Glass Tutorial).  Each kit contains all supplies that you need to create your own, including a full sized pattern, illustrated instructions, and all paints and glue.  All you have to supply is the clear acrylic sealant, frame and glass!
Faux Stained Glass Peacock Kit
Full Size Pattern – 16″ x 20″, plus supplies and full instructions. All you have to supply is the picture frame and glass! $24.00
Chicken Run Faux Stained Glass Kit
Full Size Pattern – 13″ x 16″, plus supplies and full illustrated Instructions. All you have to supply is the picture frame and glass!  $24.00