The Two Rivers Three Sisters Quilt is a unique collaboration between the Sisters Outdoor Quilt Show, the National Forest Foundation's Treasured Landscapes conservation campaign, and the U.S. Forest Service. Created as a way to bring attention to the two wild and scenic waterways, Whychus Creek and the Metolius River, that frame Sisters Country in Oregon.
Nineteen talented quilters submitted panels to create a 40-foot, unified piece, that includes areas of the rivers along with four additional panels featuring the falls of Whychus.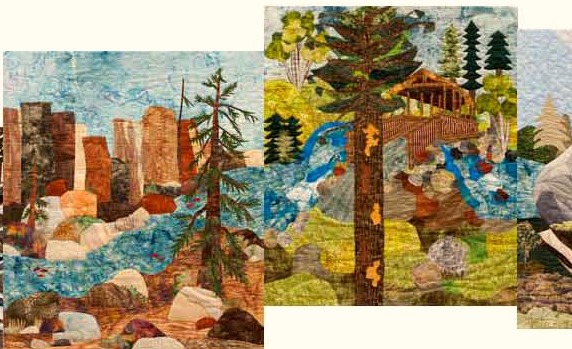 If you are in the area of Sisters, Oregon, Portland, or Tacoma Washington, be sure to catch this amazing quilt during it's tour over the next few months.  The schedule can be found here.  Eventually, this quilt will be auctioned off to raise money to benefit the area of Whychus Creek and the Metolius River.
Isn't it wonderful how art can translate to so many and at the same time provide funds for a worthy cause?
Be sure to check out their facebook page, and their wonderful video below, where you can see even greater detail of this amazing piece of art.