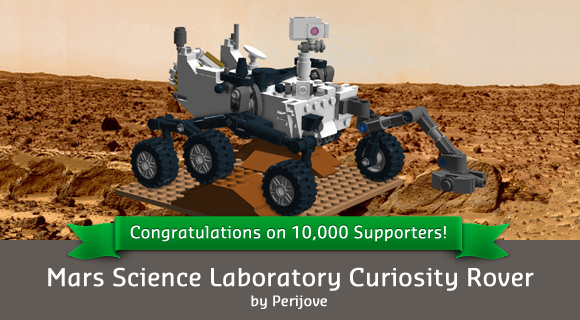 Photo Source Lego Cuusoo
Guest Post by Oliver representing Legoland Holidays
With many new ideas for the members ofLego Cuusoo to support and many more flooding in, let's take a look at some of the models that have not only reached the 10,000 supporters required to be reviewed by Lego, but have actually been put into production!
The designers earn 1% of the profits made from each and every sale of their Lego creations. Every aspiring designer that submits their idea to Lego Cuusoo has the possibility of seeing their creations on the shelves.
Lego Shinkai 6500
Source
This is the groundbreaking first Lego set to have gone through the Cuusoo project, after it reached the required level of 1,000 supporters. The design is based on a real submarine of the same name and has since had 10,000 sets made to be sold.
What makes it truly stand out is the obvious work that went into the creation; everything has been duplicated perfectly from its real life counterpart.
Lego Hayabusa
Designed by four fellow Lego lovers, and becoming the second creation to be accepted by Lego Cuusoo, this model of the Japanese spacecraft has been immensely popular with Lego collectors all around the world. This spacecraft actually created history back in 2003 when it went in to space…unmanned and came back with asteroid samples.
Made to be a showpiece rather than a toy, this model has taken pride of place on many desks across Japan and the rest of the world.
Lego Minecraft 
Source
The very latest model to have received the amount of supporters, and being accepted into production by Lego is the Minecraft series.
This series is based on the latest and greatest online video game that has been sweeping through the homes of children and adults alike. This micro set contains many 1×1 Lego pieces and the two likeable characters Steve and Creeper.
Since its release, this set has proved extremely popular and just goes to show what can be created when you put your mind to it.
Future Creations
Now that we have seen the creations that made it all the way through the review process, let's take a little look at some of the designs that have just recently attained the 10,000 supporters needed and are just waiting to be put in production.
Back To The Future – Delorean Time Machine
Source 
This is sure to be a favorite with both kids and adults. Many adults today were just kids themselves when this movie hit the screens. The cult classic becoming a three part blockbuster with Marty McFly and Doc Brown enjoying adventures into the past and into the future.
Mars Science Laboratory Curiosity Rover
This particular design has been tipped as one of the most likely to be put into production. It is a model of the current Rover that is still doing its mission up on the surface of Mars. Its mission is to try and find out once and for all if there has ever been life on Mars or if there possibly still is.
This is ideal for anyone who is in awe of any form of space travel and exploration, and the likeness is spot on compared to the real rover.
USC Sandcrawler
Carrying on with the space theme, while the Mars Rover is real to life, the Sandcrawler is one of the vehicles found in the Star Wars series. It looks fantastic and would certainly be perfect for lovers of that blockbusting movie series.
Thanks to Legoland Holidays for sending us this inspirational round up. Check them out if you need a creative kick!
Have you ever considered submitting an idea to Lego?