My latest quilt pattern is called Windmills at Night.  I designed it specifically for beginning quilters, using pre-cut fabric strips called "jelly rolls".  The bright red fabrics touch off the black and white fabrics beautifully, and this striking lap quilt will make a fabulous addition to your decor.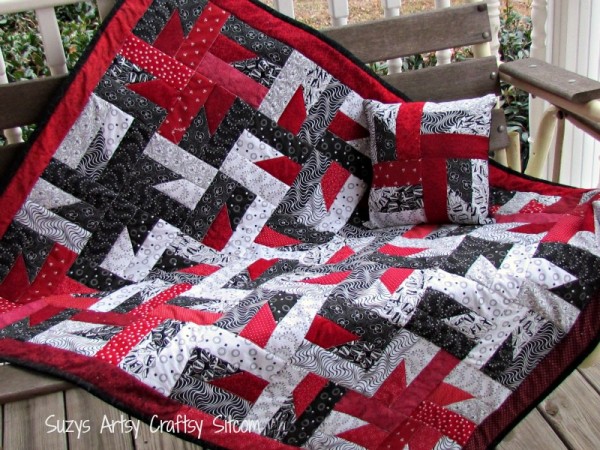 Although it may look complicated, Windmills at Night is a simple pattern.  A beginning quilter can easily tackle this project, and a more experienced quilter can easily finish this 40″ x 52″ lap quilt in a weekend.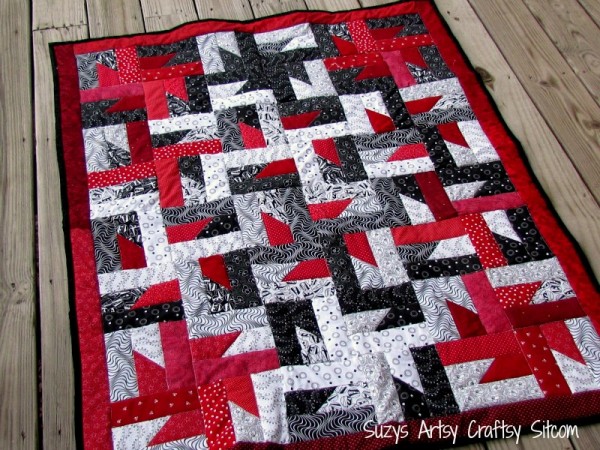 Now, you can always select your fabric at your local shop and cut the 2.5″ wide strips to make this project, but I do want to let you know of an alternative.
This post contains affiliate links to my Etsy shop and Discount Sewing Supply.
Just as I did with my previous free quilt pattern series, Summer Jewels, I am teaming up with Patricia from Discount Sewing Supply to present to you a simple quilting tutorial using pre-cut strip fabric called Jelly Rolls.
What is a Jelly Roll?
A Jelly Roll consists of carefully selected fabrics in light, medium and dark values-in this case, a 20 strip pack of black and white fabrics, and a 20 strip pack of reds.  Each strip is die cut for pinpoint accuracy, 2.5" x width of the fabric or 42/44" approximate.  This quilt is much larger than Summer Jewels; finished size is 40″ x 52″.
Would you like Windmills at Night in KIT Form with all the fabrics included?  Click HERE to see this kit and others offered by Discount Sewing Supply!
Windmills at Night Lap Quilt -LESSON 1
Fabric if using Jelly Rolls:
• One Jelly Roll pack (20 strips of 2.5" wide fabric) Black and White various patterned strips
• One Jelly Roll pack (20 strips of 2.5" wide fabric) Reds
• 2" wide black 100% cotton fabric strips for binding
If cutting your own fabric: 
If you decide to cut your own fabric, we would suggest that you get 22 inches of each print (10 prints in black/white and 10 prints in red). 
You will also need:
• Approx 1-1/2 yards of 100% cotton fabric for backing
• Batting
• Rotary Cutter
• Ruler
• Sewing Machine and thread
• Iron
In order to prepare to make the blocks as shown above, you will need to cut the following lengths from your Jelly Rolls (if you do not have jelly rolls, simply cut your fabric to the measurements below):
White (36 ea) 6 ½" x 2 ½"
White (32 ea) 4 ½" x 2 ½"
Black (36 ea) 6 ½" x 2 ½"
Black (32 ea) 4 ½" x 2 ½"
Red (24 ea) 6 ½" x 2 ½"
Red (32 ea) 4 ½" x 2 ½"
Helpful Tip:
You will be sewing ¼" seams. In order to get even seams, I suggest
that you place a marker on your sewing machine. I used a strip of
paper and taped it down ¼" to the right of the needle. If you follow
this marker as you sew, you should have perfect ¼" seams.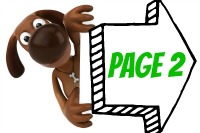 Pages: 1 2