Ever wonder how folks carve fruit into flowers and such?  After a bit of practice, I learned how to carve a flower out of a cantaloupe!  Want to see how I did it?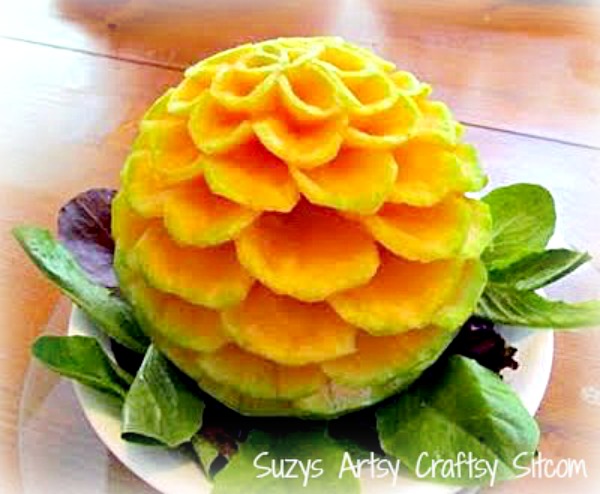 My sister is a real social butterfly.  And a great party planner.  Every year, she throws the annual family Luau which consists of lots and lots of fancy tropical-like food, games and great music.  And when you show up at her house, it is like being transported to an island oasis as she goes all out on the decorations.  It is always a big hit every year.
This year in an attempt to make me more social, she has been sending me email after email about all the games and competitions she has planned, trying her best to get me to commit to something.  A treasure hunt?  Nah, I'll just watch.  An eating contest?  Really.  I'll pass.  How about a belly flopping contest?  Seriously?  I think not.
There was a pause in emails for a few days and then she hit me with, "A fruit carving contest"? Well, we have certainly thrown down the gauntlet here.  She knows I can't pass up a crafty challenge.  She knows me pretty well.  So after some research, here is my official first try at fruit carving.
For this project I used:
One cantaloupe (the less ripe, the better)
Carrot Peeler
A sharp knife
Lazy Susan (you know, besides me)
A bunch of patience
Start by using the carrot peeler to take the outside skin off.  This was actually a lot easier than I thought it would be.
Slice the bottom off to create a flat area for it to side on.
Place a towel on your Lazy Susan and then the cantaloupe on top.  Begin by using a sharp knife to cut a circle into the top of the cantaloupe.
Cut deep little notches into the center of the circle to mimic the center of a flower.  Then use the knife to draw an outline of the first row of petals.  Then at each petal, start digging out cantaloupe, stopping at the line of your circle.
Do this all the way around.
Draw an outline for your next row of petals and repeat the process.
Don't be afraid to dig in pretty deep to get good contour.  You'd be surprised at how workable a cantaloupe can be.
Ralph is a huge fan of cantaloupe.  I didn't have to worry about picking up any errant pieces.  They never had a chance to hit the floor.
To make the petals stand out as individual petals, cut underneath the top petal, and then cut a small notch out of the petal underneath.
And there you have it.  It looks a little more like a yellow pinecone to me than a flower, but it does look pretty awesome.
Fruit carvings make a great fancy addition to a fruit tray for special occasions. I think they are a great idea for weddings and such.  If you decide to make one for such an occasion, I would suggest that you carve it no sooner than the day before the event as once carved, fruit only lasts so long.  I did mine on Sunday and stored it under wrap in the refrigerator and it still looks pretty good.  As for actually eating it, well my hands were all over the thing, so I'd say it just makes a great decoration.  But that is just me.