Well, look who I found gossiping away on my front porch!  A gaggle of paisley chickens!  You know, chickens are notorious for just clucking away about all the latest tidbits.  Who grabbed who's hair on the latest episode of Housewives of Atlanta.  Who just got out of rehab?  What happened last night on Honey Boo Boo?

I'm so glad that you stopped by to check out this fun tutorial!
It is one of the most popular craft projects on the Sitcom!  And that is saying a lot.  The Sitcom currently features over 200 fun craft tutorials!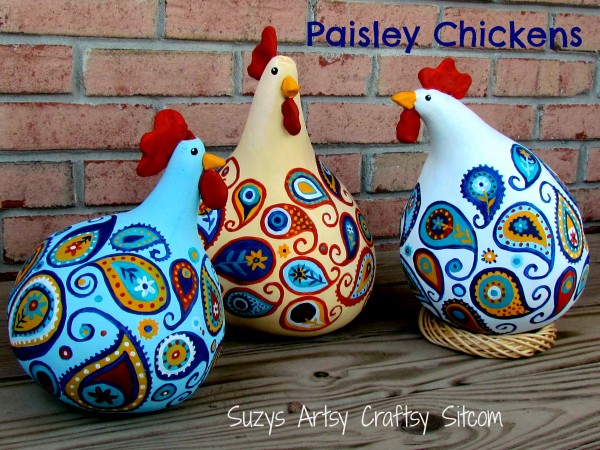 Did you know that Paisley Chickens are known for their gossip?  They actually have personal subscriptions to the National Enquirer!  Hmmm… I guess we have something in common!
Anyway, just in case you would like your own gossiping bunch of paisley chicks, I will show you how they are made!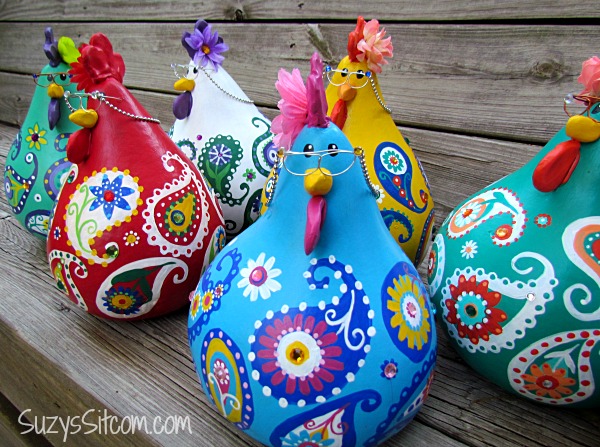 This post contains affiliate links from Amazon
For this project I used:
3 Dried Gourds
Acrylic Paints in light blue, dark blue, gold, brick red, white and teal
Polymer Clay
Hot glue
Krylon Clear Matte Varnish Spray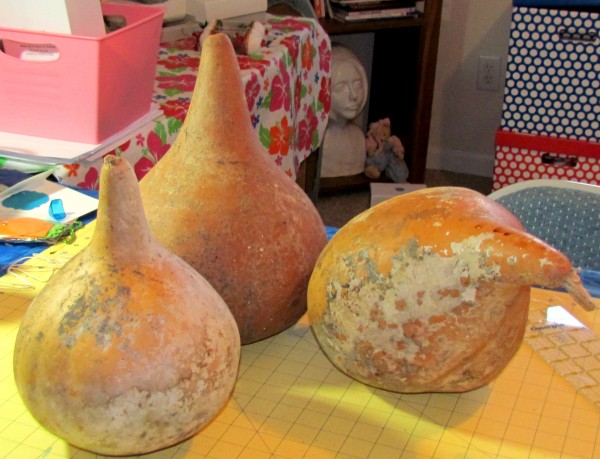 Our fabulously dressed chickens started out as these lowly dried gourds.  Well, everyone has to start somewhere, right?  These dried gourds have been sitting in my stash for several years now, just waiting on the right idea to come along.
In order to prepare them for painting, I scrubbed them each with a non-abrasive scouring pad.  It is good to use some bleach in your water to stop any of the molding that is going on.  A simple method is to spray them with bathroom cleaner (that has bleach in it) and then scrub them.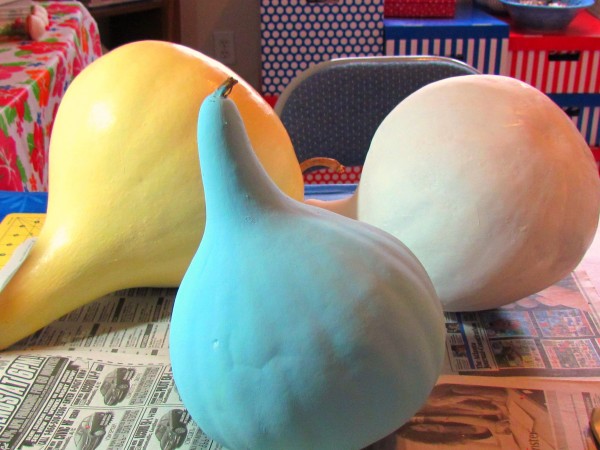 Because my chickens need to go together as a group, I chose a color palette that I would use on all the chickens.  My colors for this project are light blue, dark blue, gold, white, teal, and brick red.
I began by painting a base coat on each gourd, one light blue, one white, and the third- I added some white to my gold and painted it a light gold.  It took about three coats to cover the gourds well.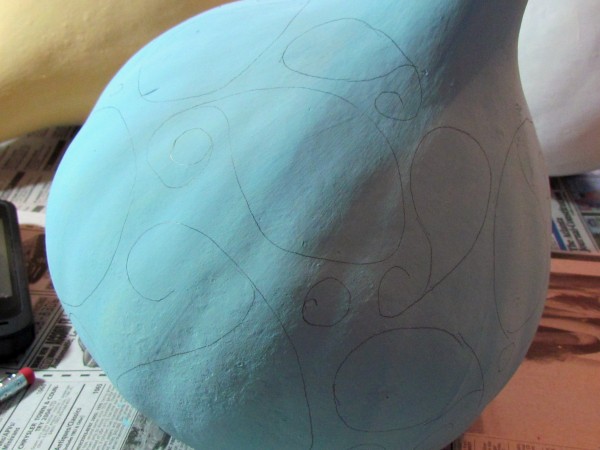 Drawing paisleys is a simple process.  They are basically tear drop shapes with a curl at the top.  I sketched different sized paisley all over the base of the gourd, turning some upside down and some sideways for variety.  I did not add them to the neck of the gourd, because everyone knows paisley chickens don't have paisley on their necks.  Right?


I used dark blue to outline the paisleys on two of the gourds and the brick red to outline them on the yellow gourd.  I then started filling in the paisleys with color.  Each paisley is totally different from the next.  I did not go by any pattern or design, just filling them in as I wanted.
Some paisleys had flowers painted in them, some just had circular designs.  I added dots of color to some for a bit of variety.  Working with the same color scheme on all three gourds helps to make them match each other even though no two paisley are alike.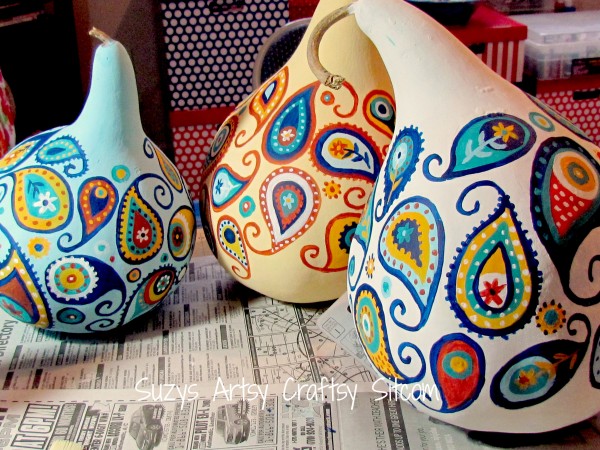 And here they are waiting for me to make their little heads.  Am I ready for the gossiping to start?  Well sure.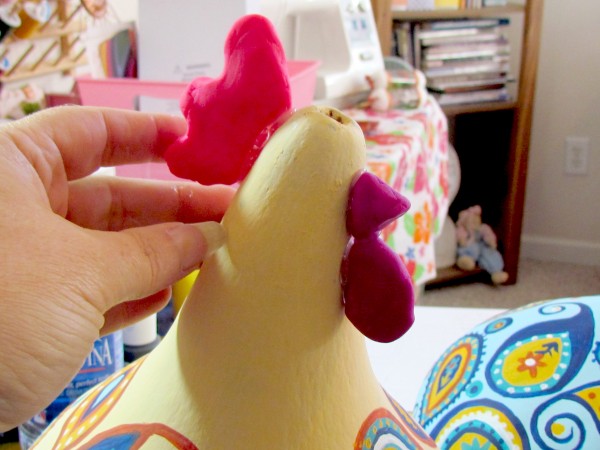 I used polymer clay to create the comb, beak and wattle for each chicken. Don't you just love that word, wattle? The process is to shape the clay how you would like it, then put it in a 200 degree oven for about an hour to dry.
Once the pieces have cooled and hardened, they were then hot glued onto the gourds.  I then painted the comb and wattle with the brick red, and the beaks with gold.  (It took several coats of paint).  You could shorten this process by using the proper color clay, but I tend to work from my stash and pink was my only option.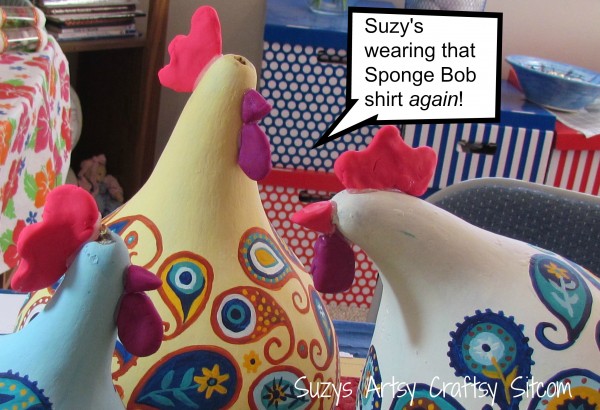 See, they don't even have eyes yet, and they are already talking about me!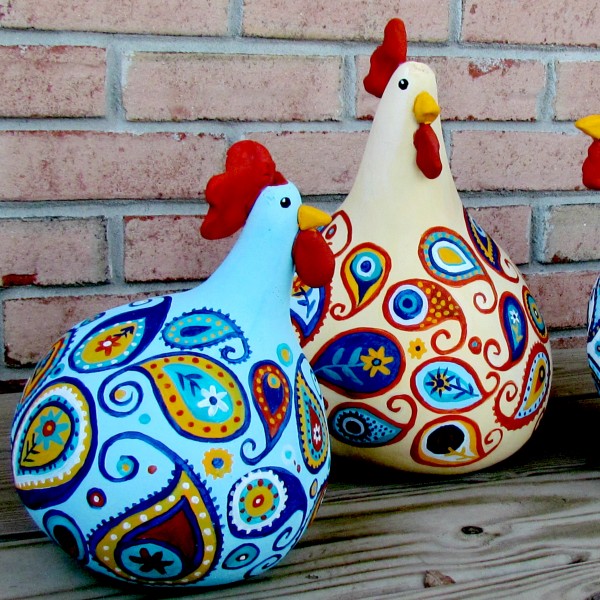 A dot of black paint creates the eye.  Add a smaller dot of white for a highlight.  The final step is to add two good coats of Krylon clear matte acrylic spray to protect the paint.  And then they are done!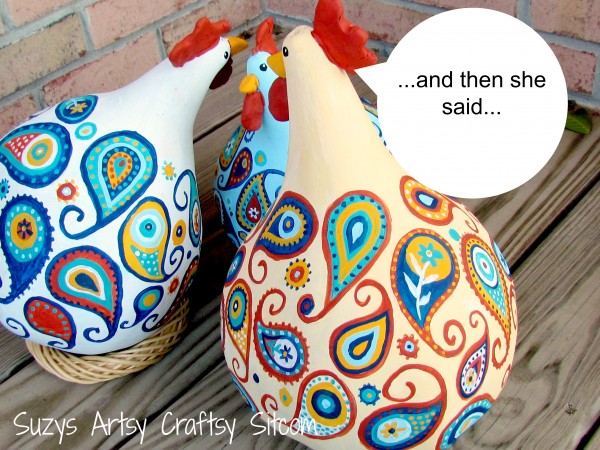 Now if I could just get them to be quiet!
What to purchase some already made chickens?  My latest flock of gossiping chickens is now available in my Etsy shop! 
For more decorative painting, see:
Vintage Seed Packet Art
Enchanted Fish recycled cookie sheet art
Are you new to the Sitcom?  Be sure to check out my Frequently Asked Questions Page!
For over 150 crafty tutorials for all ages, visit my Tutorial Page!