The folks at Sunglass Warehouse challenged me and several other DIY bloggers to transform a pair of their shades into an original decorated pair of sunglasses for the season.  The more unique, the better!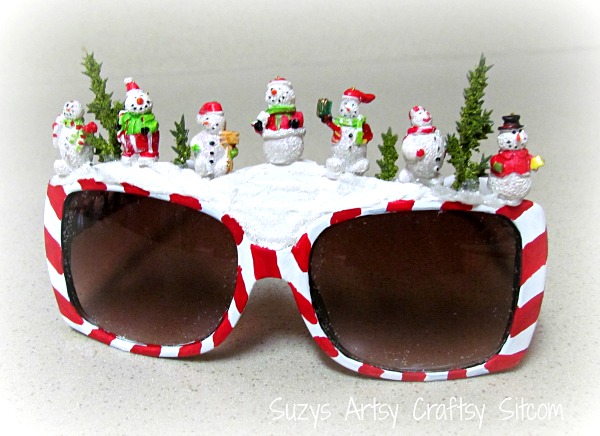 Of course, I had to come up with something totally insane!  I mean, I have a reputation to maintain!  I took their nice pair of sunglasses and turned them into a winter wonderland.  A wintery mix of snowmen for your face!
You know you want it!
It would go perfect with your ugly Christmas sweater, wouldn't it?
My mother was kind enough to model them for me.  I'm pretty sure that she has a sweater to go along with them!
For instructions on how to make this fun pair of glasses, check out the DIY Snowmen Scene Sunglasses tutorial on the Sunglass Warehouse website.
If you want to see what the other bloggers came up with, you can find them here, along with a great holiday gift guide!  Oh, and do look around.  Their sunglasses are pretty cool too!
Thanks to Sunglass Warehouse for this fun opportunity!
—
Don't miss the Big Sitcom Pattern Giveaway!  You could win 8 of my premium patterns!  Contest ends on November 25, 2013.
Are you new to the Sitcom?  Be sure to check out my Frequently Asked Questions Page!
You can keep up with the Sitcom on Facebook for daily updates!
For over 100 crafty tutorials for all ages, be sure to visit my Tutorial Page!