Thank you to Artterro Eco Art Kits for sponsoring this awesome giveaway!  All opinions are my own.
This week I'm having a blast with Artterro's Creativity Kit!  Lots of beautiful paper, felt pieces, beads and bling!  So what to make?  Well how about a Mixed Media Birdhouse just in time for spring?
Artterro's fun, eco-friendly craft and art kits are meant for children, but as you can see, adults love them too!  I love the fact that everything is there in one place and all I have to do is sit down and create.  Kids love these kits because they allow their imaginations to totally take flight!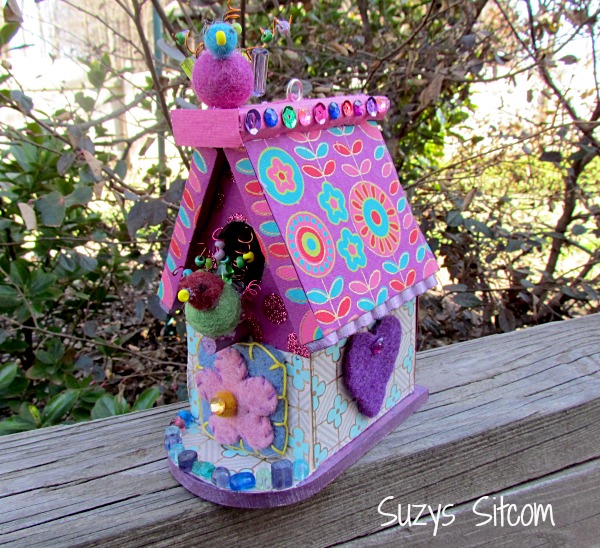 The craft kits from Artterro are not only all-inclusive, but contain high quality materials that are sure to inspire. Each kit challenges you or your child to create something amazing.  The end result is something that you and your children can cherish for years to come!
If you have never visited Artterro's website, you really need to check them out! I love the variety of kits and love the fact that these are craft kits that you won't see just anywhere.
Creativity Kit
So let's take a look at the Creativity Kit!  What a beautiful assortment of art materials!  Suggestions for projects include sewing greeting cards, bookmarks, ornaments, gift tags, small sculptures and collages. The kit contains enough supplies for seven projects, and consists of high quality materials.
The Creativity Kit Includes: 100% recycled beautiful handmade paper, natural 100% wool felt shapes, glass beads, wooden beads, sequins, craft thread, copper wire, needles and ideas sheet.
For this project, you would also need:
One small wooden birdhouse
Hot glue
Acrylic Paint
I just loved the beautiful paper included in this kit!  It is thick paper and has the feel of handmade.  Each and every kit is unique, so you never know what pretty paper and beads you might get!  I chose some paper that I loved and using my hot glue, started covering the wooden house in beautiful colors.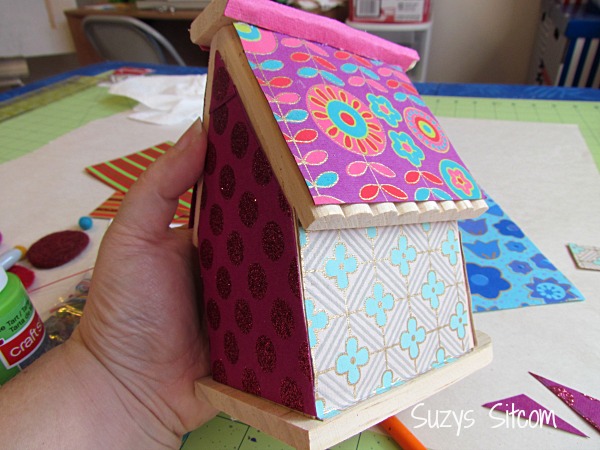 Cover all sides, cutting the paper to fit and gluing it on to the wooden house.
Add paper to the sides, and edges.
The kit includes needles and embroidery floss.  So I added a pretty flower to the entrance of the house.  The kit not only includes supplies, but ideas and even stitch guides to show you how to embroider the felt!
Here is the pretty flower that I put together using the felt, thread, and a touch of hot glue!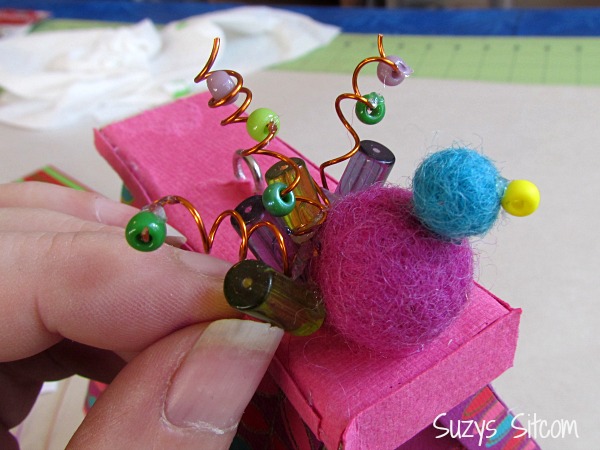 And now to create little birds!  I used the felt balls included in the kit and the beads and wire to make them.  Just wrap the wire around a paintbrush handle to create the spirals and then glue everything together.
The final touch was to add some pretty acrylic paint to the areas of the house that were not covered.
Oh, and some beads and sequins!  Oh my!  I love working with all these fun materials!
Little birdie says "Hi!"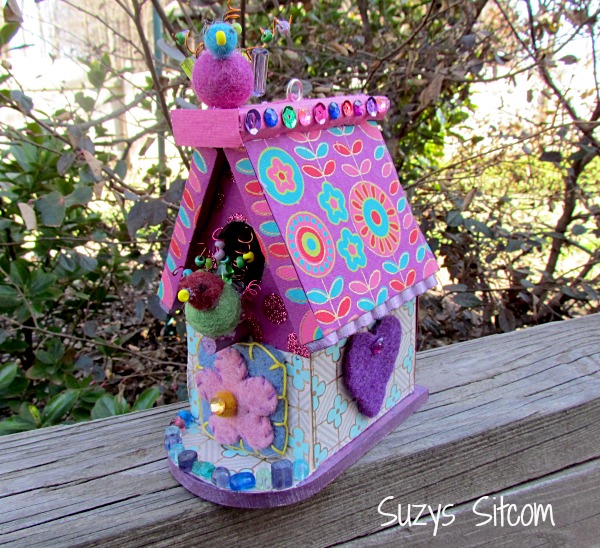 My little bird house is not weather proof of course.  And there really isn't room for a real bird.  But I love the mix of colors and media!  This little house would look very cute on the kitchen windowsill!  Or even make a great gift for Mothers Day, or maybe for a teacher.
How would you like to win a Creativity Kit of your very own?
All you have to do is visit Artterro's website and come back and tell me which kit is your favorite.  Just leave a comment below for an easy entry! If you have Facebook, you can add an optional entry by "liking" Suzy's Sitcom Facebook page.   Contest ends on Saturday, March 22, 2014 at midnight EST.