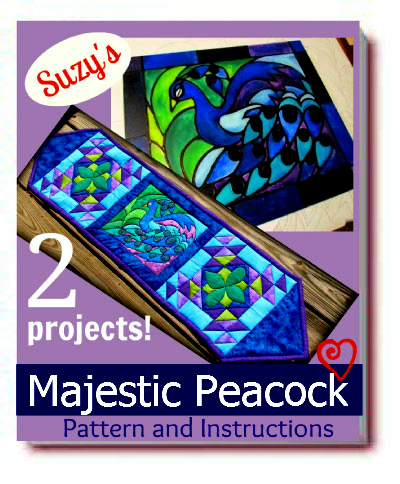 The first in a series of pattern ebooks, launched by Suzy's Sitcom-  Majestic Peacock!
The Faux Stained Glass Peacock tutorial is one of my most popular posts.   The peacock is also my most requested pattern.  This pattern book not only contains the pattern for the Majestic Peacock, but instructions for two complete projects using that pattern and ideas for seven other projects!
Faux Stained Glass Peacock
Enlarge the pdf pattern to the size you would like and create your own Faux Stained Glass. Fully illustrated instructions walk you through the process step by step.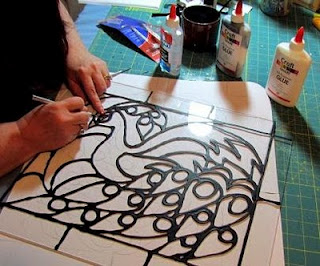 Majestic Peacock Quilted Table Runner
Use the pattern and batik with crayon method to create the center square.  Included is the full pattern and instructions for completing this amazing table runner.  This project includes the crafting techniques of batik with crayons, piecing a quilt, machine quilting, applique and applying fabric jewels.
Two great projects in one ebook plus ideas for seven more!
Available starting July 27, at the discount price of $7.00, you can purchase this ebook, and it will be immediately sent to your email in-box so that you can start making your projects right away!  Prices will return to the regular price of $10.00 after August 3, 2012.
Now is your chance to win a free copy!
I will be giving one copy of the Majestic Peacock Ebook away on the morning of July 27.  All you have to do to enter is answer the following question in the comments section below:
If you could live anywhere in the world, where would it be?
Doesn't have anything to do with crafts, does it?  Well too bad.  That is my question.  Ha!  Answer away and I will be awarding one lucky Sitcom reader a free ebook on July 27th!
And don't forget to sign up for the Sitcom Monthly Newsletter where you will receive exclusive discounts on my Premium Patterns, and lots of other secret Sitcom info! Look for the sign up sheet in the right hand column!