Since my girls have grown up and moved out, the house has become a lot quieter.  Sometimes that is a good thing, as now my husband and I can relax in an un-drama-fied environment.  If you are familiar with raising girls, then I'm sure you are familiar with the drama.  Every day was a new episode in their own personal reality show.  While my life is a sitcom, theirs were more of a daytime soap opera with lots of angst, a bit of dramatic story line and many episodes of just plain old teenage turmoil.  My little sitcom pales in comparison to their daily theatrical melodrama.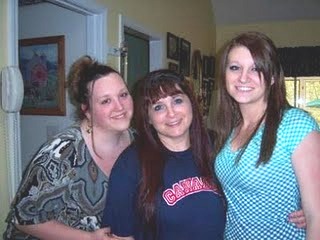 And yes, they did grow up to be beautiful, happy individuals.  Do we miss them?  Absolutely!  The drama?  No way.
Now we are free to do what we want, when we want.  My schedule revolves around my schedule and nobody else's.  If we wanted to run around the house naked, we could certainly do it!
Well, actually, I don't really want to frighten the dogs.  They are a bit high strung already.  But the point is, if we wanted to, we certainly could!
But with the holidays upon us, the thrill of no kids in the house dims a bit.  It has always been important for us to have traditions around the seasons and the holidays. Time passes so quickly and making good, happy memories is important.
With that in mind, my husband and I spent last weekend up in the North Georgia mountains checking out the fall colors, hiking the falls, and stopping at roadside stands. In the process, we picked up two pumpkins and a bunch of home-made jellys and apple cider. Fall is my favorite time of year and I want to stop and take it all in. The sound of the leaves as they crunch beneath your feet, the smell of fall in the air, chilly mornings, acorns all over the back porch, gourds, pumpkins, fires in the fireplace, roadside stands with apple cider and boiled peanuts.
And then Thanksgiving and Christmas are just around the corner.  My father died two days before Christmas a few years ago and it has really put a damper on the holidays for me.  I have struggled with decorating the house the past few years and have done so only because my youngest was still living with us.
Which brings me to my conundrum.  My husband and I need to establish new traditions for the holidays.  Especially for Christmas.  Both girls are now living in Florida and there are no grandchildren in the near future.  No children at all, and really that was half the fun of the holidays.  It will be just us this year.  Well, us and the dogs, but let's face it, every day is Christmas to the dogs as long as you remember to give them their jerky treats.
So, I thought I'd put it out to my readers. Can you give us some suggestions on new traditions to bring back the joy of the holidays?  We would love to know what you think.