Our thoughts are of Spring this time of year and naturally, crafting heads in that direction.  With that in mind, I wanted to bring to you five Spring Crafts previously featured on the Sitcom!
Because we need a little color now don't we?  Pick one of these great projects to add some sunshine back into your early spring day!
Chrysanthemum Mirrors
There are many versions of these colorful Chrysanthemum Mirrors circulating the internet.  The secret ingredient?  How about plastic spoons!  See them now, don't you?  This is a fun project that I did with the whole family involved and a ton of plastic spoons from the dollar store.
Easy Spring Decorative Soaps
These easy to make Decorative Soaps are actually another dollar store item.  Look difficult don't they?  You will be totally surprised.  A simple craft to put together, you can complete a whole basket of decorative soaps for ready for giving in just an hour!
Vintage Seed Packet Art
I've always been a huge fan of Vintage Seed Packet Art.  This tutorial shows the basics of how I painted the design on these two stools.  Like this, but cannot paint?  Consider printing out vintage seed packet art that can be found on the internet and grabbing some Mod Podge!  Same effect; beautiful furniture!
Ruffled Grocery Bag
Love the bright springtime look of this Ruffled Grocery Bag?  Another simple tutorial.  If you can sew a straight line, you have this!  This sunny bag started out as a regular old grocery bag!  Now it is a beautiful accessory.
Making Batik Fabric with Crayons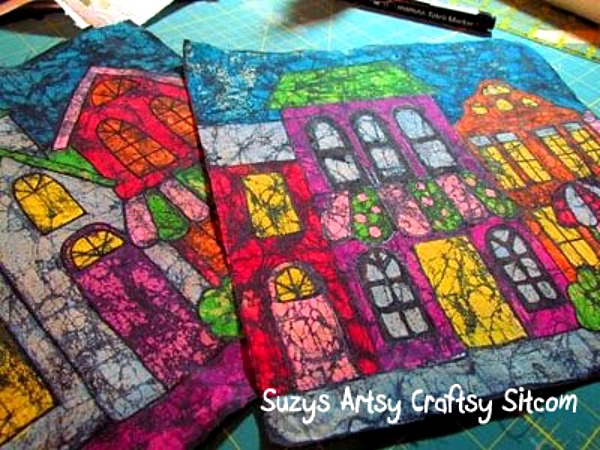 And finally, one of my most popular tutorials, Batik with Crayons.  When I originally created this tutorial, I used a process documented in a vintage craft magazine.  Since then, I have tried the project again and used a deep dish flat griddle as a double boiler in order to keep the crayons melted.  A very successful option.  This project is actually a great craft for older children to try!  And the final results are very colorful!
So take a few moments and check out the spring crafts available to you on the Sitcom!  You can find over 100 more detailed tutorials on my Tutorial Page.  A little something for everyone!
Are you new to the Sitcom?  Be sure to check out my Frequently Asked Questions Page!