This is a sponsored post.  However, all ideas and opinions are genuine and my own.  I hope you will enjoy my original craft project.
I recently had the privilege of previewing the Blu-ray Combo Pack of Oz the Great & Powerful and was taken on an adventure to the land of Oz.  The challenge was to create a craft inspired by this awesome movie; and hot air balloon suncatchers were the way to go!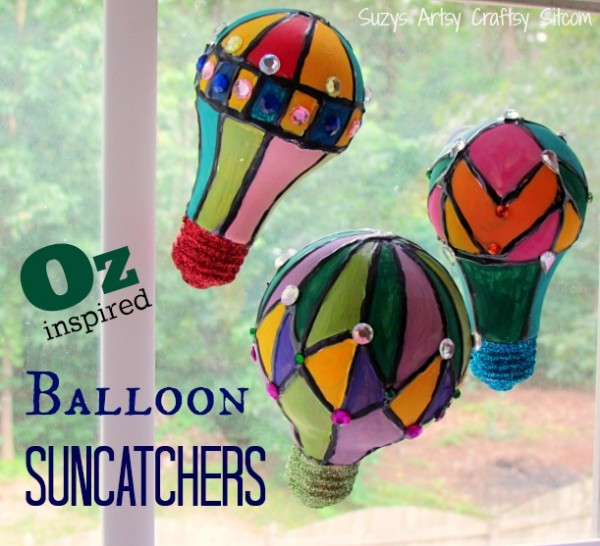 Be sure to take advantage of the Blu-ray combo Pack release on June 11.  This movie is simply unforgettable!  Beautiful scenery, beautiful costumes, and fabulous fantasy characters.  Well worth watching again and again!  My craft project is based on the hot air balloon that transports the main character, Oz the Great and Powerful, to the land of Oz.
For this project I used:
3 burnt out light bulbs
black fabric puff paint
acrylic paints
glitter
stick on jewels
glass glue
mini suction cups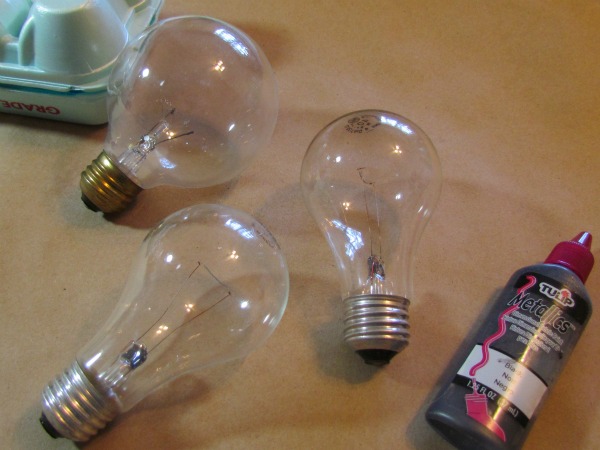 I collect various recycled objects for future craft projects, so I did have a small stash of burnt out lightbulbs available.  I chose three of them, and pulled out my black fabric puff paint.  (I used metallic, but any black will work).
 Hold the bulbs at their bases, and draw basic designs on the bulbs with the puff paint.  Be sure to create a stand to allow them to dry ahead of time.  I used a piece of styrofoam and some toothpicks.
Use bright colored acrylic paints to paint in the sections of color on the light bulbs.  It will take several coats of acrylic paint.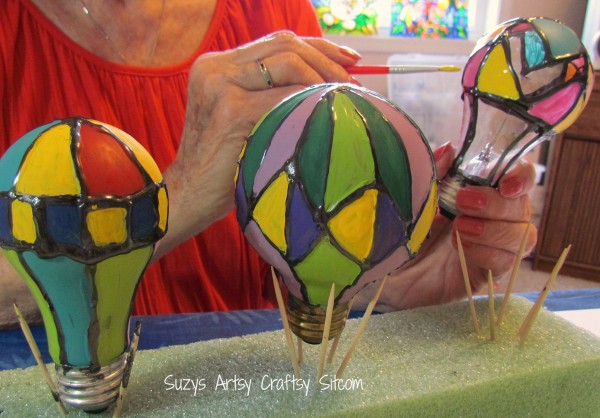 Allow the balloons to dry between coats.  When all color is on, touch up the black lines with a bit of black acrylic paint.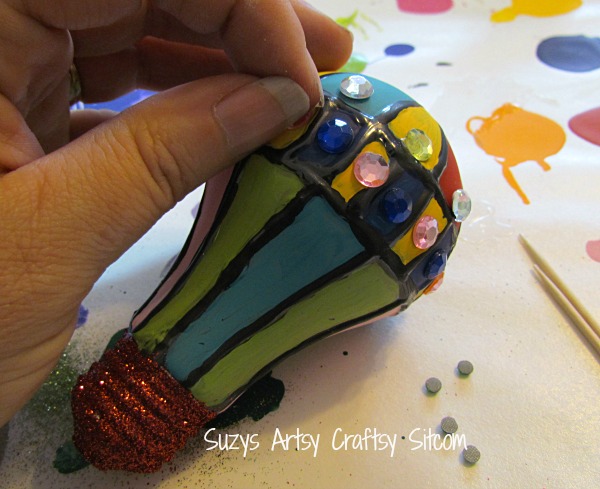 Paint white glue onto the base of the bulb and sprinkle with colored glitter.  Use stick on jewels to add more bling.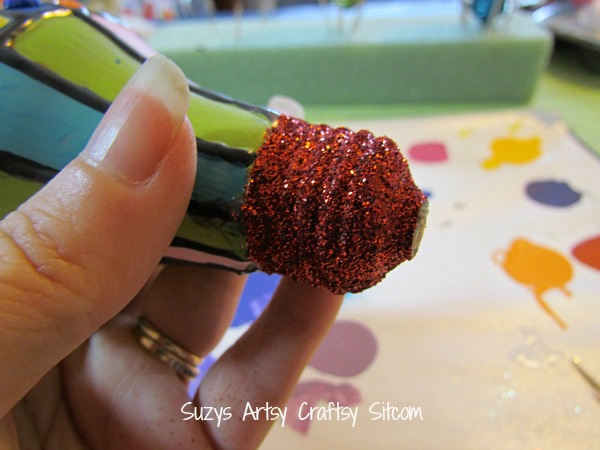 Take the metal hook off of the mini suction cups and use glass glue to glue it onto the back of your balloons.  Be sure to use glass glue and not hot glue.  (Hot glue will let go in the heat of the window).
And there you have it.  Beautiful Hot Air Balloon Suncatchers inspired by Oz the Great & Powerful!
You can find more information on the movie and where to purchase the Blu-ray Combo Pack here.
And be sure to check out their social networking sites:
This post was sponsored by Disney and Oz the Great & Powerful!  All opinions are truly my own.  After all, you can't help but love the adventure of the land of Oz!
For more projects inspired by Oz the Great & Powerful, be sure to check out the links below!