With the holidays over and the winter upon us, many of us are looking for bright projects to keep us entertained over the snowy season.  I love to quilt and knit, and spend my free time creating colorful diversions to the blustery weather.  With that in mind, I checked out the web and found some great free quilt patterns in pretty spring colors to brighten your day.
If you are a beginner quilter, you have plenty to choose from with these patterns.  A more advanced quilter would still have a blast.  Half the fun is walking through the fabric shop and petting all the fabric.
What?  You don't do that?
Well, I'm a self confessed fabric petter.  I love to touch all the textiles, and find myself having to keep my hands in my pockets at quilt shows.  Yep, weirdness.  But it is us weird folks that make the world more exciting, right?  Anyway, come check out some of the fun free quilt patterns I found!
Sew Stitchy Squares from Samelia's Mum
This pattern makes a sweet baby quilt, or just add more blocks to fit a larger bed.  This particular pattern is rated easy and goes together very quickly.   A more advanced quilter could piece this one in an afternoon.
Butterfliers Baby Quilt from Quiltmaker Magazine
Here is a great use for scrap fabrics!  This quilt is a bit more difficult, simply because there are many pieces to put together.  Once you learn the deceptively simple block, it should go together pretty quickly.  The end result is a colorful batch of butterflies to put a smile on your face!
Have a Heart Pattern from Piece 'O Cake
This pattern is for the more advanced, because the hearts and leaves are appliqued.  However, applique is not as difficult as you may think!  My latest pattern, Sweethearts, incorporates an incredibly simple technique for applique.  Once you learn it, so many more fun quilting opportunities will be open to you!
Kaleidoscopic Kites Quilt from Fresh Lemons
Here is another fun quilt that looks difficult, but is actually a simple pattern that goes together very quickly.  The hardest part would be picking out your colors!  A great use for scraps and charm packs!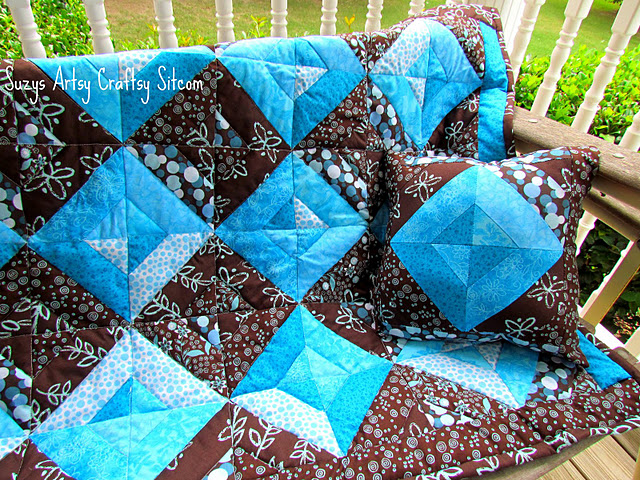 Summer Jewels Free Quilt Pattern from Suzys Sitcom
Summer Jewels is my first quilt design!  You can find the full instructions in a four part tutorial here on the Sitcom.  This pattern is a great use for scraps and goes together very quickly.  If you are just starting out, this is a great first project to try!
Let's Dance Quilt from Quilters Newsletter
This quilt is another great use for scraps.  Love the contrast of the black fabric against the bright colors!  I would rank this pattern at medium to difficult based on the half triangles.  Again, once you learn the technique, you will be surprised at how many new projects you can take on!
Pinwheel Baby Quilt from Pat's Knitting and Quilting
This is a simple pinwheel pattern made awesome with a beautiful bright fabric selection.  Note the pretty prairie point edging!  Prairie points add a new layer of texture to a quilt and they are actually pretty simple to make!  This quilt was machine quilted with soft curves that are a perfect contrast to the points in the design.
Hugs and Kisses Scrap Quilt from Lyn Brown's Quilting Blog
So let's end this with some hugs and kisses, perfect for a Valentine project!  Use baby prints and this also makes a fabulous baby quilt!  Hugs and Kisses has a simple two-block pattern that goes together quickly.  I'd rate this as medium in difficulty based on number of pieces, but the pattern is not difficult.
See something you want to try?  Go check out your local fabric shop, pet some fabric, and make something awesome!

Are you new to the Sitcom?  Be sure to check out my Frequently Asked Questions Page!
For over 200 crafty tutorials for all ages, visit my Tutorial Page!