Welcome to Suzy's Artsy Craftsy Sitcom! My name is Suzy Myers and I am the artist, crafter, writer and zookeeper around here! I live in Atlanta, GA, and have a background in fine art, graphic design and photography. I created the Sitcom in 2010 as a way to document new and original art and craft ideas.
The Sitcom features arts, crafts and humor, with a specialty in vintage and recycled crafts; and currently hosts over 200 detailed original DIY and craft tutorials.
With over 20,000 loyal subscribers, the Sitcom is growing every day.  I like to think that it is one of the best places to go on the web for original, one-of-a-kind arts and crafts.  And easy on the budget too!  I prefer to use household and recycled items such as toilet paper tubes and disposable cookie sheets for many of my most popular projects.
Some refer to me as the "Toilet Paper Queen".
I guess there are worse things to be called.  Really, there must be…
Are you new to the Sitcom?  Be sure to check out my Frequently Asked Questions Page!
And there is the husband, who is the unwitting and often unwilling subject of plenty of posts. He doesn't read them, but he knows I write about him. How can I help it when he is so entertaining? If he wasn't so blog worthy, he certainly wouldn't have this problem.
The oldest daughter. She is quite artsy-craftsy herself. She is my co-conspirator when it comes to Ukrainian eggs. She has her own method of design which differs quite a bit from mine, but are amazing to look at. She is currently living in Louisiana and probably creating some amazing crafty something as we speak.
The youngest daughter lives locally and is an awesome service writer at one of Atlanta's biggest dealerships.  Where did she get all the mechanical knowledge?  Don't look at me!  I'm lucky to be able to get the hood open, much less find the stupid dip stick to check the oil.   Car issues are for the hubby and the daughter to figure out, while I go whip up another batch of paisley chickens.
We all have our talents…
Faith- our twirling tazmanian devil of a dog. Due to the fact that she is half chihuahua, she perpetually has her panties in a wad.
And Ralph- our youngest fur-child, with a brand new set of teeth, who currently owes the youngest daughter two sets of flip flops and a pair of undies…
My sister, Lynda, the cook in the family.  She got the cooking gene.  I didn't.  So, I rely on her to supply my readers who have the need, some awesome tutorials on cooking and stuff.  And I go to her house a lot to eat.  Because somebody has to do it.  Right?
So, there you have it.  Like they always say, "Life is a Sitcom covered in glitter, hot glue strings, and dog hair"… isn't it?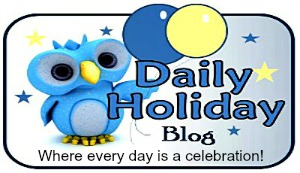 Also, be sure to check out my other website, Daily Holiday Blog!  I keep track of random daily holidays so you don't have to!  Lots of fun, humor and recipes there!  And a monthly random daily holiday calendar to download for free each month!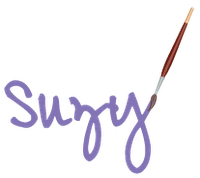 Have a question, or need to contact me?  Just email me : suzy@suzyssitcom.com!