Announcing the Sitcom Monthly Newsletter!  Once a month, you can receive a peek behind the scenes here at the Sitcom.  And get a free pattern just for signing up!
Things have really been rolling along here recently at The Sitcom, including having my Faux Metal Wall Art, and Faux Tin Tiles featured in Crafts n' Things Magazine, new Faux Stained Glass Kits and Sitcom Store, and my first Pattern Ebook- Majestic Peacock.
Those items are just the beginning.  I have some other great things in the works that I can't quite talk about just yet, but I promise, are just as exciting!
Because things seem to be growing as fast as they are here, I thought it would be important to do something special for my regular readers.  After all, you are the reason I am here, and I am so grateful to have each an every one of you visit me each day to see what new and exciting things are happening here at Suzy's Artsy Craftsy Sitcom.
Introducing the Monthly Sitcom Newsletter!
Ever wonder what goes on backstage at The Sitcom?  The Monthly Sitcom Newsletter is an extension of this blog, but will show more of the personal side – the thought processes that go into some of my projects, a bit of behind the scenes look at how things come together, and even how things sometimes do not come together.  Because, after all, it is a sitcom!
I will be including:
Exclusive tips not seen on the blog, for use of craft tools, storage, and techniques.
Discounts for my Premium Patterns or items in my Etsy shop.
Featured readers projects
Answers to frequently asked questions
Previews of upcoming Sitcom tutorials
Interested?
Well, just sign up on the form below!  The Sitcom Newsletter is totally free to you.  Just fill in your name and email address and you will receive a new Sitcom Newsletter the first week of each month, giving you a behind the scenes look at what goes on around here.  A total backstage pass to Suzy's Sitcom!
And right now I am offering my Enchanted Fish Pattern FREE to all newsletter subscribers!  This particular project below was made from a disposable cookie sheet!  Full tutorial can be found here:  Enchanted Fish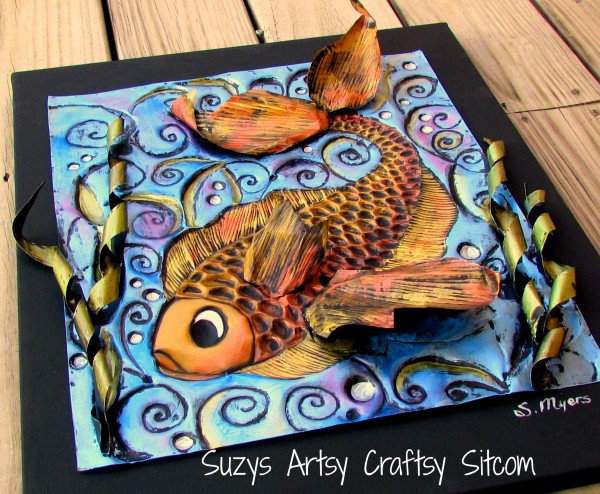 Come join the fun!