Welcome to the worldwide blog hop tour, that introduces you to creative people from all corners of the globe.
Every week, our hosts on each continent will introduce you to someone new whose creativity is inspiring! Come take this worldwide tour with us!
You can visit each host below and read about a featured creative person on each continent! All interviews are posted simultaneously around the world, resulting in one big crafting party. And then, add your blog to the Blog Hop party below. You could be featured in the next Around the World Interview! Fame. Notoriety. Pure Awesomeness! It's all in the touch of a keyboard button…
Our guest this week is from Indiana, USA!
Today we are welcoming Deborah J. Stewart, M.Ed. from Teach Preschool.  Deborah works in the early childhood field as a teacher, director, curriculum writer, music director, and consultant for staff training and professional development.  Her blog caught my eye simply because her method of teaching young children seems so creative, unique and incredibly effective.
Deborah braved the friendly skies to visit us all the way from the midwest. She had to deal with jet lag, a pat-down from overzealous airline security, tiny tiny airplane seats, lack of airline peanuts, the forced viewing of Speed 2 with subtitles, 1/2 a diet coke to share with the stranger next to her and a nice bang on the elbow from the cart that carried it. And all that so that she could lose her luggage in Atlanta. We owe her big time. So, I had my buddy Tom Selleck and his mustache work overtime to get the Green Room prepared.
Tom invited his buds, William Shatner and Brad Pitt over to help welcome Deborah. As usual, Brad is babysitting again.  He took a moment and called Angie to get permission to sit down with us for the interview. Angie required him to take a photo of Deborah and email it to her. I'm guessing the answer was no because he is currently back in the Green Room breaking up a fight between several of the youngsters and pulling sticky candy off of his shoe.
Bill ran to rescue his favorite phaser from one of the boys. I think he was concerned that it wasn't set on "stun". Personally, a little stunning in the kid department wouldn't have hurt my feelings. Just saying. Anyway, that leaves Tom and his mustache. So, lets go in the other room where it is quiet.
Suzy: Tell me a little about yourself, your family, your other hobbies…
Deborah: I have been married to my husband for 29 years and we have one daughter who is now married. We are now very proud grandparents which is the main focus of our life right now. As a family, we like to go boating in the summer time. I watch my grandson for a few hours every day while my daughter goes to work – and once he goes home, I spend my time working on my blog and other social networking "obligations".
| | |
| --- | --- |
| | |
Suzy: I love that you specialize in educational crafts and ideas for young children.  And your tutorials are great!  When did you start blogging, and where would you like your blogging to take you?
Deborah: Actually, I prefer to say that I do not specialize in crafts at all but I do specialize in activities and ideas for young children – I say this because I see a difference between designing an activity that children can actively be engaged in producing and a craft that is intended to have a final outcome and often requires too much adult involvement.
Deborah: I started blogging in 2009 and I can't really say that I actually have a plan for where I hope blogging might lead as it has already exceeded my expectations. I am just enjoying the journey and taking things one day or week or month at a time.
Suzy: Can you tell us a few things that most folks don't know about you?
Deborah: Well, I suppose something most folks would not know is that my father was a minister, teacher, and writer. My father has always had the greatest influence on what kind of person I am today and my passion for writing and even my passion for online work.  I have saved all his emails and wish my father had lived to see the day of blogging. He would have loved it and would have been my number one supporter. I think of my father often when I am writing my blog.
Deborah: A second thing folks may not know is that I didn't go to college to get my degree in early childhood education until I was in my late 20's and it wasn't until I was in my 40's that I went back to get my bachelors and masters degree in ece.  I love college and loved being a student. It is my goal to someday go back and get my Doctorate but it seems I never have the time to make it a priority.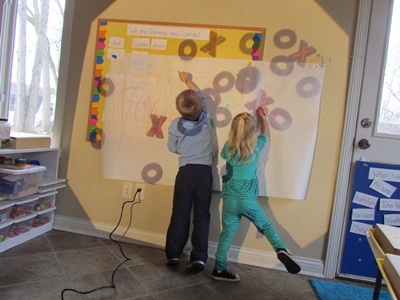 Suzy: Tell us a bit about your ideas for educating young children.  Your craft ideas always are an inspired way of learning.
Deborah: I believe young children learn best when given the opportunity to explore the materials and tools in their environment. It is through time in independent play and exploration that they ready themselves for greater learning and understanding. I believe that the children are capable of doing all things when given the opportunity to master each skill along the way. Things like using a glue bottle or pouring their own paint or pouring their own juice in a cup – all are part of what makes the children in my class strong confident learners. I rarely do anything for the children – I assist as needed but I have come to find that when I give my students opportunity to master processes – they are much more positively and constructively engaged in all that we do.
| | |
| --- | --- |
| | |
Suzy: How did you come about this method of teaching?
Deborah: I learned from this very early experience that children are competent.  I saw what they could do and once you realize how competent young children really are, you never consider them anything less. You approach all that you do in the classroom with the assumption that your students want to achieve their own goals and they can only do this if you give them the tools and allow them to work through the process until they master that process.
Deborah: I began the journey of learning about the works of folks like Piaget and Maria Montessori and Vygotski.  I read many books and applied what I could identify with and found to be true in my own classroom.  Later, I went off to get my college education and received the formal training I really longed for as an educator.  In my teaching practice, I am guided by what works best for and with my students. If they need me to sit down and provide instruction, I will do so but if they need time to explore and discover the materials so they can better master a process – then I give them the time they need.
Suzy: What bloggers inspire you?
Deborah: I find that inspiration comes based on what we are doing in our classroom or what I am personally experiencing as a teacher or grandparent. What inspires me changes daily – I think this is what I love about reading blogs in general. The message is always different, always meaningful, always practical, and always different depending on the day and the blog I am reading each day. Oh, but I must say that the number one thing that inspires me is when a blogger uses great photos in their post. I feel emotionally touched and inspired when the photos are well done. Photos often times speak much louder than words.
| | |
| --- | --- |
| | |
Suzy: Can you tell us a little about what you are promoting right now? Your CD?
Deborah: Oh my goodness, I wish I was promoting my CD. I actually have 2 more CD's in the final stages of production but I haven't had time to complete them so I can make them available to the public.  I suppose I am primarily promoting my blog or the concept that inspiration for early learning can be found through social networking in general.
Deborah: I still believe there are thousands and thousands of young parents or teachers out there who do not have a support system or adequate resources for teaching young children and could benefit from the works I share online. There is still much to be done in order to reach all of those who are working with young children and I would like to somehow reach them all!
Suzy: Deborah, thank you so much for coming all this way for an interview!  Please take a few moments and check out Deborah's site, Teach Preschool.  If you have young ones at home, her website is an invaluable source of hands-on educational ideas.
Well, we had probably better get back in there. It is getting louder by the minute. Apparently, Angie has called back. She is at Chuck E. Cheese's down the street and wants Brad to join her. Something about a "two for the price of one" deal. So he is loading kids as quickly as possible into his van. He is afraid that Angie might get a "to go" order and he is fully aware that she doesn't eat pizza.
The Green Room is kinda a mess. Sticky candy is everywhere and poor Bill is sitting in the middle of the floor sadly putting back together his Klingon doll collection. I told him that he needed to put up his toys before Brad and his posse arrived, but you know how stubborn pretend captains can be. And what is that behind the curtains? A set of little feet?
Tom, please give Brad a call. I'm pretty sure that he forgot one. And I really don't want to deal with Angie.  Last time she came over, she tried to adopt Tom's mustache.  I have to draw the line somewhere.
________________________________________________________
Want a chance to be interviewed on The Sitcom?  Would you like to meet other crafty individuals from all over the world?  Then take a moment to link up your blog to our international blog hop!