Quilled floral topiaries are a beautiful sign of spring!  If you are a regular reader of the Sitcom, then I'm sure you are familiar with my obsession with quilling.  I enjoy the challenge of creating beautiful things with little more than colored cardstock, or upcycled materials.
After playing around with creating daisies using my quilling tool, I decided to create some colorful topiaries to complete the decorating of my new colorful craft room.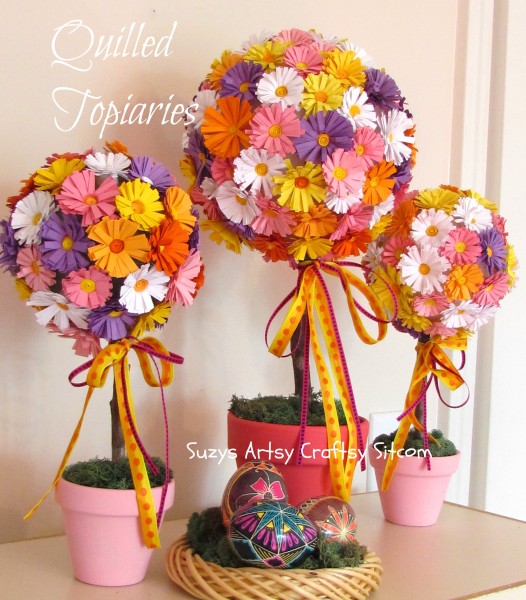 For this project I used:
Colored cardstock in shades of purple, pink, yellow, orange and white
Aleenes's Tacky Glue
Quilling Tool
2 ea. 4″ diameter styrofoam balls
1 ea. 5″ diameter styrofoam ball
2 ea. 3″ diameter clay pots
1 ea. 4″ diameter clay pot
Assorted sticks
Acrylic Paint
Assorted styrofoam pieces
Hot glue
Colorful Ribbons
I began by cutting my flower centers in 3/8″ strips and my flower petals in approximately 3/4″ to 1″ strips.  I then used a small pair of scissors to fringe the flower petal strips.
Using the tacky glue, I glued a flower center strip to each fringed petal strip.  Using the quilling tool, I started rolling from the center of the flower out, dabbing bits of glue along the way.
Keep rolling, and adding glue along the way.  A simple way to add the glue is to use a toothpick to dab it as you go.
Allow the flowers to dry for about 15 minutes, and then fluff them open.
I then made a whole bunch of the flowers in multiple colors.  This particular project takes a lot of flowers, so be sure to make plenty.  It's actually a fun thing to do in front of the TV.
Then start gluing away with the glue gun, positioning the flowers as close together as you can.
Stuff each of the pots with assorted pieces of styrofoam.  It doesn't have to look pretty, because it will be covered up later.  I went outside and rounded up three sticks to use for this project because I am too cheap to go buy dowels and I actually like the woodsy look it gives them.  I cut two of them the same length for the two smaller pots and one a bit longer.  I then pushed them into the center of each of the styrofoam filled pots and added hot glue around the base to steady it.
I then pushed each of the styrofoam balls onto the top of the sticks, making the two smaller ones the exact same height and the larger one about 4″ taller.
I painted the pots bright colors to match the flowers using acrylic paint, and then glued moss down over top of the styrofoam in the pots.
The final touch is to tie colorful ribbons at the base of each topiary.
And there you have it.  Quilled topiaries to brighten up any room.  Easy to make and total cost is less than $10.
Are you new to the Sitcom?  Be sure to check out my Frequently Asked Questions Page!
_
_________________________________________________________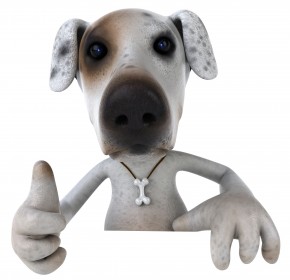 Enjoyed this tutorial?  Be sure to check out my tutorial page for many more!