There are some amazing free quilt patterns on the internet available for you when you need the inspiration.  So, I wanted to save you a few steps and show you some really nice ones that I've run across.
I was super excited when I was contacted this week by the folks at Fave Quilts.com, who told me that my Summer Jewels Quilt Pattern made their top 100 patterns of 2012 list!  I happen to have quilting on the brain right now, because I am designing my next free quilt pattern, and this just spurred me on to make it happen!  The best thing about the top 100 list at Fave Quilts.com is the fact that every one of the quilt patterns is free.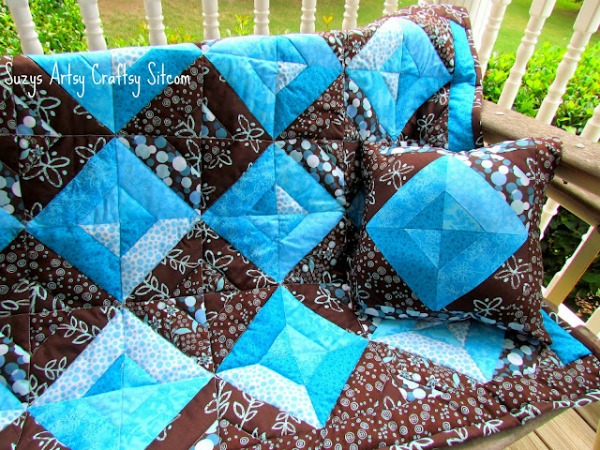 So I thought I'd search the web for a few more for you.  Some of us are stuck in the house with snow around us, and it is the perfect time of year to make a quilt.  Even if you are a beginner!  The Summer Jewels quilt above is a pattern that I designed for beginners and if you are interested in that pattern just follow the link for the four part series.  Want some more?  Well check these out…
This pattern is called "Chunky Churn Dash", created by Bonnie from Quiltville.  This pattern is deceptively easy and I would rate is another good one for a beginner.  And I love her color choices!
Julie Hendricksen was inspired by an antique quilt, and created this pattern using reproduction prints.  The main color is a vibrant bubblegum pink.  Hence the name, Bubble Gum Pink Quilt. This pattern would be considered a moderately difficult pattern, that would best be tackled by those that have done a couple easy quilts first, but don't let that stop you.  The finished result is just beautiful.
This free pattern is called "Doubly Charming" and is created using "charm packs" which are pre-cut 5″ squares.  Of course, you can cut your own.  Pre-cut fabric is a bit more expensive, but is definitely fun to dabble in.  Created by Teresa from Teresa Down Under, this pattern is considered a good one for beginners.
This sweet baby quilt uses chenille squares to make a comfy blanket for the baby.  Titled, Story Time, this quilt pattern was created by Katie Hennagir.  I love the mix of fabrics and the liberal use of chenille.  I would consider this pattern a moderately difficult one due to the piecing involved with the windmills, but definitely worth the effort.
And finally, we have the Whirly Gig free quilt pattern by Melissa at Happy Quilting.  I just love all the colors in this vibrant quilt.  I would label this quilt as for the more advanced simply because it involves a bunch of careful cutting.  But check out the process!  You sew a bunch of squares together, cut them up, and sew them back together again!  Definitely something I plan on playing with in the near future.
So go check out the fabric shops and get started!
For more tutorials for all ages, please be sure to visit my Tutorial Page.