Create beautiful wax covered pine cone gift baskets for just pennies!  They make great decorations for the home, and are even useful as fireplace fire starters in the winter!  You can make them in a multitude of colors to match any decor.  Want to know how?
You can put a bunch of these beautiful wax covered pine cones into a gift basket.  They make a fabulous gift!  The Dollar Store offers pretty baskets, greenery and ribbons.  All for a dollar!  And the pine cones?  Well, go check out the woods.  Those are free!   I colored these for the holidays, but you can make them any color you like.
Affiliate links to Amazon below:
For this project I used:
Assorted Pinecones
Paraffin Wax
Crayons
Wax Paper
Baskets
Pretty Kitchen Towels
Artificial pine greenery
Double boiler (or two sauce pans)
Wired Ribbon
The crayons are used for color, so choose what colors that you would like your pinecones to be and prepare the crayons by removing the paper. It will take 4-5 crayons per box of wax to achieve a good strong color. I chose to make red, green, blue and white pinecones.
Start by using your double boiler or in my case, I used two sauce pans inside each other. I put about 2″ of water in the bottom sauce pan and added a box of wax (cut in smaller pieces) to the top pan along with the red crayons. Allow the water to boil, and stir the wax until it has melted.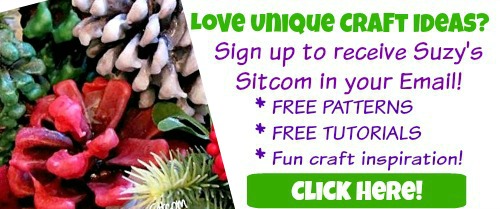 Cover your workspace with wax paper. Remove the pan from the heat. Allow it to cool for a few moments, then begin dipping the pinecones in the pan, coating them with a layer of wax.
I found that each pinecone will need several coats of wax and as the wax begins to cool in the pan, the coats will get thicker on your pinecones. I found that each box of wax would generally cover about 3 large pinecones and 4 smaller ones.