Make a cute Scared Kitty Watermelon!  Easy and quick to make, this fruity dessert is sure to put a smile on all your guests faces
It all started with a phone call.  Big family gathering.  Lots of food.  Can you make baked beans?  And how about this cute porcupine watermelon we found on Pinterest?
Well, sure.  You see it's not unusual for me to be assigned baked beans.  It is one of the few things I make well.  Baked beans, deviled eggs, and onion dip are my specialties.  The family jokingly refers to me as "fart patrol".
The fruit, on the other hand, was a new one.  But never one to let go of a challenge, I agreed to make the watermelon porcupine.
 I began by cutting a sliver off of one side so that the watermelon had a flat side to sit on.  I then cut about 4 inches off of the top.  Lay all cut pieces to the side.  You will use them!
 Use an ice cream scoop or melon baller to cut balls of watermelon from the inside.
Clean out the whole inside of the watermelon, putting the cut fruit in a bowl.
 Cut any ripe fruit off the pieces that were set aside and put in the bottom of the scooped out watermelon.  Then add the bowl of fruit on top, creating a "watermelon bowl" of cut fruit.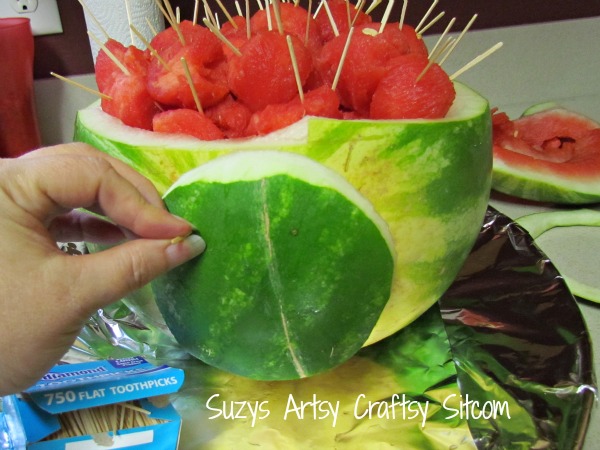 Now it is time to decorate!  My porcupine needed quills, so I added lots of toothpicks to the fruit.  Then using the set aside rinds, I cut out a "head" and used toothpicks to mount it to the front.
It was at this point that my porcupine turned into a scared kitty.  You see, I was too lazy to pull up that pinterest picture to copy.  It soon became apparent that I do not know what a porcupine looks like.  Scared kitty was born!  I cut ears, nose and feet from the set aside rinds and mounted them all with toothpicks.  The eyes are black olives.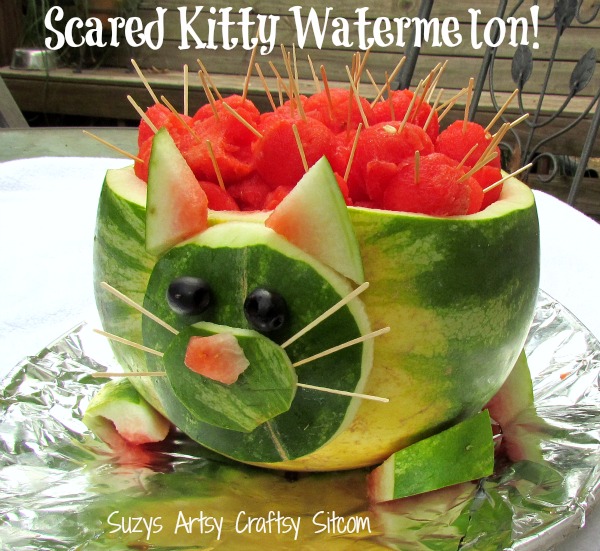 The finishing touch is kitty whiskers!
Scared Kitty was a big hit at the family gathering!  Even if he wasn't a porcupine!
Oh, and they loved the beans too.  Fart Patrol at your service! Ha!
—-
Are you new to the Sitcom? Be sure to check out my Frequently Asked Questions Page!
For more recipes and fun food ideas from the Sitcom, check out:
Cantaloupe Fruit Carving Easy Tutorial
Homemade Neapolitan Candy
Easy Homemade Blackberry Jam