The Sitcom readers are so talented!  I often get emails showing me finished projects and creations that are inspired from my tutorials.  Nothing gives me greater pleasure than to inspire others!  Come see what I found in my email in-box!
My name is Bobbie and I have been Quilling for about two months.  I was tired of the small projects and wanted to tackle something bigger.  With this in mind, I thought of your Enchanted Fish.  I didn't know what I was getting in for.  Anyway here is a picture.  I hope you like it. ~ Bobbie LeCroy
Awesome-ness, Bobbie!  I love this colorful variation!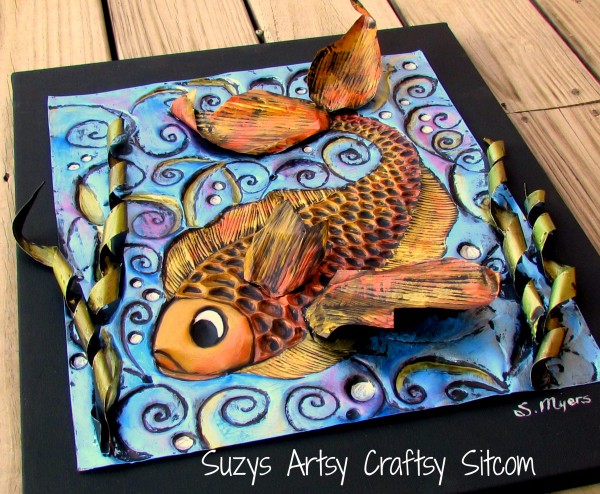 Bobbie's Inspiration- Enchanted Fish
I have been bitten by the paper quilling bug and I thank you for it. I don't have the tools, but I use a pair of needle nose tweezers and they seem to do the trick. I am still a beginner, but I wanted to share a few of my creations with you! You can see the picture I attached. Thanks for giving me a new hobby and obsession! I look forward to your emails every day for new inspiration. ~ Sarah
Beautiful work!  And I love the variety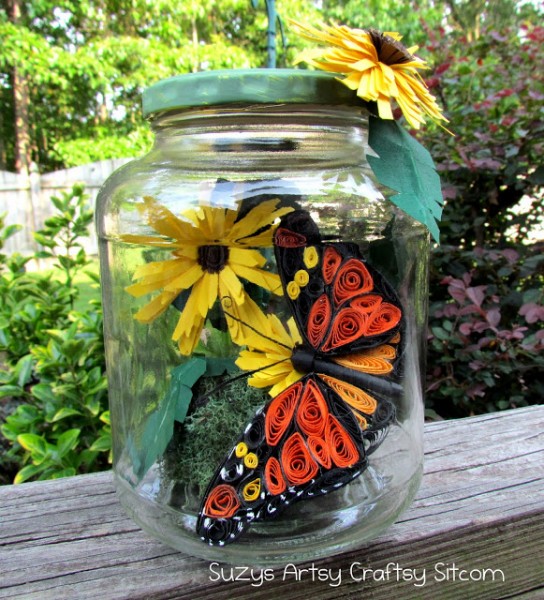 One of many paper quilling projects on the Sitcom – Quilled Butterfly in a Jar
Janet Collins created her own unique craft business making cool necklaces and pins out of aluminum cans!
Janet says, "Here are a few pics.I am learning still, but now I know that people emboss them to lay them flat and I use a foam back".
Catherine Zanetta created this fabulous lap quilt from my pattern Summer Jewels!  Awesome job, girl!
And finally, check out these fabulous T-shirt quilts made by reader, Katie Wells.  What a great use for old T-shirts!  And they both turned out amazing!
If you have created something inspired from the Sitcom, please send photos to me as suzy@suzyssitcom (dot) com.  I would love to show them off!
And thanks so much to these folks for sharing!  Truly made my day!
—
Are you new to the Sitcom? Be sure to check out my Frequently Asked Questions Page!
And don't forget to "like" the Sitcom facebook page for daily updates!
For some great crafty tutorials, be sure to visit my Tutorial page!