The wedding has come and gone, leaving you with memories, some leftover crafts and decorations and, of course, lots of pictures. The budget website, Costhelper, reports couples spend anywhere from 1,000 to 10,000 dollars on the wedding photographer, so you might as well make use of those images and other collectables for after-the-wedding projects. You can make inexpensive gifts for family, create tokens to send with thank you notes and even make decor items for your home.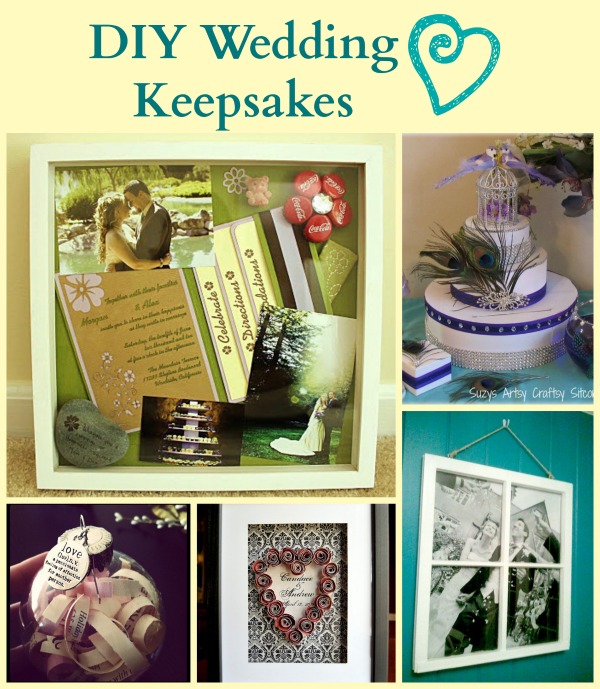 Leftover Wedding Invitations and Programs
Decoupage is an inexpensive way to use up some of the paper goods you have left from the wedding, such as invitations or napkins. It's a great way to personalize items. Consider:
Making Christmas ornaments
Covering a keepsake box
Designing coasters for gifts
You can even decoupage to revitalize tables or decorate lampshades with a wedding theme. That would make this craft a natural for building wedding memories.
Wedding Ornament from This Beautiful Life
Fill Ornaments With Wedding Memories
It is never too early to start holiday projects. Clear ornaments offer a distinctive way to use some of the bits and pieces leftover from the wedding. From flowers to birdseed to ribbons, a clear ornament will create an heirloom to commemorate your wedding day. This is probably one of the easiest projects to do, as well. Simply remove the top of the bulb and fill it up with whatever you love.
To make something truly unique, paint the inside of the ornament with your wedding colors and tie a leftover ribbon or swatch of your wedding veil around the top.
 DIY Wedding Card Box  from Suzy's Sitcom
Wedding Photos as Cards
Technology provides couples a chance to use a wedding photo to create a holiday card or as part of the thank you note. All you need to do is upload your favorite wedding photo to an online editor, and create a card to send out to family and friends. Before you show any of the wedding proofs, go through and select one image you want to set aside. This will save one that no one has seen for cards.
This is a time-effective approach to sending out holiday cards, too, since you can address the envelopes right in the editor.
Wedding Shadow Box from The Hybrid Chick
Wedding Shadow Box
A proper shadow box is a piece of 3D art that tells a story or carries a theme. You can use one to document all the intricate pieces of your wedding. You create a frame with sections, each sized to hold a wedding memento.
Wedding Shadowbox from The Handcrafted Life
Create a Collage
Like a shadowbox, a wedding collage is a simple way to save some trinkets and images from the ceremony. Find a suitable frame, and put together an interesting mix of pictures and mementos. Try mixing different textures and colors together to make something memorable for your wall. You might put a shot of your ring in one corner and cover the bottom with a piece of your veil and a wedding invitation, for example.
Wedding Windw Frame from A Brit Across the Pond
There are tons of ideas available on the web from lots of great crafters, so look around!  You don't have to spend a ton of money to make something that you will cherish forever!
Are you new to the Sitcom?  Be sure to check out my Frequently Asked Questions Page!
For over 100 more tutorials and recipes for all ages, be sure to visit my Tutorial Page!
Also, don't miss Daily Holiday Blog, where every day is a holiday!