While perusing Sam's Club the other day, I ran across some great deals on dishwashing soap.  And naturally, my crafty mind did not immediately go to house cleaning.  Much to my husband's dismay.  Scratch offs!!  Did you know that you can make scratch offs with the use of dish detergent?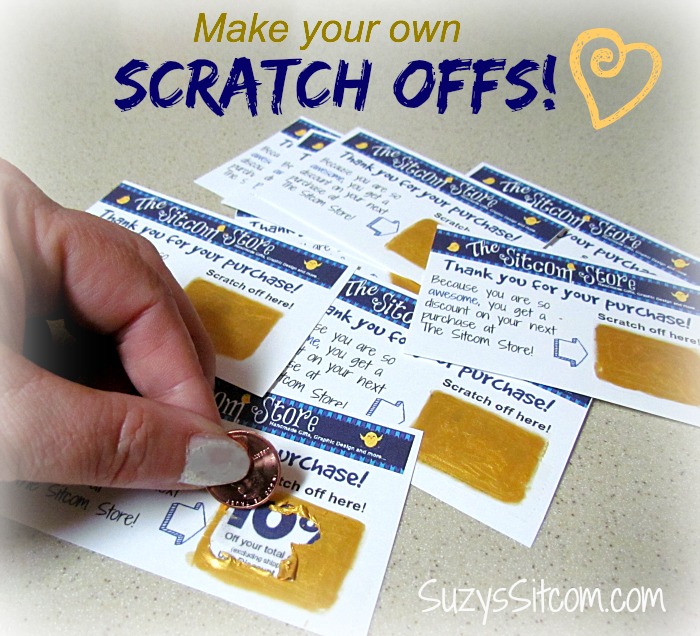 You bet ya!  And it is incredible easy too!  I've been in need of something fun to include in the shipped items from my Etsy shop and this project is the perfect solution.  I used some of my dish detergent to make cool coupons for my shop.
Want to know how?
Affiliate Links to Amazon below:
For this project I used:
Dishwashing liquid (any brand will work)
White cardstock
My ink jet printer
Gold Acrylic Paint
Clear cellophane tape
I began by designing a coupon to include in all my shipped packages.  I set it up especially for a scratch off ticket.  I'm thinking that my customers would enjoy seeing what kind of discount that they might get on their next visit.  I printed out my coupons on white cardstock using my ink jet printer.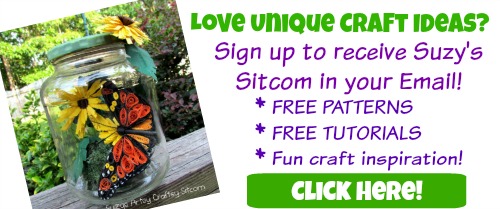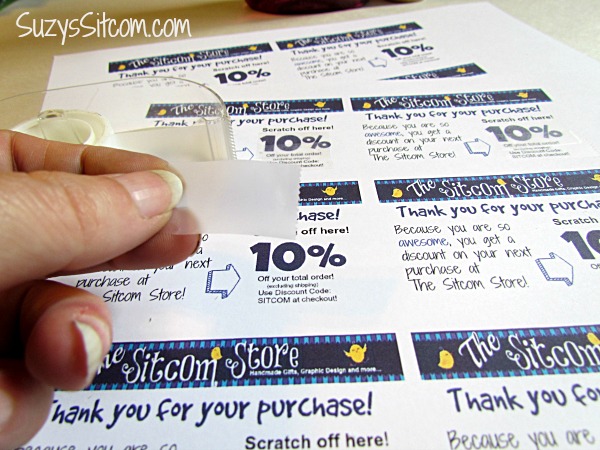 Because ink jet print is not waterproof, the next step is to protect the area of the scratch off with cellophane tape.  Simply cut it to fit the area that is going to be scratched off.  It took two strips overlapped to cover the area that I wanted to paint.  (If you use a laser jet printer, this step is not necessary).
Mix gold acrylic paint with the dish detergent.  You will want it to be two parts paint to one part dish detergent.
Now paint the area to be scratched off.  This will take several coats as the dish detergent thins the paint.  My project took a total of four coats, waiting for each coat to dry before adding the next.
Here are my finished coupons!  Now lets see if they work!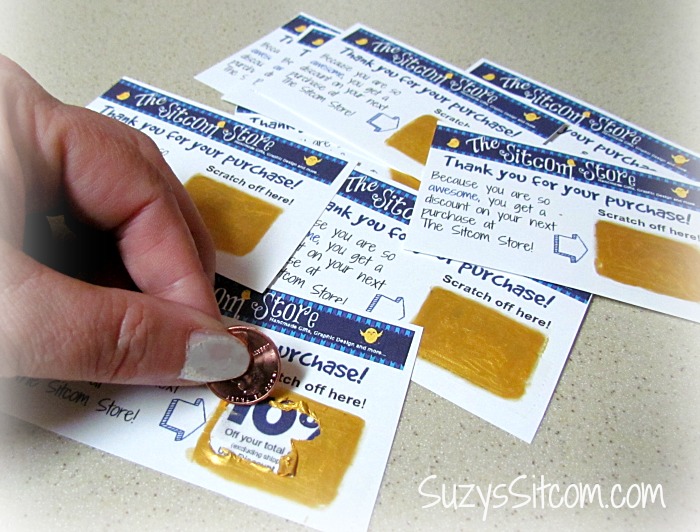 Awesome!  This one scratched off just like a lottery card!
Don't have a shop?  Well, this little project is also great for giving homemade birthday cards with a special message under the scratch off.  Maybe a chore chart for the kids where they scratch off their chores?  Gender reveal cards? Or how about a cool gift card for the hubby with fun things to do.   Lots of possibilities!