I've always loved the pictures on decks of cards.  Seriously, it doesn't take a lot to make me happy… I decided to try my hand at designing my own Queen of Hearts.  And then create something unique with an old piece of furniture!  How about a Queen of Hearts bedside table?  Bet you don't already have one!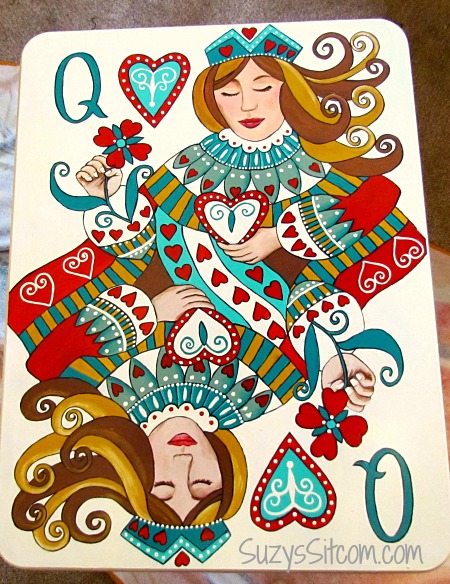 I kind of love painting on furniture.  Wall art is awesome, but I'm running out of walls.  And this bedside stand was just dying for a makeover.
 This post contains affiliate links to Amazon
For this project I used:
Queen of Hearts Pattern (You can find it in my Etsy shop for $7.00)
Old bedside table
White Spray Primer
Acrylic paints in Wicker White, teal, turquoise, red, gold, brown and dark brown
Satin Polyurethane sealant
Crystal knob pull
We bought this table  several years ago at the flea market for about 10 dollars.  It doesn't match any of our furniture.  Not to mention the fact that it is made from press board with a shiny coating of polyurethane.  I'm totally not into shiny furniture.  But we needed a place for my alarm clock to live and this table was available.  So it was put to work.
 I have been working on this pattern for some time now.  I wanted to create something unique and fun with the Queen of Hearts theme.  I designed it by drawing out the one queen on paper.  I then used tracing paper and a window for backlight to trace the queen on one side of the paper, flip her over and trace her onto the bottom.  It created a mirror image of my queen.
I then sprayed the heck out of my little side table with white primer.  I also removed the handle in the front for the faux drawer.  A total makeover was in the works!
 In order to enlarge my pattern to fit this table, I used my graph method detailed here: How to Enlarge a Pattern.  However, if you have access to a copier, you can make a pattern as large as you like and then just using carbon paper to transfer it to your project.
For this project, I decided on a pallet of acrylic paints including Wicker White (a creamy off-white), teal, turquoise, red, gold and brown.  I began by painting in the background with the Wicker White and then started working my way down from top to bottom.
There is no right or wrong way to paint a decorative project.  The cool thing about this pattern is that each person has their own style and will create something similar, but very different!
 I added outlines using a very dark brown and a tiny paintbrush.  I then painted the rest of the table with several coats of wicker white.  To protect the paint, I added several coats of satin polyurethane.
The final touch?  The hubby found this sweet crystal drawer pull at Lowes!  My little table finally has a personality!
Here is the before and after shots of my little bedside table.  It went from a boring little nondescript table to a total eye catcher!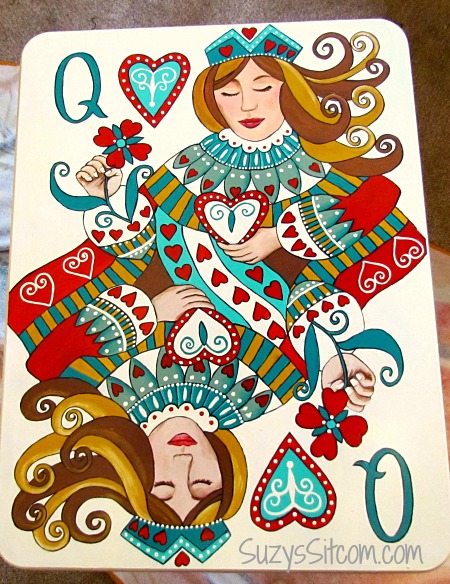 It is now available as a pdf download for $7.00.  You can find it in my premium pattern section of my Etsy shop.
In fact, I love my queen so much that I created a sister for her.  The Queen of Spades!
Are you new to the Sitcom?  Be sure to check out my Frequently Asked Questions Page!
For over 200 crafty tutorials for all ages, visit my Tutorial Page!