Stress.  It's a dirty word.  It is one of the reasons that I branched out five years ago and created the Sitcom.  Did you know that crafting is one of the top ten ways to relieve stress?  And the living in the RV thing?  Well that should be number one. I found a great natural product called RESCUE that helps me stress less, stay calm and in control.  So, I decided to do some crafting stress relief, make up some easy decorative soaps, and a gift basket!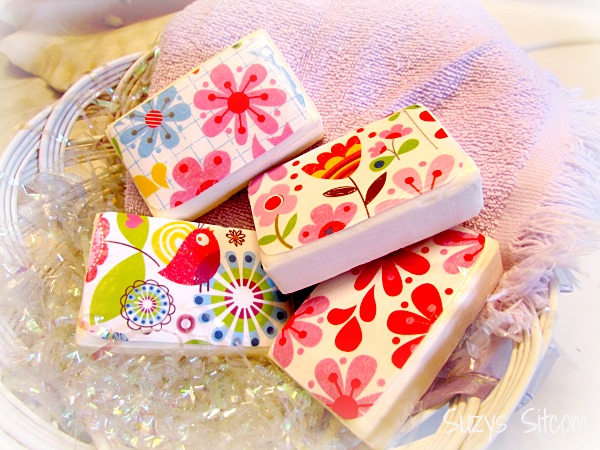 Relief is on the way.  But we have to get there first.  This week is the big move.  We are packing the necessities, putting them in the RV, and then selling everything else.
After this weekend, we are one major step closer to a lifestyle of traveling.  In the meantime, I could use a few stress busters.  I have read that the key to disengage from daily stress is to find ways to unwind in your downtime.  Stress has been linked to every major illness including heart disease, cancer and depression.
10 Easy ways to handle stress
Aromatherapy– certain aromas such as lavender have been shown to greatly reduce stress levels.  Light a few candles and relax!
Eat better- a proper diet and stress levels are closely related.  Now if I can just set the chocolate down and back away slowly…Avoid sugary, or fatty foods and try to get in more fruits and vegetables.  Fish has high levels of omega-3 fatty acids which has been shown to reduce stress.
Laugh! Don't they always say laughter is the best medicine? It also reduces stress! Fortunately, since I live in a Sitcom, laughter is a common thing in our house.  Even if we are laughing at each other…
Exercise- keeping your body healthier makes for a happier lifestyle.  Hopefully hauling boxes down the stairs counts…
Relax with your pet- It has been shown that spending time with your pet is a major stress reducer.  Don't tell Ralph and Faith.  They already have big heads…
Craft!  What did I tell you!  I'm apparently not the only one that relaxes while crafting.  I should be the most relaxed person that I know!
Drink Tea- One study found that drinking black tea lowers stress and relaxes you.  Ummm…so does wine.  🙂
Take a long bath- How soothing is a steamy tub!  Better get in all the tub action I can now.  The RV only has a shower!
Listen to Music- Ever notice that music is piped into doctors offices?  There is a reason for that!
Write- keeping a journal can effectively reduce stress levels and help you to put things in perspective.
Need to relieve a little stress and create a unique gift idea at the same time?  Create easy DIY Decorative Soaps using dollar store soaps, fabric, and scrapbook paper!
This project is so simple even the kids can do it!  Want to know how?
For this project I used:
Dollar store soaps
Colorful fabric
Colorful scrapbook paper
Mod Podge (Matte)
The Dollar store always has a great selection of soaps.  You could grab any color and nearly any shape.  For this project, I opted to go with the white plain soaps.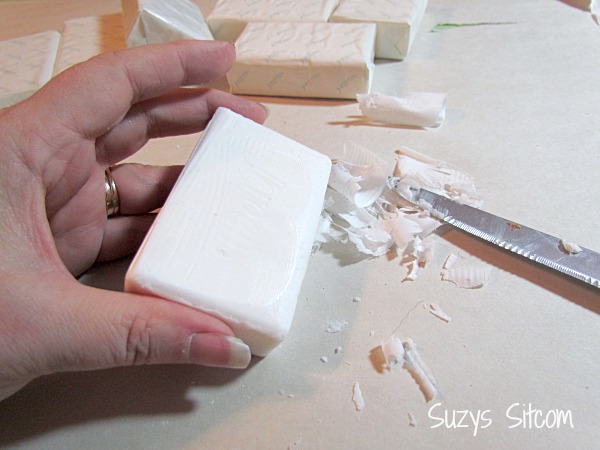 My soaps had the name brand embedded in both sides.  I used a knife to scrape off the name brand so that my fabric would lie flat.  (This is an optional step).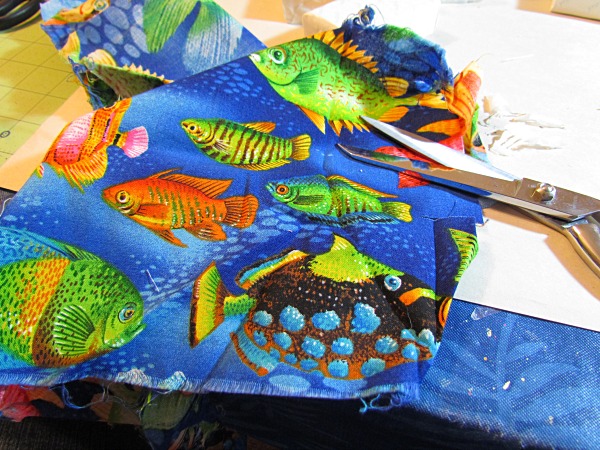 Then I dug in my fabric closet for some bright fabric.  Loved the fish!  Unfortunately, most of them were too big for my soaps, but I did find a few that would work.  Again- this is limited only to your imagination.  Imagine the themes you could come up with!
 I carefully trimmed the fish, painted the back side with Mod Podge and positioned them onto the soaps.
 I found that several layers of Mod Podge were needed to make a smooth finish  Allow the Mod Podge to dry in between coats.
The soaps covered in scrapbook paper are even easier!  Simply trim the paper to fit on top of the soap with no overlaps.  Paint the back of the paper with Mod Podge and position onto the soaps, then coat the whole top of the soap in several layers of Mod Podge.
Since only the top of the soaps are coated in Mod Podge, they can definitely be used.  So I put together a cute stress relieving gift basket with my new Mod Podge soaps, some washcloths wrapped in a pretty ribbon, and some RESCUE liquid melts.
RESCUE helps you to stress less, stay calm and in control.  It is a natural/homeopathic solution to high stress days, trusted for generations!  Developed by a doctor, it is gentle and safe- non habit forming with no side effects!  And it comes in three convenient forms!
RESCUE Pastilles
RESCUE Sleep Liquid Melts
RESCUE Pearls
Need a coupon?
Visit the RESCUE site for more stress reducing tips, and a great coupon!
What helps you to relieve stress?  Really.  I need to know!
I was selected for this opportunity as a member of Clever Girls and the content and opinions expressed here are all my own.
Are you new to the Sitcom?  Be sure to check out my Frequently Asked Questions Page!
 For over 200 crafty tutorials for all ages, visit my Tutorial Page!