This shop has been compensated by Collective Bias, Inc. and its advertiser. All opinions are mine alone. #SunsOutSpoonsOut #CollectiveBias
One of the things that we looked most forward to with our new way of life was getting away from the stress of city life and learning to relax.  We are currently in Bar Harbor, Maine, and summer is making an appearance.  So with the help of Blue Bunny's Bordeaux Cherry Chocolate Ice Cream, I decided to try my hand at Cherry Chocolate Cheesecake Parfaits!
Really!  It's the best of both worlds!  Ice cream and cheesecake in one fabulously delicious package!  Perfect for a warm sunny day along the ocean!
We have been full time campers for about a month now and since leaving the corporate world and hitting the road, it has been a wonderful adventure already!  You can follow our travels on my other website, the Traveling Sitcom.
Here in Bar Harbor, Maine, the trees are finally starting to bud, the grass is green and the water is amazingly beautiful.
We are currently "Work Kampers" at the Bar Harbor KOA.  That means we work at the campground, making sure that the campers are happy and in exchange, we get to stay there too!  It is a great way to see the country, stay busy and have fun at the same time.
So when it is break time on a warm sunny day, it must be parfait time, right?  Here is a fun recipe that is easy to make and totally decadent.
Cherry Chocolate Cheesecake Parfaits
Blue Bunny Bordeaux Cherry Chocolate Ice Cream
1 Graham Cracker Pie Shell
Cheesecake Batter:
2 Tbsp. sugar
3 Tbsp butter or margarine, melted
2 pkg. (8 oz. each) Cream Cheese, softened
1/2 cup sugar
1/2 tsp. vanilla
2 eggs
Beat cream cheese, 1/2 cup sugar and vanilla with mixer until blended. Add eggs, 1 at a time, mixing on low speed after each just until blended. Pour over the graham cracker crust.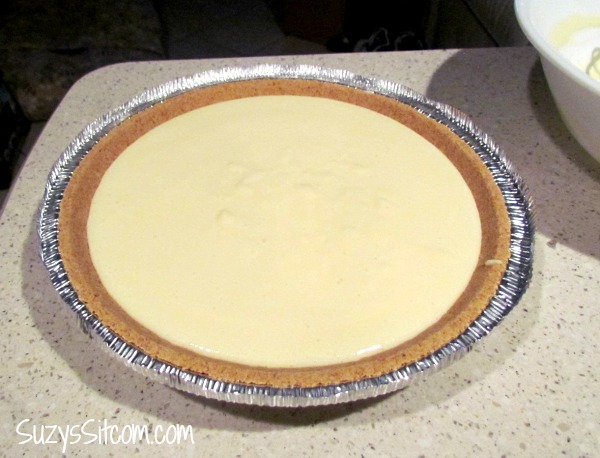 Bake 35- 40 minutes at 325 degrees or until center is almost set. Allow to cool, and then refrigerate for about 4 hours.
Now for the secret ingredient!  Blue Bunny Bordeaux Cherry Chocolate Ice Cream!  Yummm!
Simply cut the cheesecake into chunks and place into the bottom of a glass.  Add some scoops of ice cream, another layer of cheesecake and a final topping of ice cream.
Fabulous!
Did you know that Blue Bunny offers a huge selection of premium ice cream at Walmart?  There is Banana Split, Birthday Party, Bunny Tracks, Pistachio Almond, Rocky Road, Butter Pecan, Double Strawberry, Red Velvet, Mint Chocolate Chip, Cookie Dough, Fudge Brownie, Almond Fudge, Peanut Butter Panic, and much more!
And any one of these flavors would work well in a cheesecake parfait!
Participating Walmart stores will be doing in-store ice cream demos starting May 21- 24, featuring Blue Bunny Vanilla Ice Cream and fresh berries.  You will find them in the produce section!
We are really enjoying our new way of life and learning to step back and take in the beautiful nature around us.  Take a few moments to enjoy the summer!  Make up a batch of parfaits and watch the smiles!
You can visit Blue Bunny in social media at:
Twitter   *   Pinterest   *   Instagram   *   Facebook   *   Google+   *   YouTube
Where is your favorite flavor place to vacation during the summer?
Are you new to the Sitcom?  Be sure to check out my Frequently Asked Questions Page!
For over 200 crafty tutorials for all ages, visit my Tutorial Page!