It is summertime and a little sunshine does us all good!  Here in Maine, we are welcoming it with open arms after a particularly blustery spring.  The sun not only provides warmth and brightness to our day, but energy to those that harness it through solar panels. NOTE: This project will not hold up if put outdoors!
As full time RV'ers, that is of definite interest to us.  So, with that in mind, I put together a fun sun catcher project to go along with this sunny theme!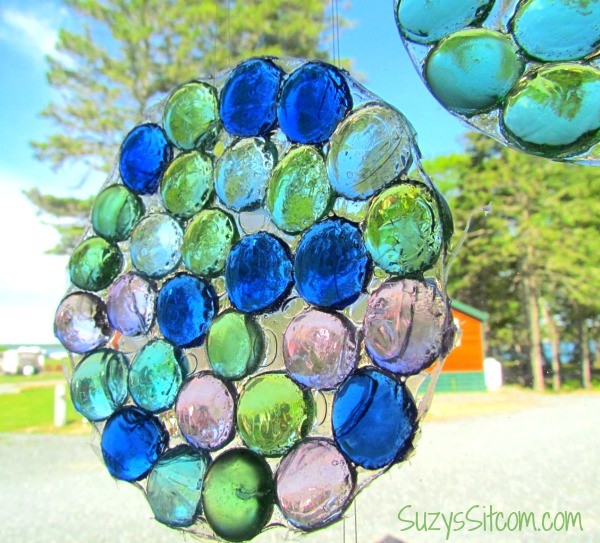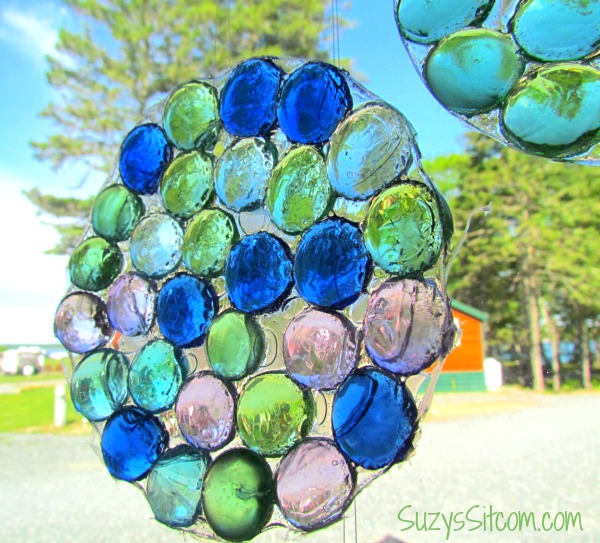 You will be surprised at how simple this sun catcher project is!  In fact, it is a great project for the kids on a warm sunny day.
So let's make some sunny sun catchers to catch some of those rays! NOTE: This project will not hold up if put outdoors!
Some amazon affiliate links below:
For this project I used:
Assorted colored glass cabochons (I found mine at Walmart in the floral section)
Clear Elmer's School Glue
Assorted plastic lids
Fishing line
I saved most of my lids from butter and yogurt containers for this project.  To begin, simply pour some of the clear glue into the lid and spread throughout the whole lid in a thick layer.
Now let's add some color!
Place the glass cabochons into the glue, filling the lid with color in any design or pattern you like. Finish by adding more glue on top of the glass. NOTE: This project will not hold up if put outdoors!
Set them aside to dry.  It will take about two days for them to dry enough to do anything with.  At that point, peel them out of the plastic lids, turn them over and give them a few more hours to dry out completely.
Use scissors to punch a hole through the glue in the top center of the sun catcher.  String fishing line through the hole and hang in the nearest window.
(This project was meant for inside use only.  The glue used is water soluble and will not tolerate weather).
Beautiful sparkling sunshine will then happen!  Easy, fun, and beautiful!  You certainly can't beat that!
Are you new to the Sitcom?  Be sure to check out my Frequently Asked Questions Page!
For over 200 crafty tutorials for all ages, visit my Tutorial Page!