Pot Scrubby Crochet Pattern
Chain 4.  Join.  Double Crochet 10 times in loop.  Join with first DC.  Chain 1.
Begin working around with 2 dc in the back loop of each stitch. Work until circle becomes approximately 3″ in diameter.  When you reach the end of a strip, simply tie a new strip to the end of the working strip.  Ensure that the knot is at the back of your project.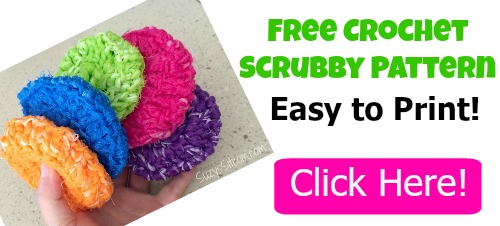 Once you reach the 3″ mark, dc in each stitch for one entire round.  This will cause your scrubby to start to form a bowl shape.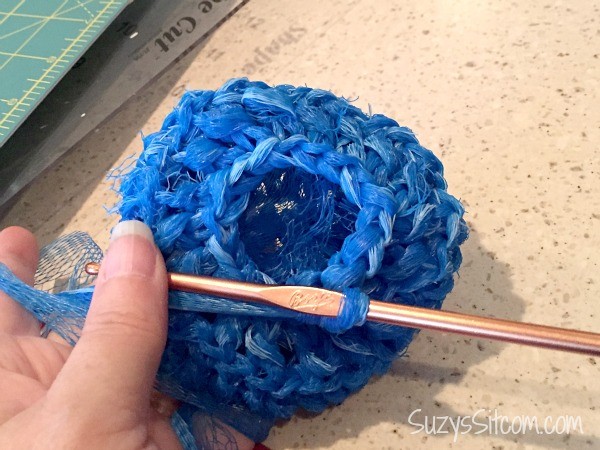 Now we start to decrease to form the back of the scrubby.  *dc, skip 1 st, dc* repeat until the top is closed.  When you have closed the top, tie off the last stitch.
Push all ends into the scrubby.
Yep.  I got carried away.  I had my Christmas music playing, the tree was lit, my cinnamon spice candle was burning and my glass iced tea!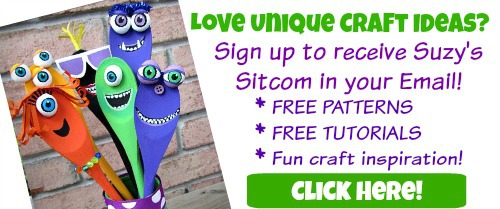 These fun to make scrubbies are great for kitchen cleaning.  And if you like to make for craft shows, I have to tell you that these are a top seller!
Want a gift idea?  Tuck a few of these in a basket along with some great kitchen utensils and recipes books.  Bet it will be a hit!
What projects are you making this year for holiday gifts?
Are you new to the Sitcom?  Be sure to check out my Frequently Asked Questions Page!
For over 200 crafty tutorials for all ages, visit my Tutorial Page!