This shop has been compensated by Collective Bias, Inc. and its advertiser. All opinions are mine alone. #LetsCheese #CollectiveBias
Our life change since becoming full time travelers has also included being healthier while on the road.  Our new jobs are very active, sleep is something that we no longer are in dire need of, and we are both watching carefully what we eat in an effort to be as healthy as we can be.
But we still love to eat.
This week I created a fun bunch of Baked Cream Cheese Rangoons for a campground gathering using Weight Watchers Whipped Cream Cheese.  Not only did they taste fabulous, but they were a healthier choice for a great appetizer!
Did you know that Weight Watchers cheese products are real and all natural cheese?
They have reduced fat, but taste just as good as any full fat cheese product!  Weight Watchers Whipped Cream Cheese is the perfect choice for this appetizer recipe.  Not only are they baked rather than fried, but these delicious Rangoons also contain reduced fat cream cheese!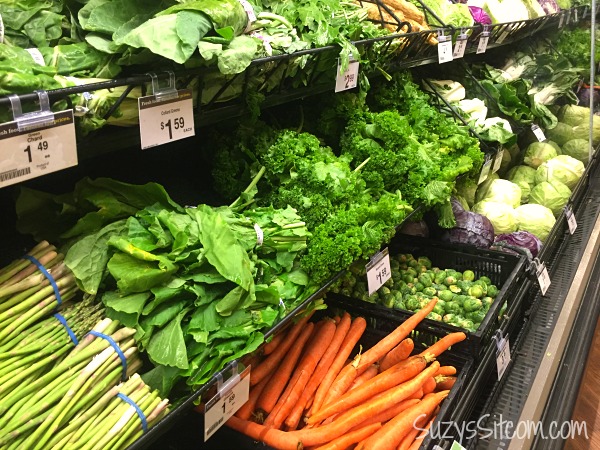 We were shopping at our local Fry's Food and Drug this week and noticed all the beautiful fresh produce.  Yes, it's that time of year.  Fresh veggies all around!
When you have this wonderful variety of greens in front of you, it is not so difficult to make healthier choices, is it?
Baked Cream Cheese Rangoons
8 oz. Weight Watchers Whipped Cream Cheese
5 fresh scallions (chopped)
1/2 tsp. garlic powder
24 Wonton wrappers
1 egg white
Mix together the cream cheese, chopped scallions, and garlic powder.
Add a teaspoon full of cheese mixture to the center of a Wonton wrapper.
Brush egg white on the outside edges of the Wonton wrapper and then fold them into the center, pinching them together with your fingers.
Bake on a greased cookie sheet at 375 degrees for 10-15 minutes, being careful not to over bake.
These yummy Baked Cream Cheese Rangoons were the hit of our gathering!  Tasty onion and garlic flavor with creamy and delicious cheese center.  Perfect for a summer gathering where you want to serve lighter appetizers.
Looking for Weight Watchers cheese products?  I found mine at Frys Food and Drug in Flagstaff, but you can find them in many grocery stores around the country!
Weight Watcher cheese products include:
Weight Watchers American Singles
Weight Watchers Whipped Cream Cheese
Weight Watcher Original Cream Cheese
This fun and easy appetizer was a great addition to our summer gathering.
I'm a big fan of healthier food that tastes delicious.  What is your favorite go-to recipe for summer get togethers?