I love to do a mix of crafts and I always am looking for that next project.  When I find something fun, I love to share it on the Sitcom!  This week, I would love to share the free pattern for a Basketweave Chunky Knit Scarf.
Love to knit?  Me too. But I have to say that sometimes I prefer crochet because it goes so much faster.  And then I ran across some wonderfully squishy chunky yarn while out shopping that just needed to be made into something.
But what to make?
This chunky knit scarf pattern featured on AllFreeKnitting.com fit the bill.  You see, you not only make it with chunky yarn, but you use super-size 15 mm knitting needles to do it!
So big in fact that the hubby took one look and said now I have a weapon to use against vampires.
Yes.  I guess I do.
In any case.  Due to the fact that you use chunky yarn and super size needles, this project goes very quickly.  I used two skeins of chunky yarn and was able to knit this scarf up in a couple of evenings.
Prefer to crochet?  Be sure to see the bottom of this post for some great crochet options!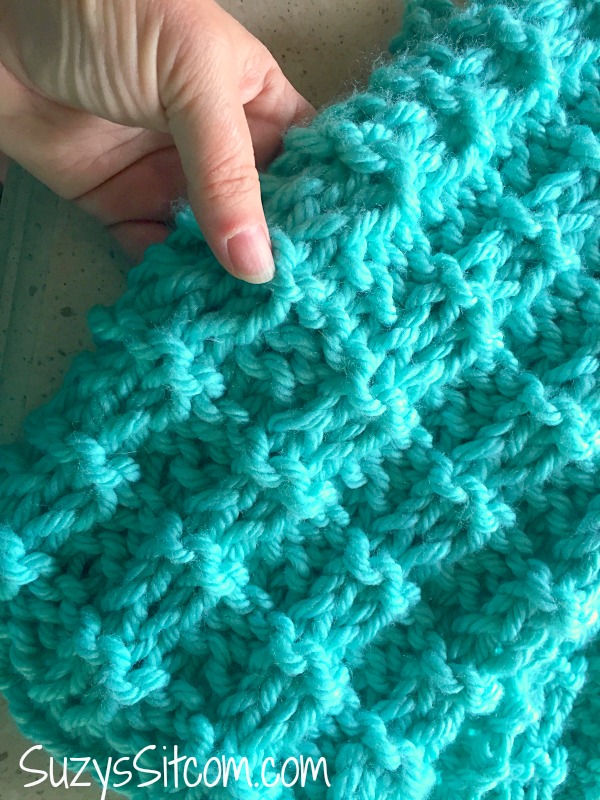 This super scarf knitting pattern is made in a simple knit and purl pattern.  Just those two basic knitting stitches.   And because the yarn is super big, you only start with a cast on of 16 stitches.  Yes, only 16 stitches per row! That makes for some really quick knitting.
For the free Basketweave Chunky Knit Scarf pattern, simply go here! 
Love bulky yarns, but don't like to knit?
Here is a crochet version from DeliaCreates! This simple crochet pattern works up quickly with bulky yarns.
Take advantage of the beautiful yarn selection at your local craft store and make something warm and special for the winter season!
Want more free Knitting and Crochet Patterns!
Here are 10 more free knitting and crochet patterns to keep your hands busy on these cold winter days!
Are you new to the Sitcom?  Be sure to check out my Frequently Asked Questions Page!
For over 200 crafty tutorials for all ages, visit my Tutorial Page!