Each month in 2018, I will feature a new block of the month pattern that includes both applique and quilt piecing.  There is something here for every skill level!  Love Birds and Pinwheels is the first of the quilt block patterns for 2018.
Go to my Block of the Month Page to see what the current month's free pattern is!
After the success of the Words to Live By Series last year, I wanted to come up with something just as fun this year.  My new block of the month series will feature one applique pattern and one quilt block pattern and lots of great ways to use them!  A total of 5 projects!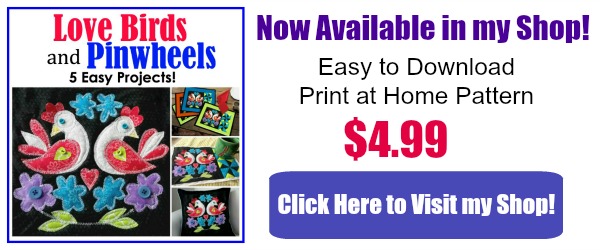 Love Birds Mug Mat
The centerpiece for this month's pattern is an original applique design called Love Birds that I created based on my Pennsylvania Dutch background. The bright fabrics stand out against the black background and make this pattern pop.
Included in the digital pattern is instructions to make this pretty mug mat.  Measuring 8″ x 12″, this little mat is a great way to experiment with applique and quilting techniques on a smaller scale.
Love Birds Pillow
Love the applique pattern, but don't want to do any quilting?  The digital pattern also includes the full instructions to make this sweet pillow cover.
Love Birds Placemats
Simply a larger version of the mug mat, the Love Birds placemat make a colorful statement on your table top. Add a mix of colors on the outside trim for lots of variety.
Pinwheels Quilt Patterns
And… for those of you looking for a fun quilt idea, here are two versions of the pinwheel quilt, one with sashing and one without.  Note how change of color changes the whole look.  Feel free to experiment!  The digital pattern includes all fabric requirements and instructions to create both versions of the pinwheel quilt, measuring approximately 60″ x 72″.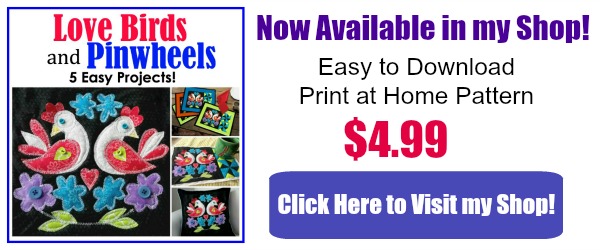 Create something amazing and be sure to share it with us!  I'd love to see what you come up with!
For over 200 crafty tutorials for all ages, visit my Tutorial Page!