We are full-time travelers living in our RV, and many of my projects are inspired by our current surroundings. We are currently in upstate New York on Lake Ontario. It seems that this part of New York has its share of wonderfully smooth stones that have been polished by Lake Ontario. It came to me that I should try to transfer photos onto stone. A great keepsake of the area and a beautiful memory saved forever!
Transferring photos to stone turned out to be a simple project, although I have to tell you that it was my third attempt that was the charm. This project uses many things that you might already have around the house. You just have to find a nice smooth stone and start creating!
This post also includes more unique Photo Ideas!  So be sure to page to the bottom for lots of inspiration!
I'm SO excited to be guest posting over at Kenarry: Ideas for the Home today sharing all of the instructions for this project!  You can find the full details, and lots of photos of this Easy Photo Transfer to Stone Project HERE!
Want more Unique Photo Ideas?
How to Transfer Photos to Plates!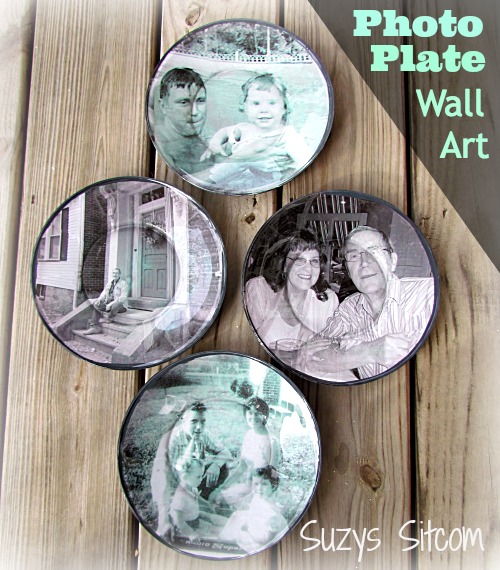 I came up with a project that I wanted to try for my mother's upcoming birthday. How about a wall of photo plates? Great idea and the plates make beautiful decorations!
Cool aren't they?  This is a great way to save memories in a unique way as home decor! And the cost?  Just pennies.  Use dollar store plates and paper copies from your printer.  How easy is that?  You can find the instructions HERE!
Vintage Photos in Mason Jars
Looking for a thoughtful gift? Or maybe you are a bride-to-be and you're looking for a good centerpiece for your tables for the coming wedding? You should take a look at this wonderful centerpiece idea that can either be a memorable fit that would almost last forever, or just a self-reminder of memorable experiences that you had with a certain someone.  You can find the instructions here!
For over 200 crafty tutorials for all ages, visit my Tutorial Page!