Over the past few months, I have gotten into creating miniatures.  My current project is a half scale General Store and Quilt Shop.  This past week, I created some unique signage for my store and would love to share with you how I did it.  I created a "painted" ad on the brickwork, a billboard, and several store signs.
This project is probably going to take me a while.  I fit it in between patterns and on days when I just want to create something tiny that is just for me.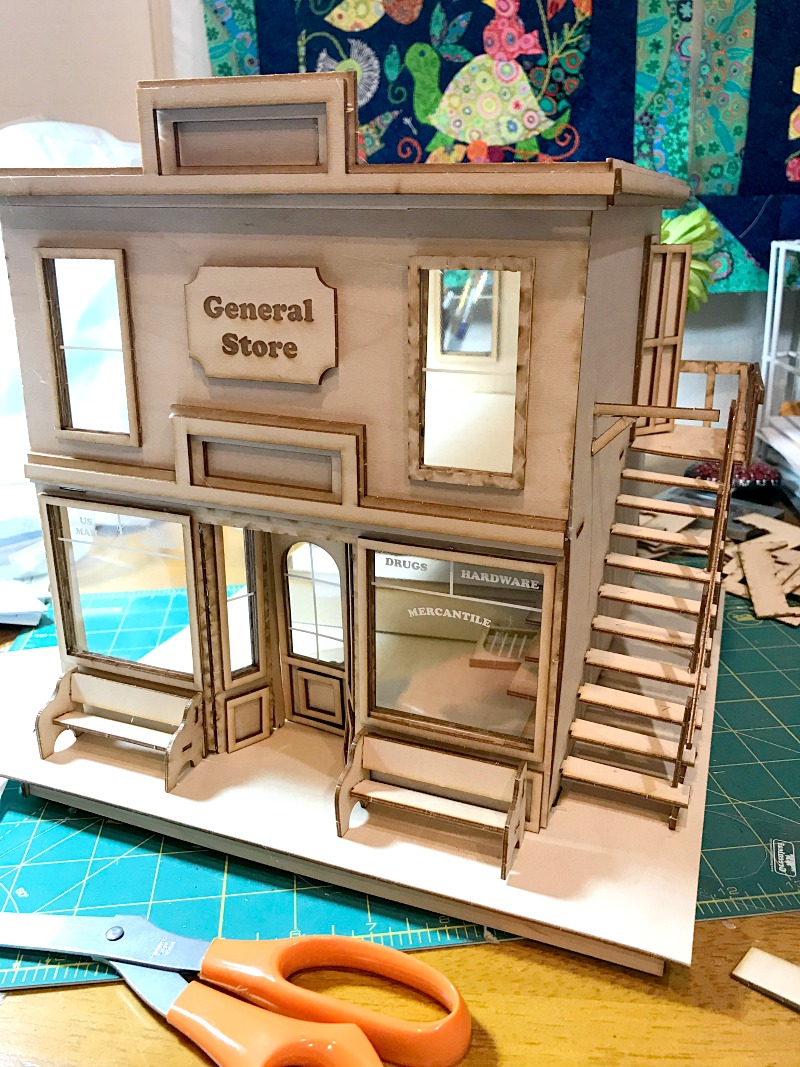 I started with a basic "puzzle" miniature that I found on line for a general store in half scale.  If you are interested in trying this one, you can find it here.
If you are following along on this project, you can find my other tutorials here:
How to create Realistic Miniature Bricks
How to create a Realistic Miniature Sidewalk
How to create Unique Miniature Signage
Let's begin with the ad on the brickwork.  I wanted to recreate an old Coca Cola ad that looks like it had been painted years ago.  Believe it or not, this only took a few minutes to create!
I began by finding a photo of an old Coca Cola ad on the internet.  I wanted to print it onto a semi transparent paper with a bit of texture.  My first plan was tissue paper, but because of the recent quarantine, I was a bit limited on supplies.  And then it came to me- dryer sheets!  I taped a dryer sheet to a piece of printer paper and printed the ad directly onto the dryer sheet.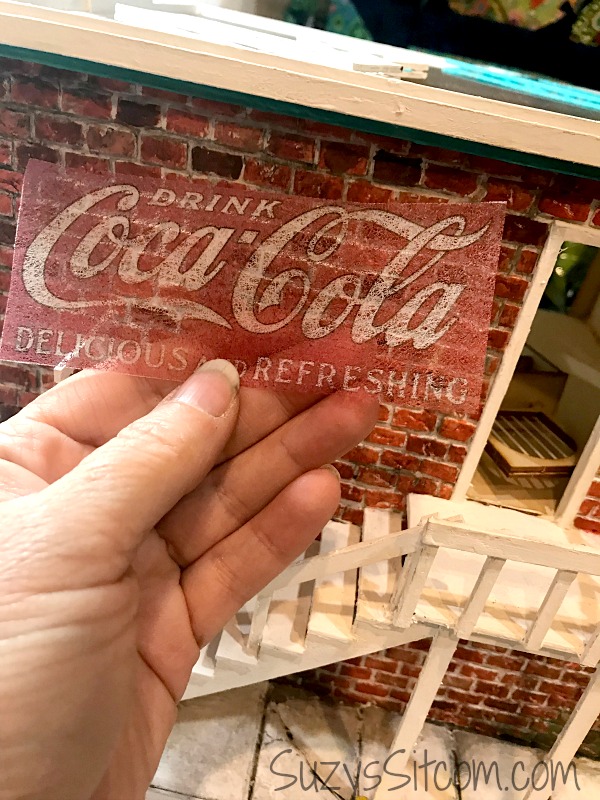 Cut the ad out.  Paint a layer of matte mod podge over the section of bricks that you want the sign and the press the sign into the bricks.  Allow it to dry and then add a light coat of matte mod podge to seal it.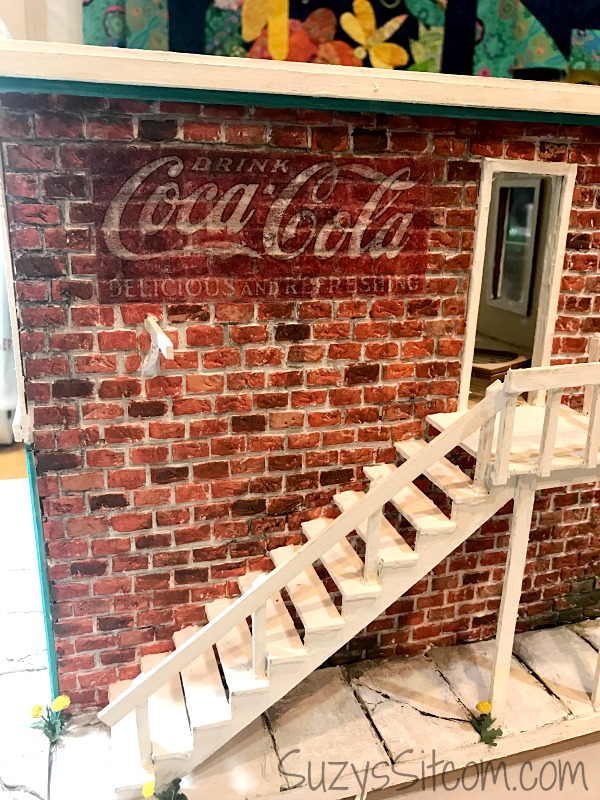 The finished sign needs nothing else!  You can see the brickwork through the sign and it gives the look of old paint. I'm super happy with how this turned out!
Bench Signage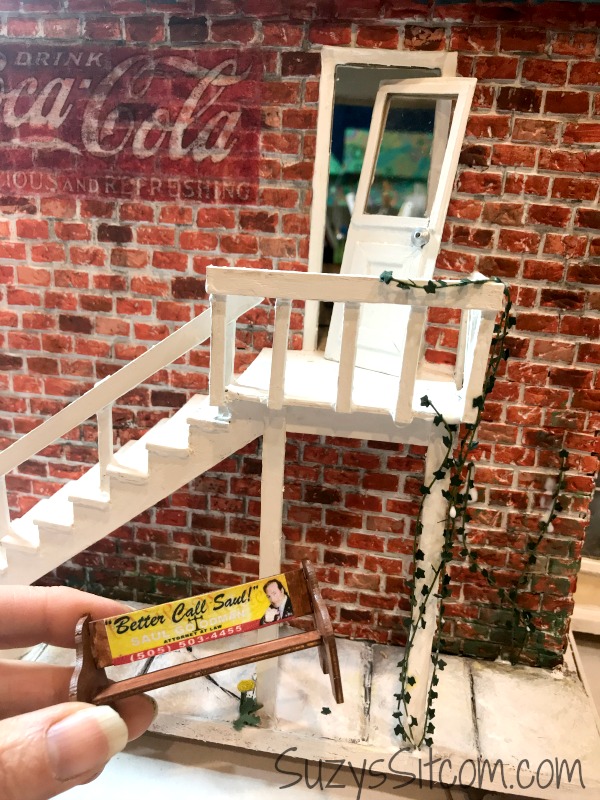 The kit came with a couple small benches and I decided that this one also needed an ad.  I'm a huge fan of Breaking Bad and it just seemed fitting to put a Better Call Saul Ad on it.  Again, I found the picture on the internet and sized it to fit my little bench.  A coating of matte Mod Podge sealed it to the bench.
Quilt Shop Signage
I've always wanted to own a quilt shop and this is probably as close as I'll ever get.  I designed a small logo for my shop and printed out several signs. I used a small chain to hang the hanging sign.
Rooftop Billboard
For the rooftop, I created a billboard that advertises my website.  Yes, I'm totally personalizing this one!  I printed out my logo and then created the billboard backing with cardboard and strips of balsa wood.
This is a photo of the back with structured beams in place.  Each has been attached with tacky glue.
For the lighting on the billboard, best case scenario would have been working lights, but I'm not confident with my electrical skills yet, so I'm going with fake lights.  I created them with wire and large clear beads.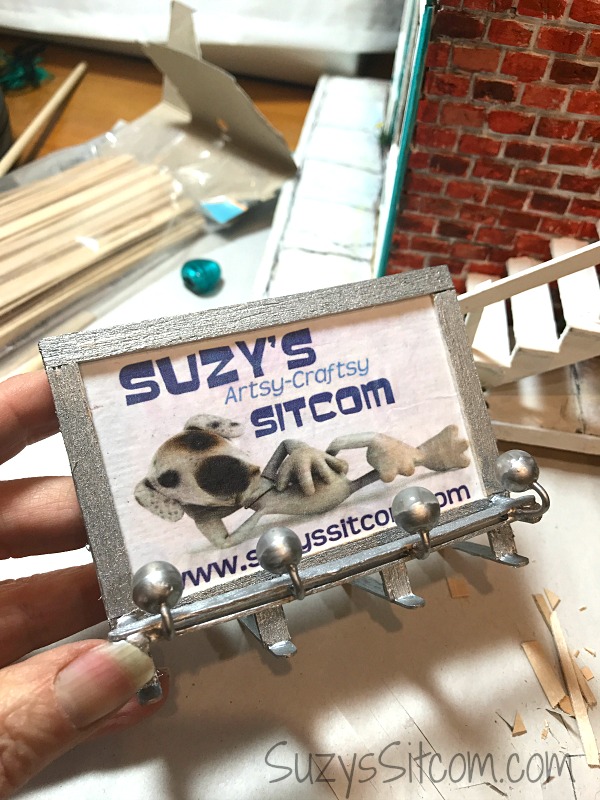 Once everything was glued together and dry, I painted it with silver metallic paint.  I then glued the finished billboard to the roof of the building.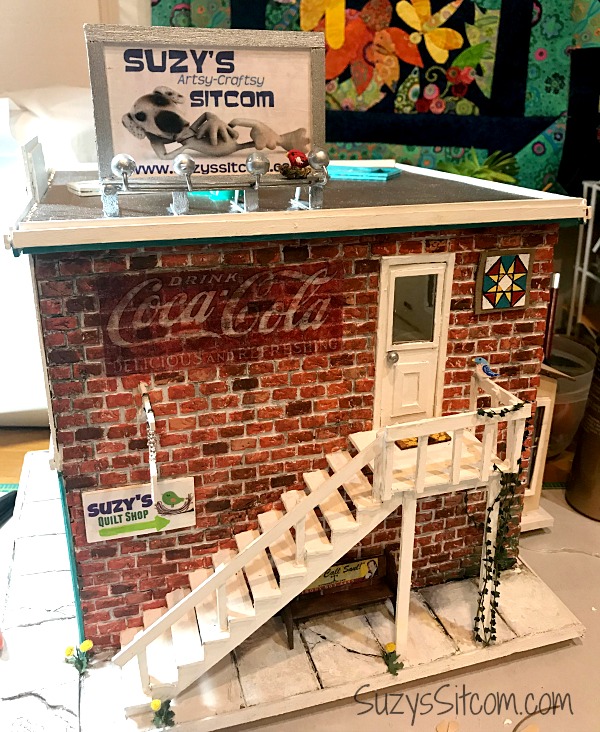 If you look closely to the photo above, you can see a tiny bird in a nest that I added to the billboard!
My little shop is coming along!  Stay tuned for more tutorials as I continue to personalize this miniature store.
For over 200 crafty tutorials for all ages, visit my Tutorial Page!