I love the look of miniature crafts and have recently gotten into making my own. I am creating a miniature General Store and Quilt Shop and my plan is to make it as realistic as I possibly can.  This week I'd like to show you how to make a realistic miniature sidewalk!
This little sidewalk was created with air dry clay and was relatively easy to make.  So fun to personalize!  I added in a few cracks and details along with some miniature dandelions.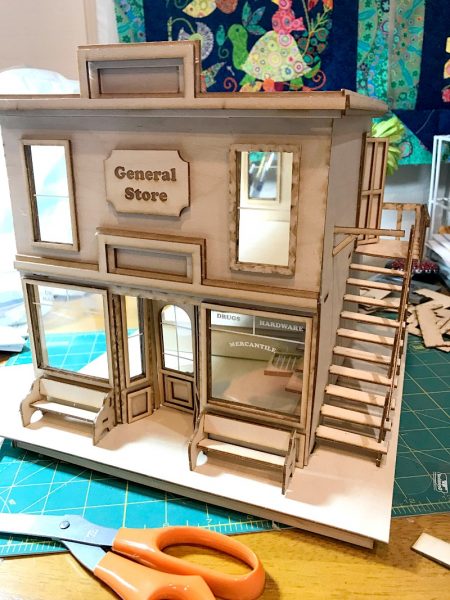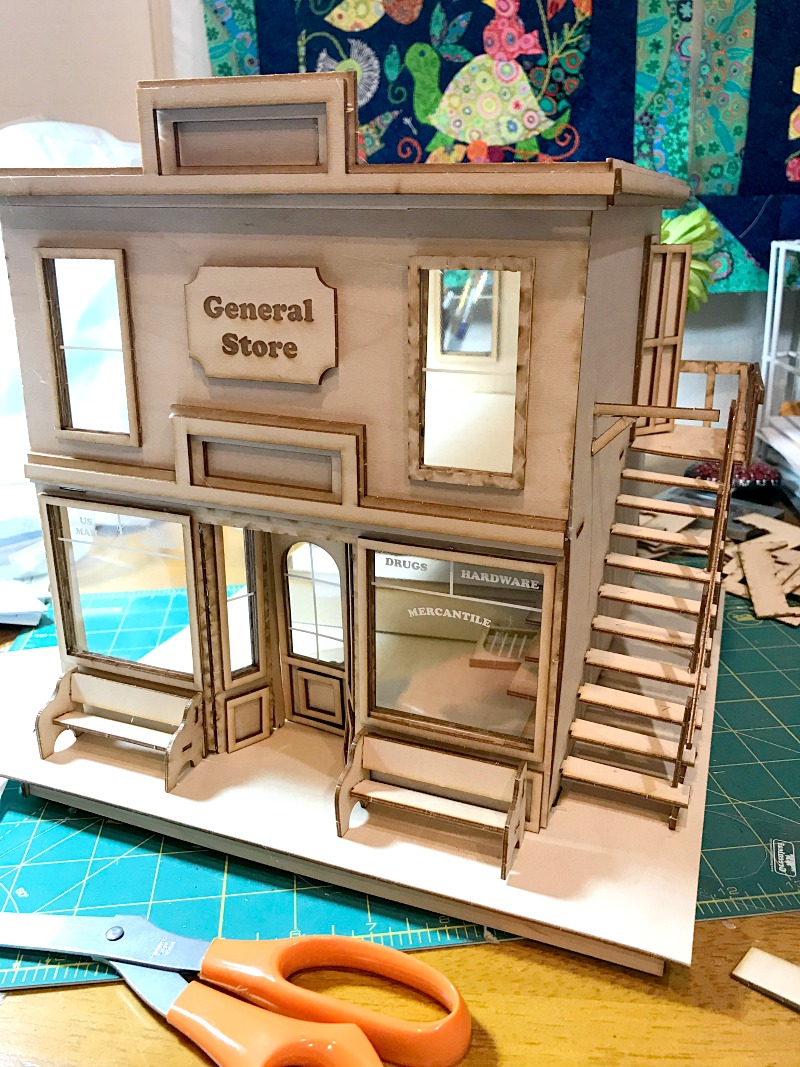 I started with a basic "puzzle" miniature that I found on line for a general store in half scale.  If you are interested in trying this one, you can find it here.
If you would like more information on scale and how to create the realistic miniature bricks for this project, be sure to check out my tutorial HERE.  This week, I decided to tackle the sidewalk.
How to make a Miniature Sidewalk
For this project I used:
(Some Affiliate Links below)
Air Dry Clay
Craft Knife
White Tacky Glue
Acrylic Paints (gray, black, white, yellow, brown, blue)
Matte Mod Podge
Dandelion Kit
Create the Sidewalk Templates
In order to easily create pieces to size, first create templates with scrap paper to fit the areas where you would like a sidewalk.  Next, knead the air dry clay and roll it out on a piece of wax paper to about 1/8″ thick.  Use a template piece and the craft knife to cut out the clay piece.
Create the Miniature Sidewalk
Paint the area that you are going to lay the clay onto with a coating of tacky glue, then press down the clay.  Use your fingers to adjust the clay and fit it to the miniature model.  Once all clay pieces are in place, it is time to personalize it!
Begin by adding lines to the sidewalk with the craft knife.  You can also use the end of a paintbrush to make lines more obvious.  Add tiny cracks in the sidewalk with the craft knife.
For the entryway of the store, I decided to add a "tile" entry.  I used the end of a pen to create the circles of the tiles.  I also added a few personal touches with my knife such as a little heart in the corner.
Add Color to the Sidewalk
In order to create the look of an older sidewalk, I began by painting the entire sidewalk a medium gray. Once that had dried, I add a wash of black paint (50% water, 50% paint) with a wide brush, and then lightly dabbed up the extra paint with a paper towel.  This allowed the black to go into the cracks created earlier with the craft knife.
Use a sponge and dab on colors such as muddy brown in corners, creating the look of wear and years of dirt especially in places like the entry way and around the base of the stairs.
After each addition of paint dries, use a sponge to add light touches of white, yellow and blue.  (This gives it depth).
Once all the paint has dried, add a clear coating of matte Mod Podge to seal it.
Add Tiny Details!
These tiny dandelions come from a kit created by The Miniature Garden on Etsy.  The kits are very inexpensive and I love the fact that they do all the tiny cutting for me!  You just need a pair of tweezers, some tacky glue and a bunch of patience to make these tiny dandelions.  I placed them in some of the sidewalk cracks and along the edges of the building.
I will be adding more tiny details as I go along with this project.  So many ideas!  My sister suggested adding a few muddy dog prints.  Yep, going to do that!  I also have a few more kits from The Miniature Garden that I will use to create some ivy on the brick wall and add some potted plants.
Stay tuned for much more on this project!

For over 200 crafty tutorials for all ages, visit my Tutorial Page!