Most of my quilt patterns include added embroidered details.  My latest pattern, Summer Pines, features a fun embroidery stitch called the Turkey Stitch which can be made into a head of hair.  Here is a quick tutorial on how to embroider hair!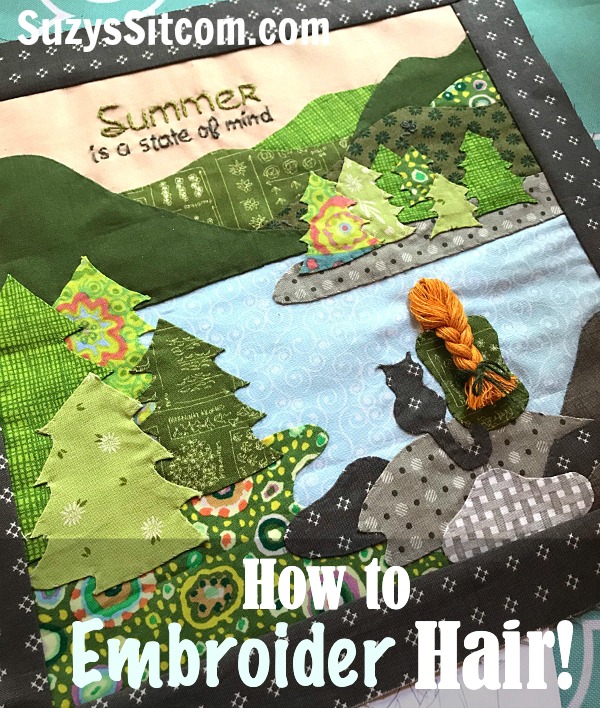 This year I decided to create a bench pillow cover for each month of the year. Each cover is removable, so I can switch them out each month.  I offer each pattern free here on the Sitcom for one month!  Summer Pines is my June pattern and will be available free until July 1, 2020.  You can find more info HERE.
The center panel of Summer Pines features a girl with a long plait of embroidered hair.
How to Embroider Hair
Step 1: Choose three different coordinating colors of embroidery floss. For my project, I chose orange, gold and light brown.  Cut about a two foot length of each and use two strands of each to create a six strand length of mixed colored floss.
Step 2: Mark the area of the girl's head on your fabric.
How to Embroider the Turkey Stitch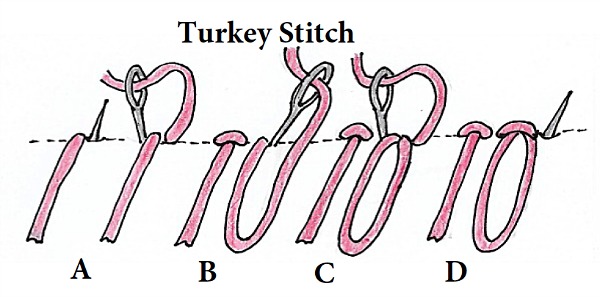 Step 3: Turkey Stitch: (A) Do not knot the end of the thread. Insert needle into front of the fabric, leaving about a 3″ tail. Hold the tail in place with your finger as you bring the needle up beside where you inserted it. Stitch an anchor stitch as shown.
Step 4: Turkey Stitch: (B) Bring needle up on the right hand side of the anchor stitch. Create a loop of floss that is a similar length to the original tail of floss. Hold the loop in place with your finger as you create another anchor stitch (C).
Make the loops a bit longer than you want the hair to be (you will trim later).  Begin working around the circle of the head with the Turkey Stitch.

Step 5: Continue making loops and anchoring them as you follow the circle of her head. If you run out of floss, simply knot it on the back, create a new mixed strand of floss, and then restart with step 3.
Step 6: Continue with the six strands of mixed floss and a satin or split stitch to fill in the head.
Step 7: Using a small pair of scissors, clip all of the loops and bring the hair down over the head.
Step 8: Now the fun part! Take a small comb and comb out the hair. This will separate all the strands of floss.
Step 9: Once the strands of hair are all separated, you can style it anyway that you like.
Step 10: Finally, wait to trim the hair until you have it the way you want it. (It is much easier to work with longer strands).
Do you learn better with video?  Here is a great video tutorial that I found on using the turkey stitch to create hair: How to Embroider Hair.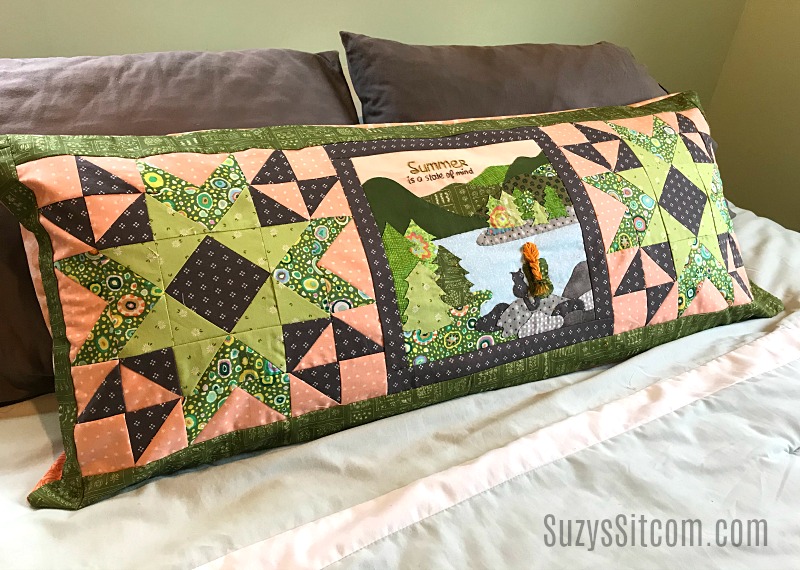 This is my finished panel which is included in my bench pillow pattern Summer Pines.
Download your free pattern from this website each month!  If you are following along with the Bench Pillow Series, I recommend you mark your calendars and come in early to download the monthly installments. Or join us on the Suzy's Quilters and Crafters Facebook group for monthly reminders. If you miss an installment, or come to the party late, past bench pillow patterns will be available for a small charge.
Create something amazing and be sure to share it with us! Join our Facebook Group!  I'd love to see what you come up with!
Missed a Pattern?
Get three bench pillow patterns for the price of two!
Want updates in your email when the free patterns come out?  Be sure to sign up to Subscribe to Suzy's Sitcom!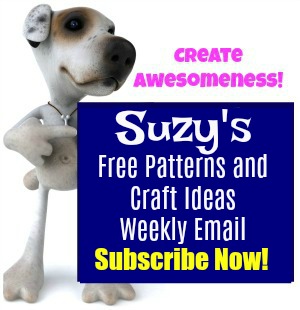 Create something amazing and be sure to share it with us!  I'd love to see what you come up with!