One of my latest hobbies is creating in miniature.  I have been working on a General Store and Quilt Shop over the past several months.  I would love to share my progress with you along with a few tips on how I am creating the tiny details.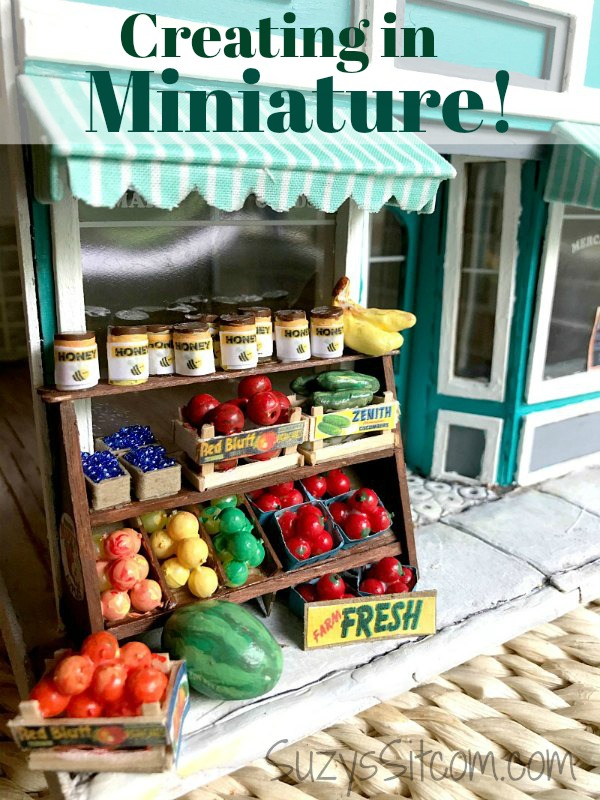 This shop is a work in progress and will most likely be that way for a while.  I'm still working on the outside of the building and haven't even begun anything on the inside.
If you are following along on this project, you can find my other tutorials here:
How to create Realistic Miniature Bricks
How to create a Realistic Miniature Sidewalk
How to create Unique Miniature Signage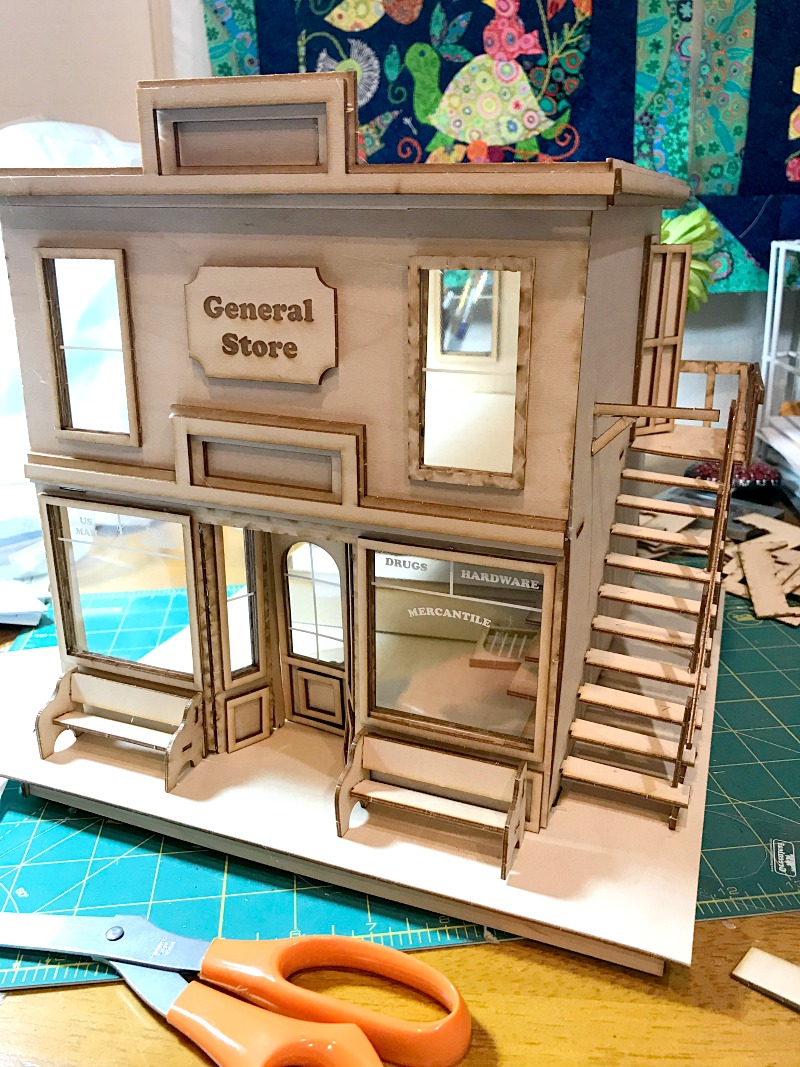 I started with a basic "puzzle" miniature that I found on line for a general store in half scale.  If you are interested in trying this one, you can find it here.  Above is a photo of the miniature before I began personalizing it.
Finishing the Shed
The shed in the back of the building needed some major upgrades.  It took me a while to figure out what exactly I was going to do with it.  First thing was getting rid of that put together puzzle look that it had going for it.  So…I cut the ends off of some popsicle sticks and glued them to the sides of the shed to look like boards.
Once all the boards were in place, I added a wash of brown acrylic paint to simulate a stain to the boards.  I painted each board separately with mixed versions of paint and water to give each board its own look, adding darker brown in the corners to simulate dirt and age.
I found an awesome piece of scrapbooking paper that looks like metal corrugated roofing.  I used that for the roof of the building and added a black wash of acrylic paint to the edges to simulate water runoff and dirt.
The final touch was adding signage.  I found a few signs on the internet that I thought would work, and printed them out.  They are simply decoupaged on with Mod Podge.  I plan to add a few more details to this little shed, but for now I am moving on.
Creating Awnings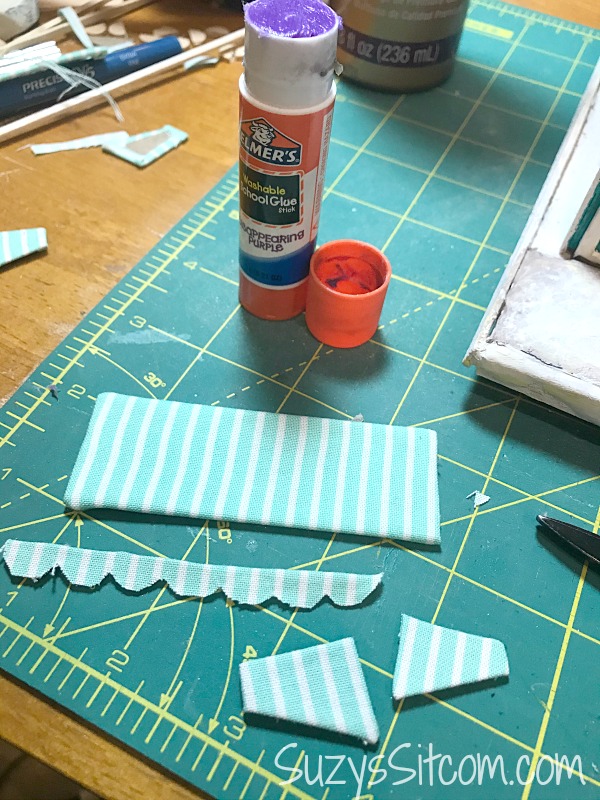 I wanted to create awnings for the front of the store.  I decided what size I wanted and cut the tops and sides from cardboard.  In my fabric stash, I found some fun striped fabric that goes well with my color combination.  I used a glue stick to glue the fabric to the cardboard, overlapping it on the edges.
I had attempted this first with regular glue, but it showed through the fabric even when dry.  So, I redid the pieces with glue stick and they came out much better.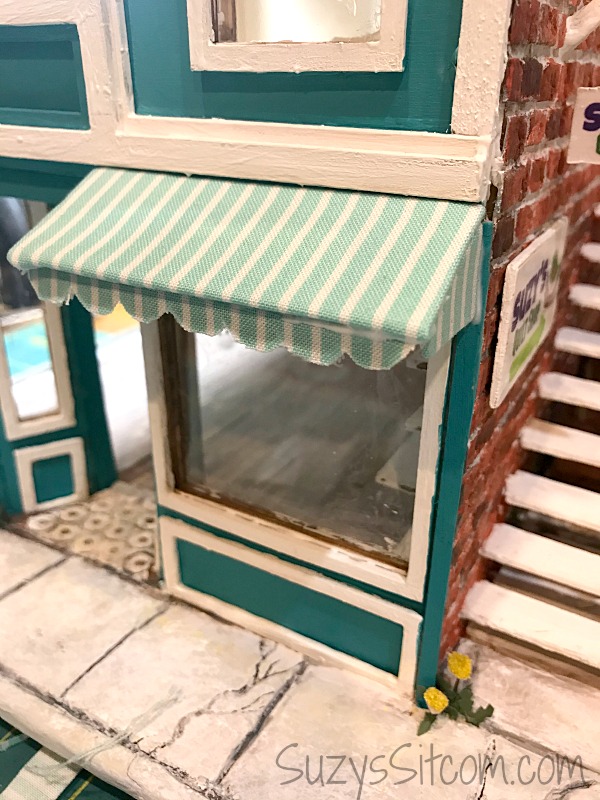 Once the awnings were assembled and glued in place, I added a coat of clear Mod Podge to help protect the fabric.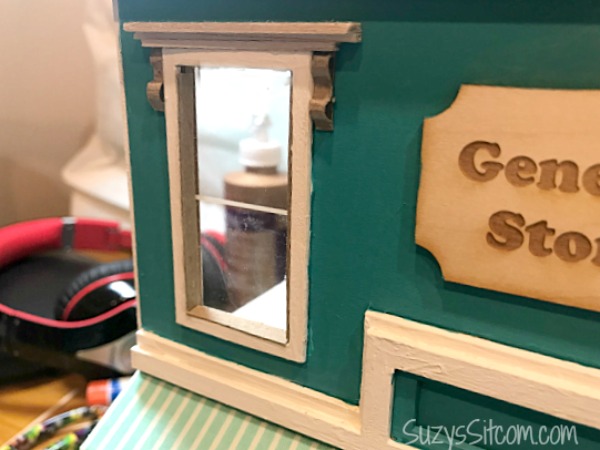 To give the windows more character, I added trim using balsa wood and corrugated cardboard.  The insides of the window sills and edges needed a more finished look, so I added some thin cardboard strips and then painted all the trim white.
Miniature Fruit Stand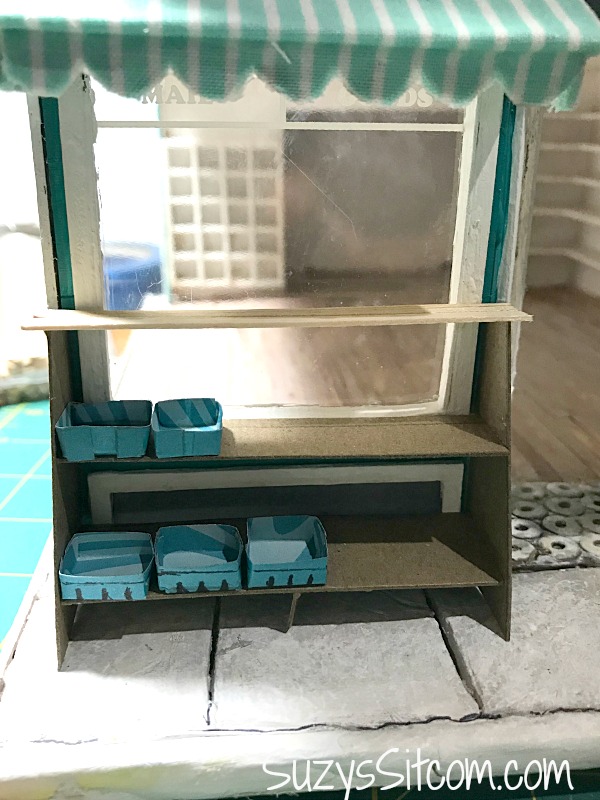 I'm adding more character to the front of the building and rather than have an empty sidewalk, I decided to add in a little farmers market fruit stand.  I began by creating the stand itself with cardboard. The very top shelf is two wooden coffee stirrers.
The little blue veggie crates are made from blue scrapbooking paper.  I used a sharpie to add in the details.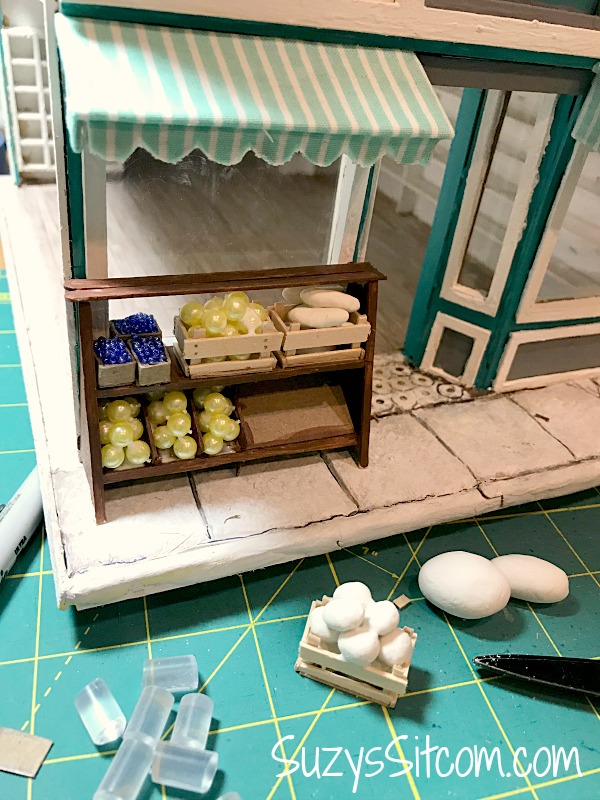 I created three wooden crates with balsa wood.  For fruit and veggies, I used the beads from a fake pearl necklace, and polymer clay. The blueberries were tiny seed beads.
In the photo above, you can see my idea for honey jars.  I cut up a mini glue stick.  The plan was to paint them with a highlighter to create the look of honey.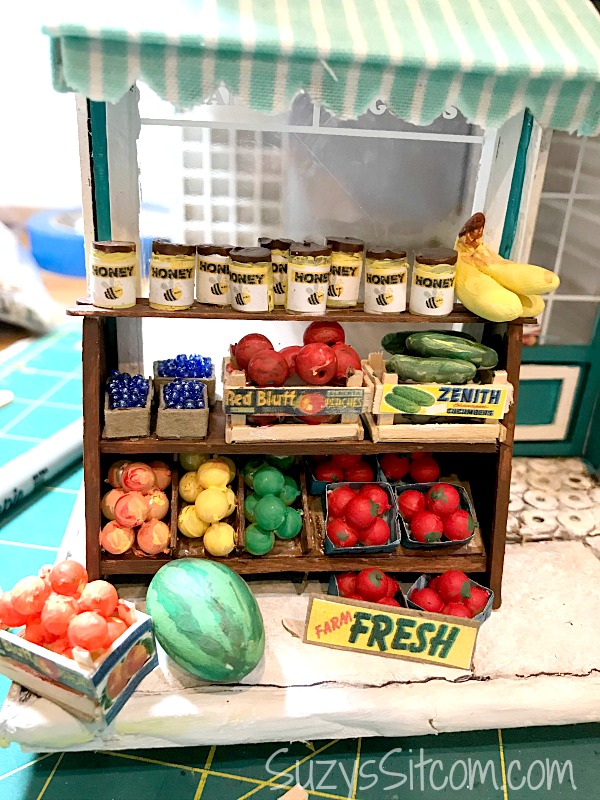 The highlighter did not work on the glue sticks.  Who knew?  Anyway, I ended up painting them.  Above is the first rendition.  Too messy, so I redid the whole batch a third time.
I painted all the beads to look like fruit and veggies, then did a search on the internet for veggie crate labels.  I found a few that worked and printed them off.  I decoupaged them to the crates.
This is the cleaned up version of my honey jars and the finished fruit stand.
In order to see the relative size, I added my hand to this shot.
My little General Store and Quilt shop are coming to life! I have quite a bit more planned for the outside before I even begin working on the inside.  Stay tuned!

For over 200 crafty tutorials for all ages, visit my Tutorial Page!